Air Fryer Parmesan Chicken (15 min hack)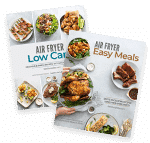 Buy our air fryer e-cookbooks today
When you're craving air fryer parmesan chicken you have to try our 15 minute hack. Using pre-cooked frozen breaded fried chicken cutlets is a quick way to have this for dinner. Your family will enjoy it so much!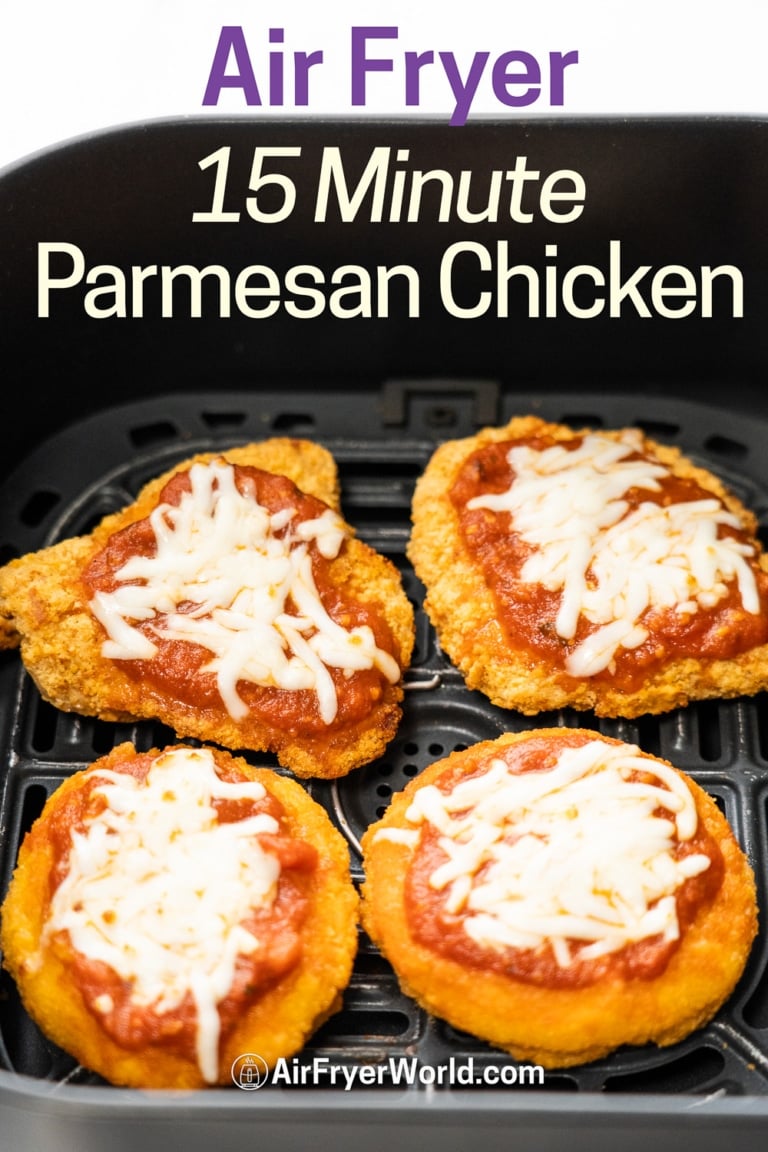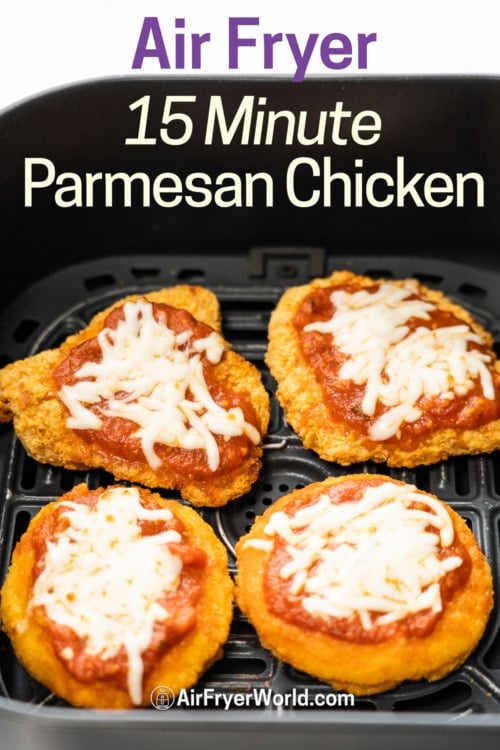 Air Fryer Parmesan Chicken Recipe (Easy Way)
When we wrote our recipe for air fryer chicken parmesan using raw chicken, everyone loved it. Now we have another version for our air fryer parmesan chicken but it's super quick. We're using pre-cooked frozen breaded fried chicken by heating it crispy hot in the air fryer first. Then we add the sauce and cheese. Voila! Instant air fried parmesan chicken in 15 minutes without any fuss. It tastes just as good as the longer homemade version but without having to have more ingredients.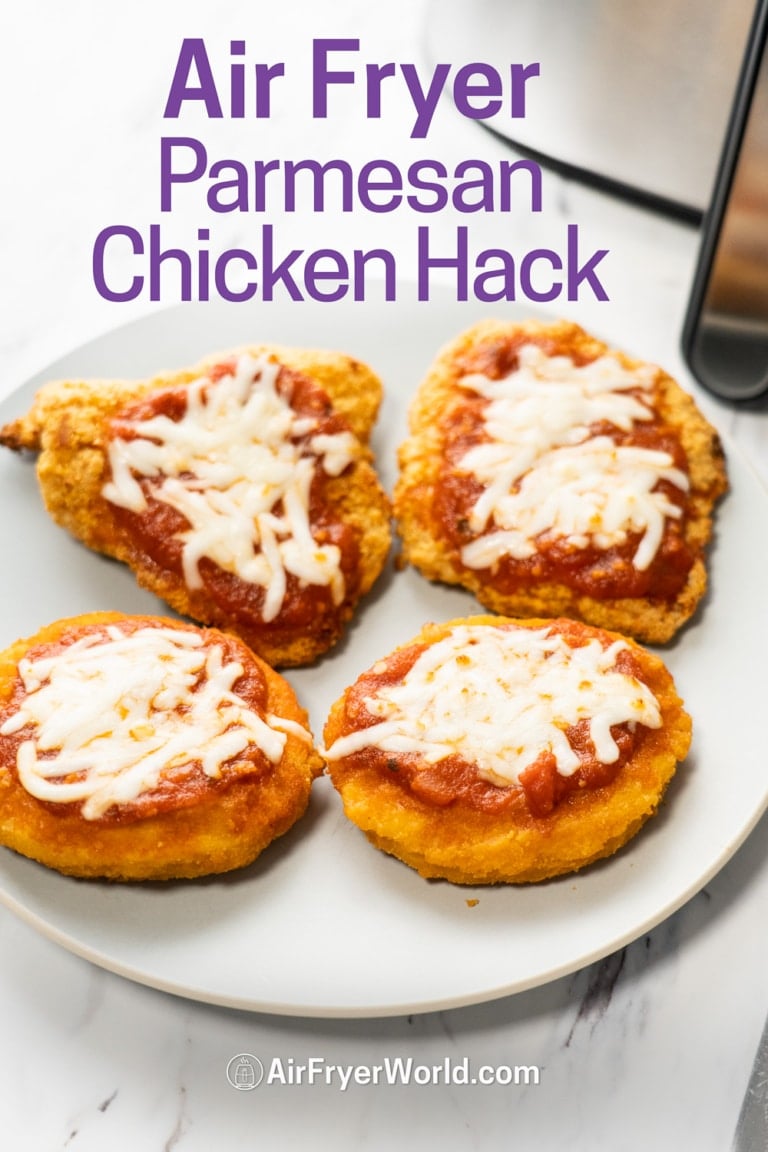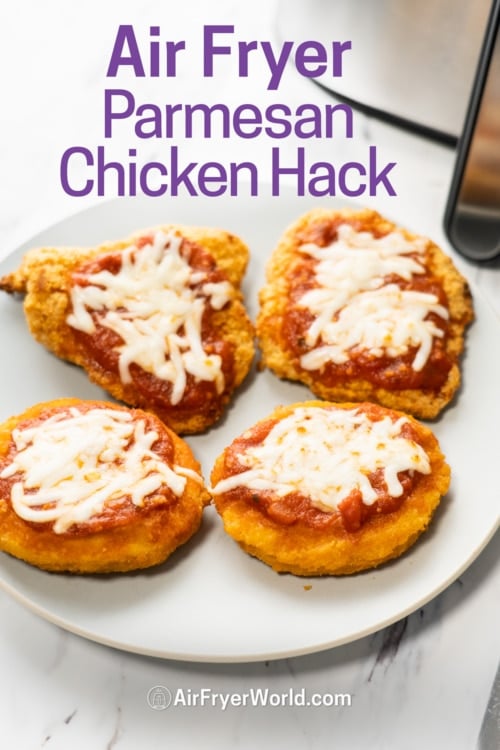 Video: Air Fryer Parmesan Chicken
Tips on How to Make Easy Air Fryer Parmesan Chicken
There's different brands of pre-cooked breaded fried chicken that's frozen. They all cook at about the same time, but be ready to cook your batch a little longer or quicker. Some chicken might be smaller or bigger than what we tested. The good thing is that the chicken is already cooked so you just have to air fry it so it's crispy hot. Here's a great article on different brands of frozen fried chicken to air fry.
This recipe is for frozen cooked chicken strips or cutlets. But if you want to use bone-in chicken you can certainly use these. The only issue is that the chicke is not flat so you'll have some issues with spreading the sauce over the chicken.
For the cheese you can use grated mozzarella, sliced skim milk mozzarella or fresh mozzarella cheese.
We recommend using a pasta sauce because there's so much more flavor to the sauce. Pizza sauce or a marinara is great too.
If you're using straight tomato sauce, add a little spice to it to have more flavor. Garlic salt, garlic powder, onion powder and dried herbs help make the sauce more delicious.
Serve this with some air fryer potatoes , air fryer french fries or air fryer vegetables.
Try another quick and easy air fryer hack: Nashville hot chicken!
All recipe details are in the recipe box below.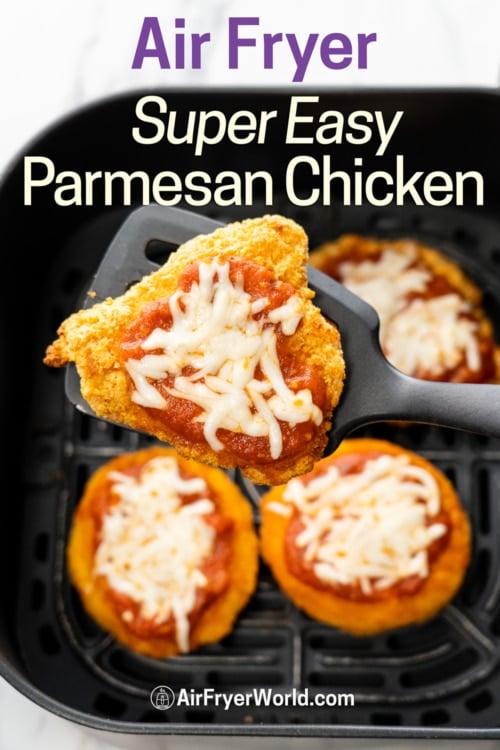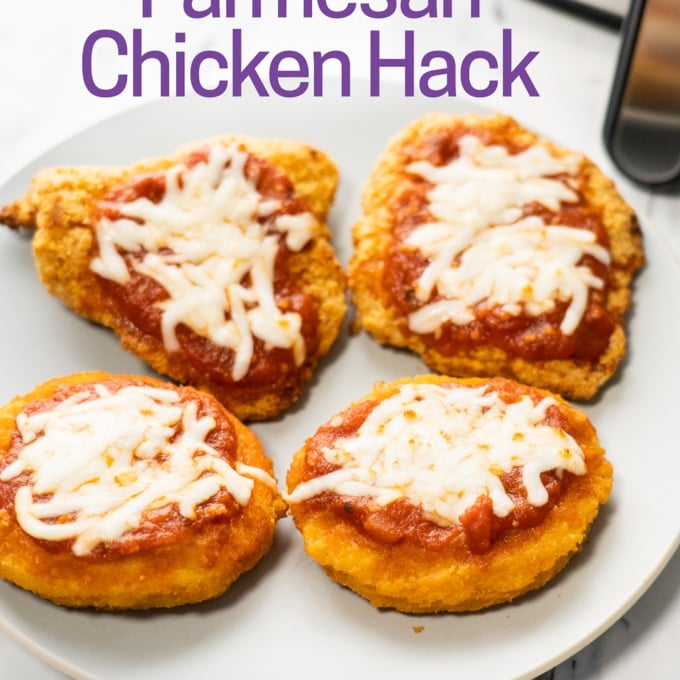 Air Fryer Parmesan Chicken (from frozen breaded chicken)
There's several things which affect how the frozen breaded chicken breasts cook. They all vary in size, thickness, type and heaviness of the breading so you'll have to adjust timing. For best and even cooking, don't overcrowd the basket. Fill just an even single layer of chicken breasts.
If using uncooked breaded chicken, add an extra minute or two if needed to make sure it is cooked through. All air fryers are different and some cook much hotter than others. Once you cook your first batch, you'll know more of what works for your model of air fryer and size of food. These were tested on basket style air fryers. Read more recipe notes below the recipe. Nutrition will vary from brand to brand and will depend on the type of coating.
Ingredients
4

frozen pre-cooked breaded chicken patties or fillets

1/2

cup

marinara sauce or pasta sauce

1/2

cup

shredded mozzarella cheese
Notes
Air Frying Tips and Notes:
No Oil Necessary. Cook Frozen – Do not thaw first.
Don't overcrowd the air fryer basket. Lay in a single layer.
Recipe timing is based on a non-preheated air fryer. If cooking in multiple batches of chicken back to back, the following batches may cook a little quicker.
Recipes were tested in 3.7 to 6 qt. air fryers. If using a larger air fryer, the chicken might cook quicker so adjust cooking time.
Remember to set a timer to flip/toss as directed in recipe.
If your air fryer is preheated or if you are cooking multiple batches, you may need to reduce timing by a few minutes (unless preheating is called for in the recipe).
Nutrition Information per Serving
Calories:
619
kcal
,
Carbohydrates:
42
g
,
Protein:
59
g
,
Fat:
24
g
,
Saturated Fat:
7
g
,
Polyunsaturated Fat:
0.3
g
,
Monounsaturated Fat:
2
g
,
Cholesterol:
132
mg
,
Sodium:
1506
mg
,
Potassium:
203
mg
,
Fiber:
3
g
,
Sugar:
14
g
,
Vitamin A:
454
IU
,
Vitamin C:
4
mg
,
Calcium:
150
mg
,
Iron:
1
mg
Why is it called Chicken Parmesan when there is no Parmesan cheese?
Chicken parmesan (& it's cousin Eggplant parmesan) are often made with just mozzarella cheese. There are a variety of arguments about the origin of the name, but most all agree it isn't named after the cheese type. Most likely it was named after the town or Parma in Italy, or possibly some other translated Italian word. No matter. Chicken parmesan had been delicious for centuries and we love it no matter where the name came from.
What to serve with this dish?
There's so many ways to serve this, the possibilities are endless:
This is delicious on it's own! The savory crispy chicken with sauce and cheese is excellent as a stand alone dish.
Vegetables are great to make this dish a little healthier. Try some air fryer vegetables recipes as a side dish. We have so many options for you to choose from.
Sandwich! This is amazing as a sandwich. Add some lettuce, pickles and enjoy this awesome parmesan chicken sandwich.
Pasta is always a fantastic way to serve this chicken with.
Rice: all types of rice are great. Wild rice, brown rice.
Other types of grains like quinoa, couscous, ancient grains.
As a salad. Just a simple bed of lettuce is a nice refreshing and healthy balance. Try a parmesan chicken salad for lunch or for dinner.
Burned Frozen Chicken
Why did your frozen chicken burn? It's because your air fryer might cook hotter than our test kitchen ones. So if you make it again, just reduce the temperature by about 20°F or reduce the cooking time. After you make this the first time, you'll know the best time and temp that works for air fryer and specific brand of air fryer.
More Air Fryer Recipes with Parmesan
As an Amazon associate and partners with other affiliate programs, we may earn from your qualifying purchases. We may earn small commissions that goes towards all the costs of running this website and recipe tests. Thank you for your support.