Air Fryer Potato Wedges – Jojo's Shake-n-Bake Style
Our crispy air fryer potato wedges recipe is so addicting! If you love thick cut potatoes, then you'll love our air fryer jojo's recipe. We use the shake-n-bake style breading mix and it's so good!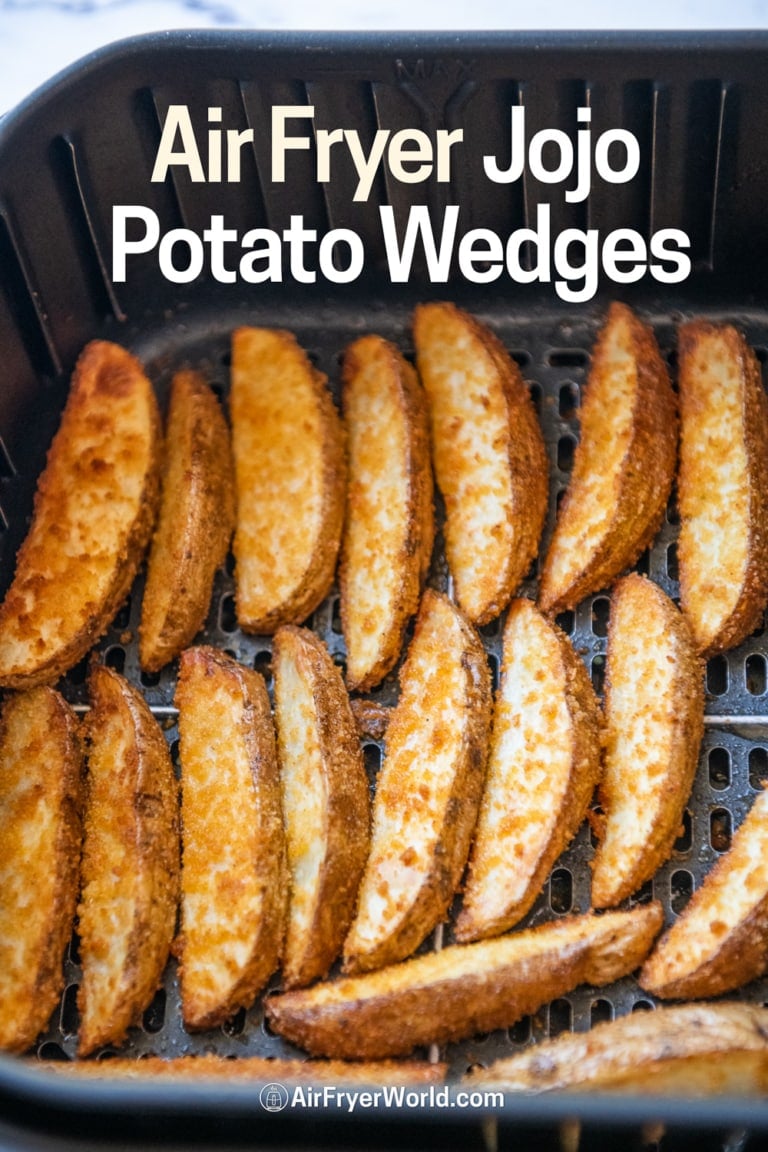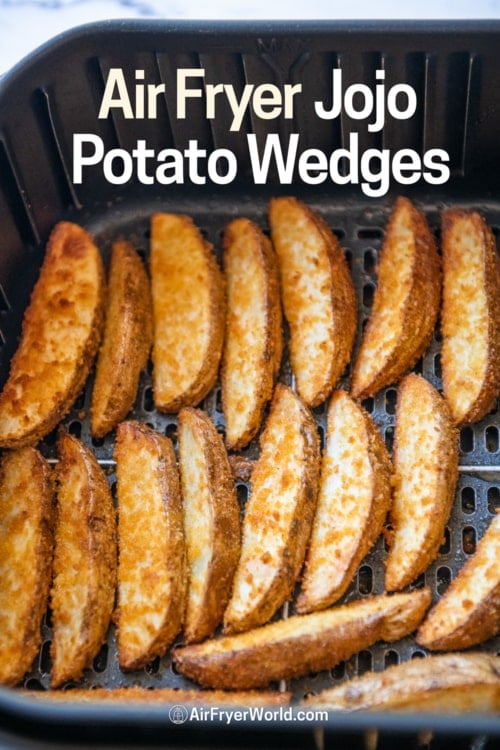 Crispy Air Fryer Potato Wedges Recipe
We have been so addicted to these crispy air fried potato wedges. They're so good! The texture and crunch from the shake-n-bake style breadings are fantastic. It's so easy to make these and even easier to devour them. The whole test kitchen made at least 5 batches of these during the "recipe testing". LOL.
Video: How to Make Air Fryer Potato Wedges JoJo's
Tips for How to Air Fry Jojo's Potato Wedges Recipe
Use starchy potatoes like russets and gold potato varieties. These cook tender and soft. Do not use waxy potatoes like red potatoes. We discuss more of this below.
Make sure to cut the potato slices evenly. If you have un-even cuts of thick and thin, you'll have un-even cooking. Some will burn before the others will be cooked through.
If you have a small air fryer, you will have to cook in smaller batches.
Season enough with salt and pepper so the Jojo's aren't bland.
After oiling the potato wedges, press them into the breading mix so the breading can stick to the potatoes better.
You can use any brand of breading that you like. Even if it's branded for chicken or other meats, it's still great for potatoes!
Serve with different dips like bbq sauce, ranch, buttermilk ranch, spicy hot sauce or your favorite. The possibilities are endless!
All recipe air fryer potato wedge details are in the recipe box below.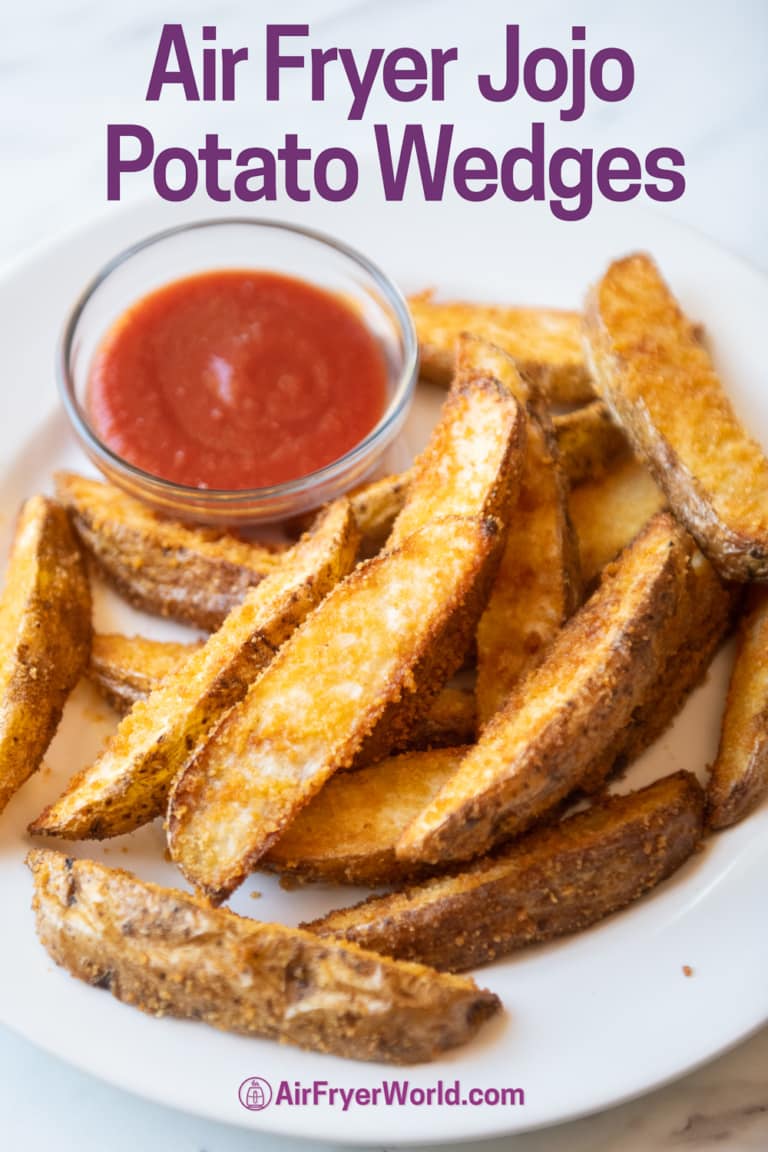 Best Potatoes for Air Frying Thick Potato Wedges?
We love using russet, gold or similar gold variety of potatoes. These variety of potatoes are more starchy will cook crispy on the outside. Also, these potatoes will cook tender and delicious on the inside. Avoid using a waxy fleshed potato like red potatoes for this recipe. They don't cook down to a tender enough texture. Waxy potatoes always end up hard after cooking. Here's a good potato guide. Hope you enjoy our air fryer jojo's recipe!
Can You Freeze Cooked Jojo's?
Yes, you can totally freeze them. When you want to re-heat them, you don't need to thaw the jojo potatoes. Just take them directly from the freezer, lay them in a single layer. Then air fry them at 380F for about 3-5 minutes OR until they are crispy to your liking.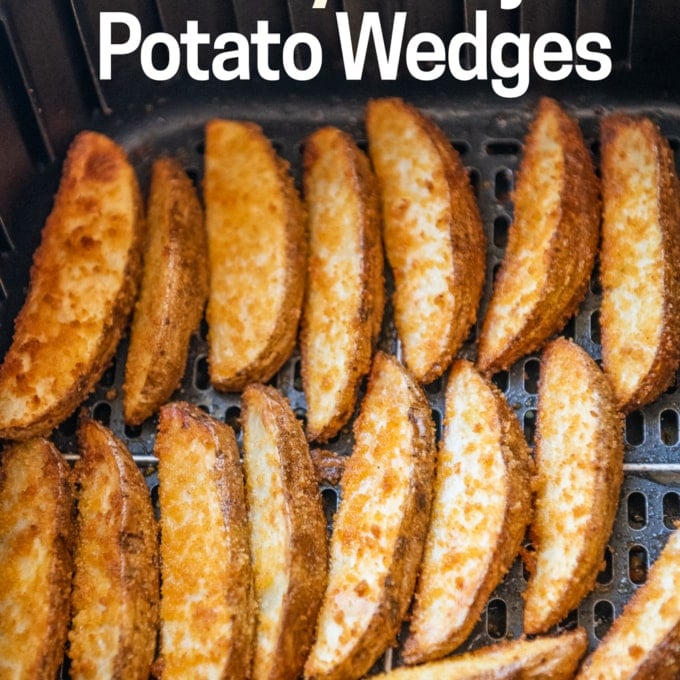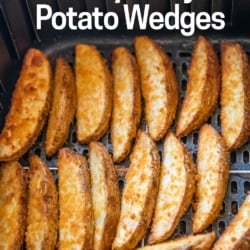 Air Fryer Jojo Potato Wedges "Shake 'n Bake Style"
We recommend russet or gold varieties of potatoes for the jojos. They will cook to a softer, fluffy inside while crisping up nicely on the outside. Use whatever Shake 'n Bake style coating you prefer. Every brand has their own flavors and textures which appeal to different tastes.
Ingredients
1

lb.

(

454

g

)

potatoes

, cleaned

1

cup

(

240

ml

) (about) Shake 'n Bake Style Seasoned Coating Mix

, or as needed

Oil spray

, to coat the potatoes

optional – Salt & pepper

, to your liking (some seasoned coatings are saltier than others and don't need additional seasoning)
Instructions
Cut the potatoes into about 1/2-inch thick wedges. Try to keep the wedges about the same thickness so they'll all air fry evenly.

Place the seasoned coating in a shallow bowl or plate with a raised rim. Coat the potato wedges with oil spray and then press into the seasoned coating, gently packing to coat the potatoes.

Place the potatoes in air fryer basket/tray and spread them into an even single layer (cook in batches if needed). Spray with a light coat of oil again.

Air Fry potatoes at 380°F/195°C for 10 minutes. Gently turn the potatoes. Spray with oil spray if there are any dry spots.

Continue Air Fry at 380°F/195°C for another 8-12 minutes or until crispy. (smaller or shallower air fryers will often need the less time.) Season with additional salt and pepper if desired (some seasoned coatings are more flavorful than others). Serve hot with your favorite condiments (ketchup, mustard, ranch, bbq sauce, etc.)
If your air fryer is preheated or if you are cooking multiple batches, you may need to reduce timing by a few minutes (unless preheating is called for in the recipe).
Nutrition Information
Calories:
438
kcal
,
Carbohydrates:
83
g
,
Protein:
13
g
,
Fat:
6
g
,
Saturated Fat:
1
g
,
Polyunsaturated Fat:
2
g
,
Monounsaturated Fat:
3
g
,
Cholesterol:
1
mg
,
Sodium:
815
mg
,
Potassium:
1084
mg
,
Fiber:
6
g
,
Sugar:
5
g
,
Vitamin A:
118
IU
,
Vitamin C:
15
mg
,
Calcium:
139
mg
,
Iron:
5
mg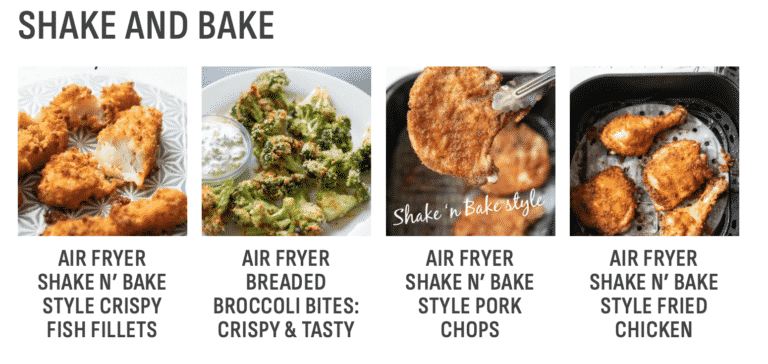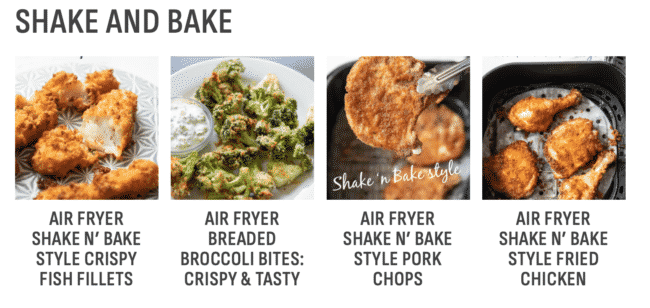 Check out more of our air fryer shake-n-bake style recipes here.
As an Amazon associate and partners with other affiliate programs, we may earn from your qualifying purchases. We may earn small commissions that goes towards all the costs of running this website and recipe tests. Thank you for your support.