Air Fryer Frozen Beef Burgers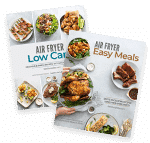 Buy our air fryer e-cookbooks today
When you're craving burgers our air fryer frozen burgers will get dinner cooked quick. Air frying burger patties from frozen is a game changer! We're obsessed with air fryer frozen hamburgers because it's so simple and quick.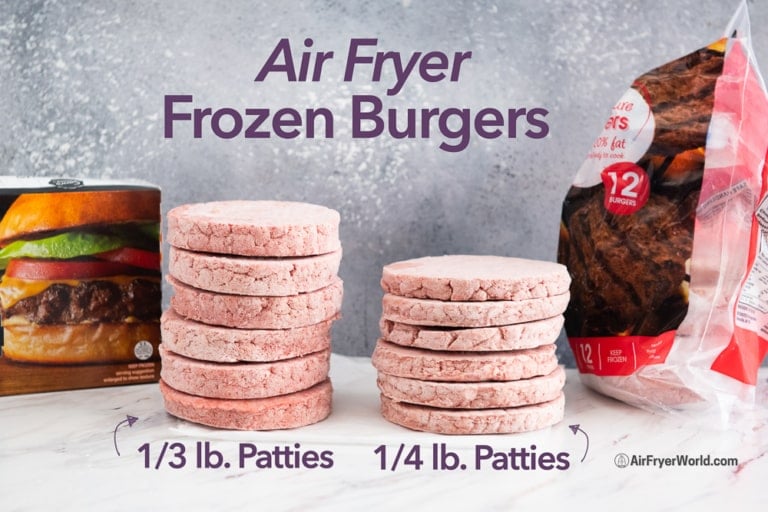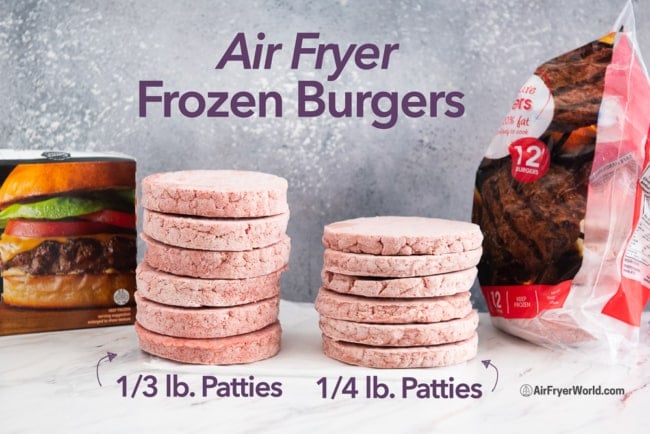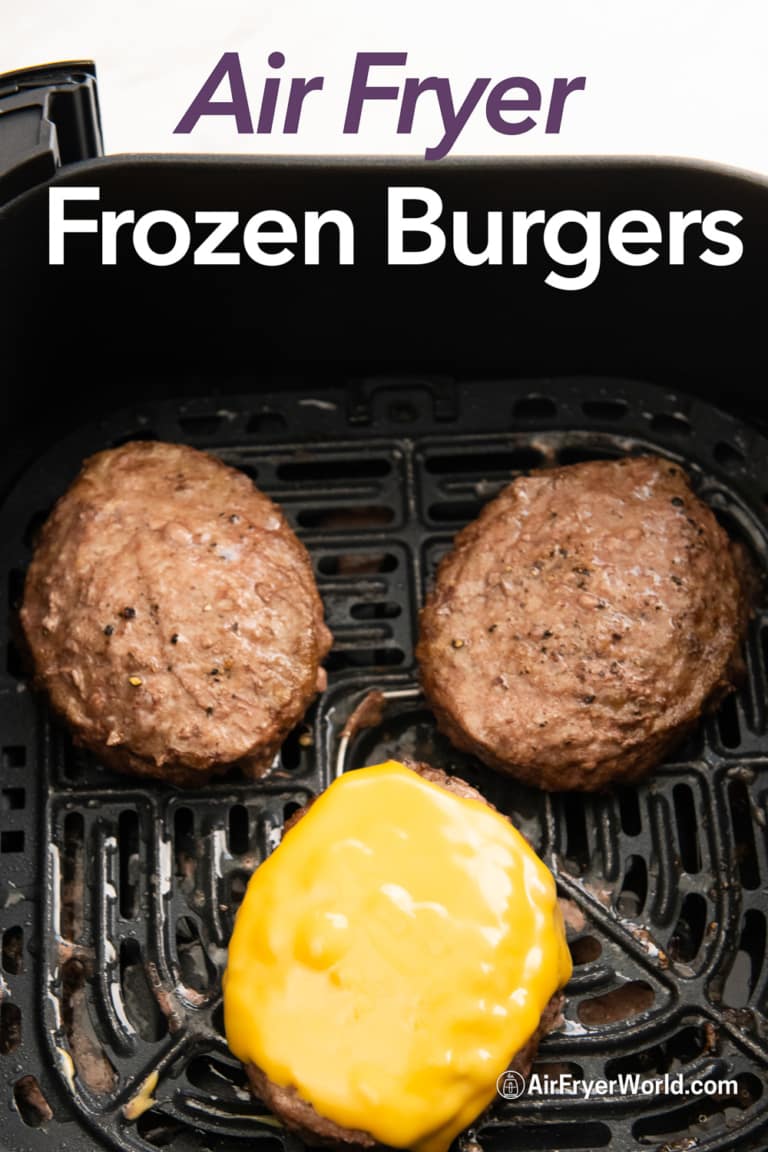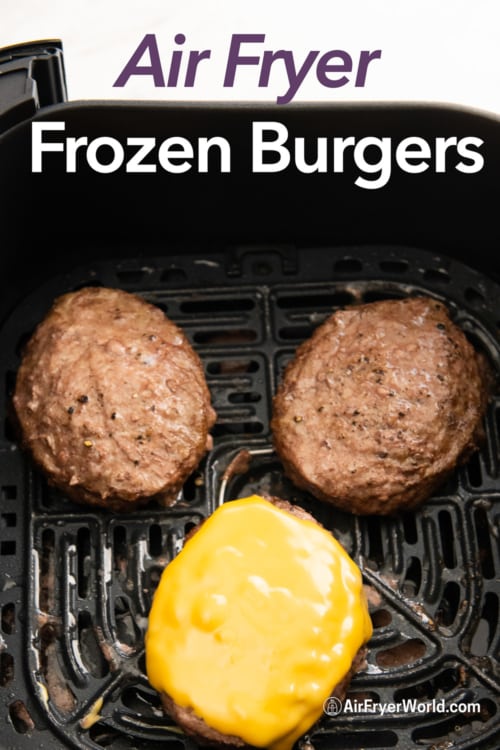 Can you cook air fryer frozen burgers or hamburger patties?
Yes you definitely can and the results are amazing! The hot circulating air of the air fryer cooks hamburger patties from frozen. The burger patties are fantastic, simple and quick. Best of all, it's budget friendly to make these at home rather than going out to eat.
Do you need to thaw frozen patties before air frying?
No you don't have to thaw the patties. Just place the frozen patties in the air fryer (do not pre-heat) and start air frying. After your first batch you'll know more of what the best timing is for specific air fryer and brand of patty. All air fryers cook a little differently and everyone has a different preference for how cooked they want their beef patties to be.
THAWED: But if you do end up using thawed patties, just reduce cooking time. Thawed patties will cook quicker than frozen patties.
Video: Air Fryer Frozen Hamburgers
Tips for How to Air Fry Frozen Burgers Patties
Do not pre-heat the air fryer. The frozen patties shouldn't cook too hot too quick. You don't want the middle of the patty to still be frozen while the outside is cooked too quick.
Thick or thin patty? There's so many different brands so you will need to adjust timing.
Adding a light oil spray on both sides of the beef patties will help keep them juicy and not dry out on the outside.
Like we mentioned above after you cook your first batch you'll know what the best timing is for your preferred doneness.
With so many different air fryer models, styles and different brands of burger patties timing will vary.
Air fry your burger buns for about 1 minute. Warm hamburger buns make a huge difference for texture.
Use a digital thermometer to make sure the internal temperature of the patty is 160°F. This is the recommended temperature.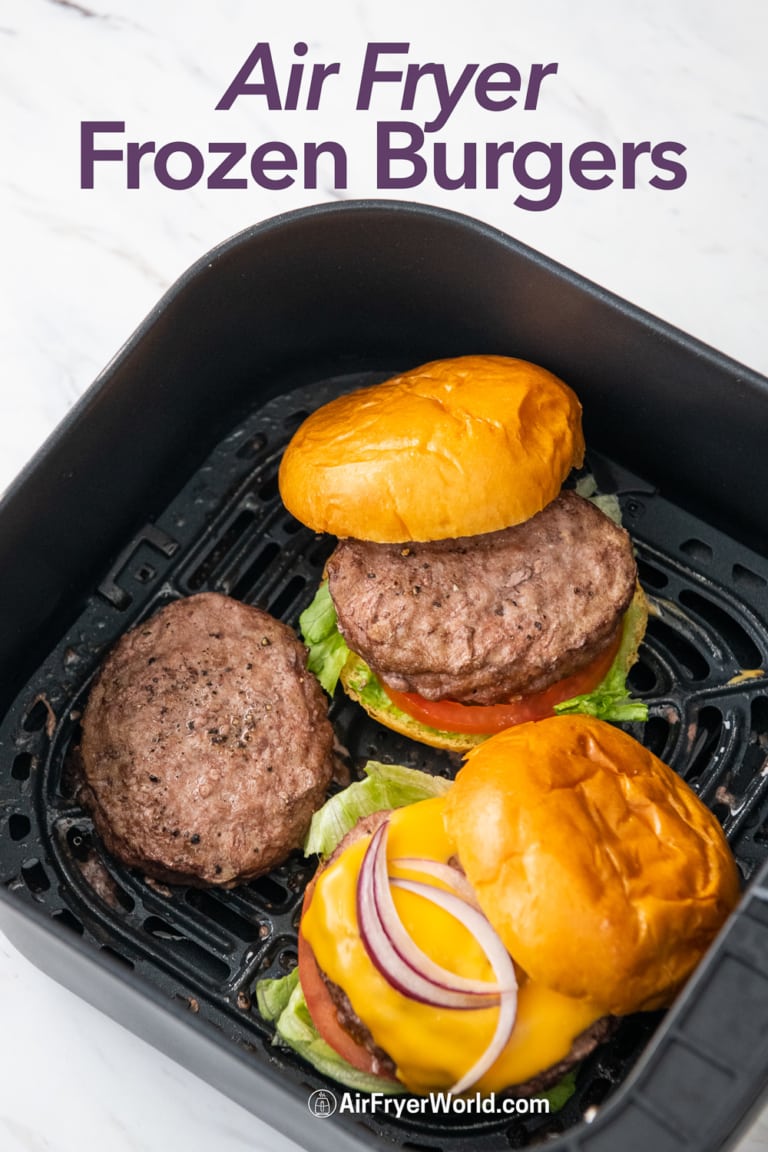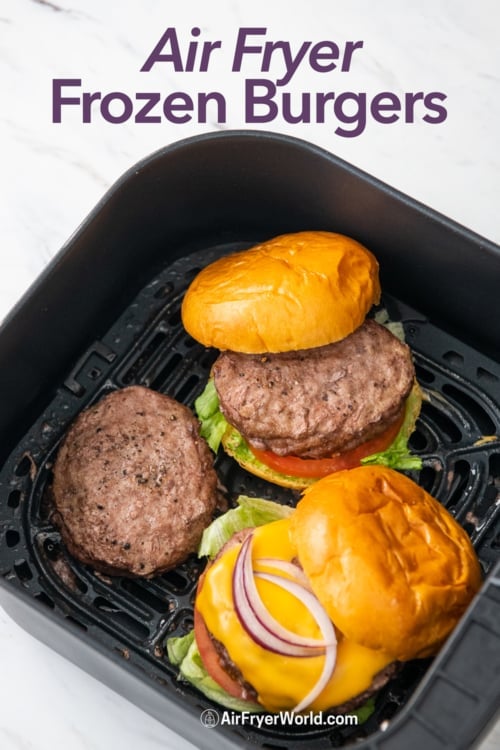 Best burger topping ideas
Different types of lettuce and greens can elevate a burger. Arugula, spinach, green leaf, red leaf and butter leaf are great foe burgers
Sweet heirloom tomatoes are an amazing addition to hamburgers.
Good cheeses like sharp cheddar, aged Swiss, smoked Gouda and blue cheese make a burger taste great.
Add sauces like bbq sauce, flavorful hot sauce, Buffalo wing sauce and different cheese sauces.
Hope you enjoy these air fryer frozen hamburgers!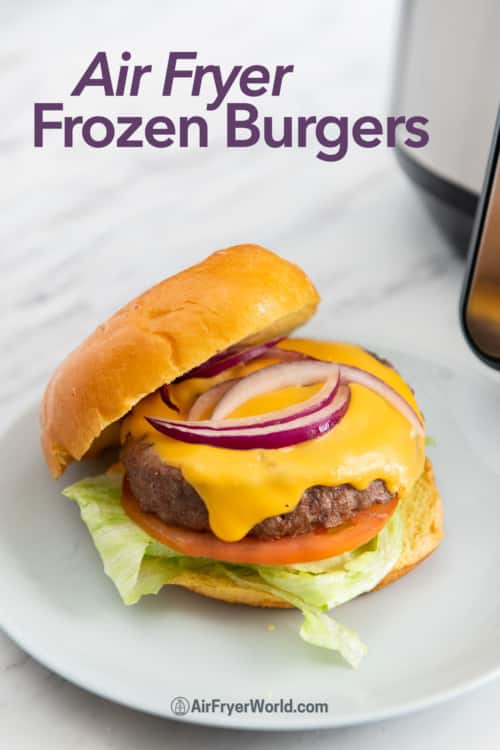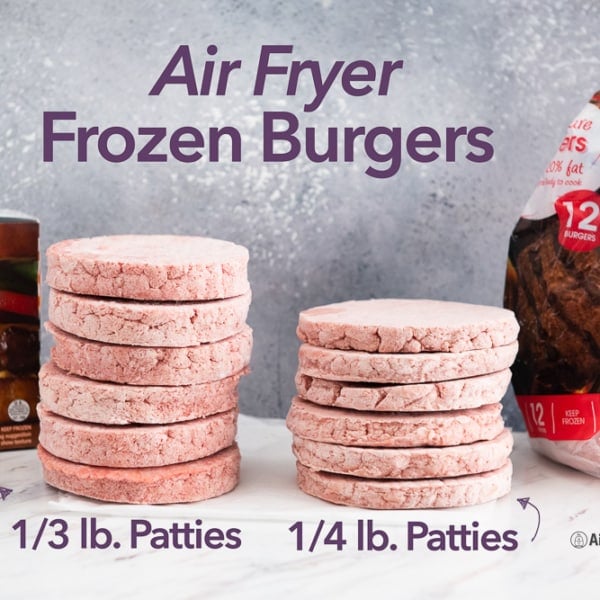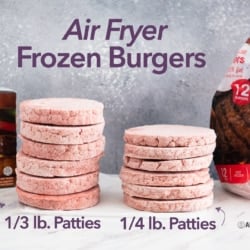 Air Fryer Burgers from Frozen Patties
Timing will be most determined by how thick the burger patties are. Depending on your air fryer and cooked preference, you might need to add a little time for thicker patties, or a little less of thin patties. Some frozen patties come pre-seasoned, while others are not. Season to taste if needed. You don't need to thaw the burger patties before air frying. Do not preheat the air fryer before cooking the frozen patties.
Ingredients
4

frozen raw beef patties

, usually sold as either 1/4 lb.(113g) or 1/3 lb.(150g)

salt

, to taste if needed

Lots of black pepper

oil spray

, for coating
Burger assembly:
4

Buns

, + optional cheese, pickles, lettuce, onion, tomato, avocado, cooked bacon etc.
Notes
Nutrition based on 1/4 lb. patties and just bun. Optional toppings or 1/3 lb. patties will increase values.
If your air fryer is preheated or if you are cooking multiple batches, you may need to reduce timing by a few minutes (unless preheating is called for in the recipe).
Nutrition Information
Calories:
366
kcal
,
Carbohydrates:
22
g
,
Protein:
21
g
,
Fat:
21
g
,
Saturated Fat:
8
g
,
Polyunsaturated Fat:
2
g
,
Monounsaturated Fat:
9
g
,
Cholesterol:
60
mg
,
Sodium:
300
mg
,
Potassium:
360
mg
,
Fiber:
1
g
,
Sugar:
3
g
,
Vitamin A:
1
IU
,
Vitamin C:
1
mg
,
Calcium:
82
mg
,
Iron:
4
mg
Here's our Recipe for Air Fryer Burgers from Scratch, Homemade!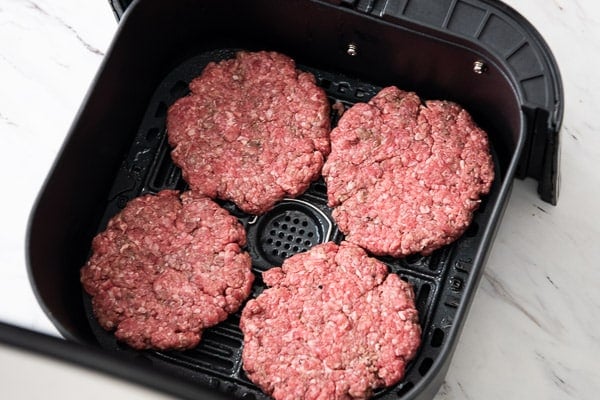 As an Amazon associate and partners with other affiliate programs, we may earn from your qualifying purchases. We may earn small commissions that goes towards all the costs of running this website and recipe tests. Thank you for your support.