Air Fryer SmashBurger Tacos (Big Mac Tacos)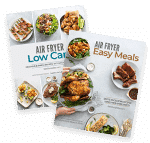 Buy our air fryer e-cookbooks today
Seriously, these air fryer smashburger tacos are so good. The smash burger tacos are a viral recipe sensation on Tik Tok and we just had to try it. They're also called big mac tacos. With the homemade sauce, these really do taste like burgers or bic macs. Give these air fryer big mac tacos smashburger-style a try!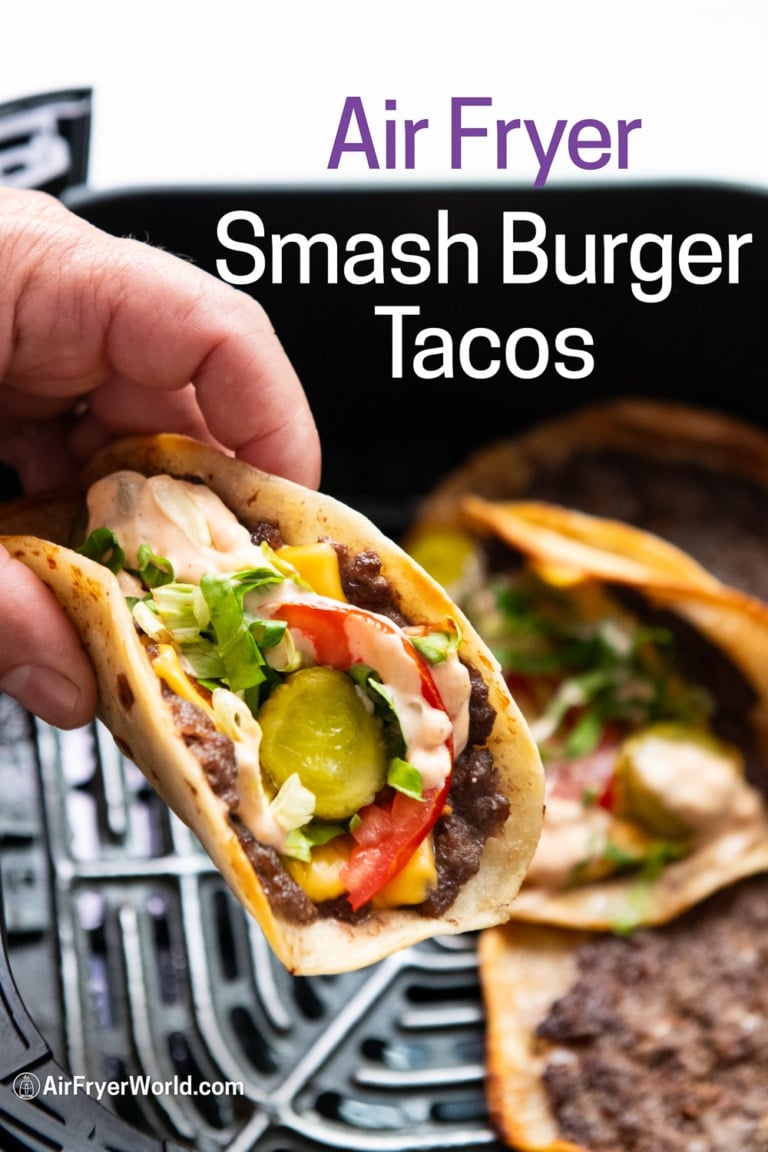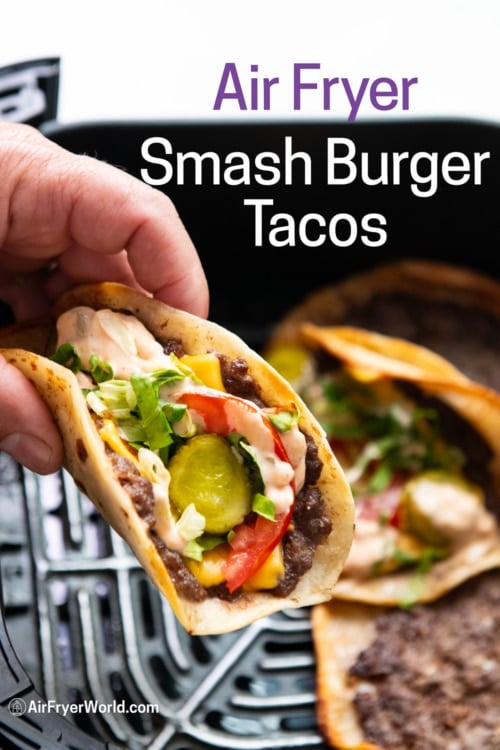 What are Air Fryer Big Mac Smash Burger Tacos?
They're so fun to make and eat. These burger tacos a super popular and crazy delicious taco that tastes like a big mac. It's essentially burger meat that's smashed onto the tortilla and cooked on a hot pan. So it's like a thin burger patty that's in between the tortillas. The fillings are exactly what you would see on a cheeseburger or big mac. The burger sauce that's like a thousand island dressing is what really takes the flavors to being like a big mac. But instead of being in a hamburger bun, this viral sensation is like an animal style burger but in taco form. So we just had to make an air fryer version of the smashburger tacos, of course!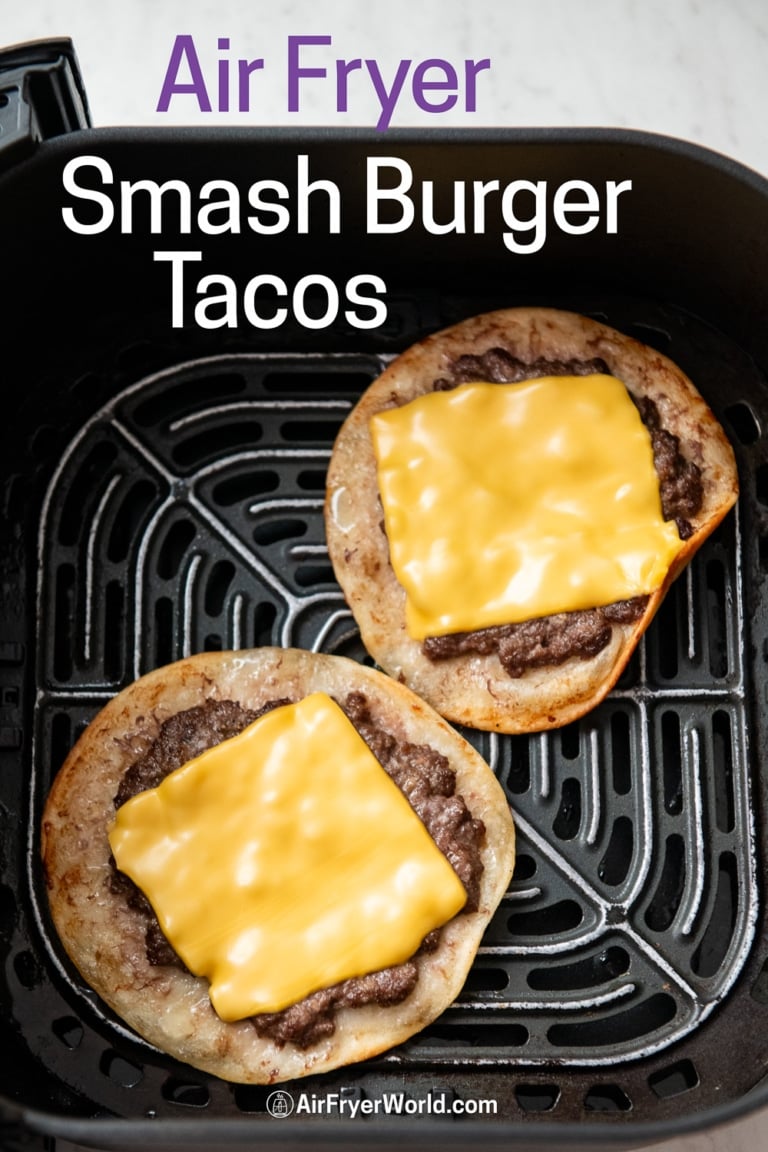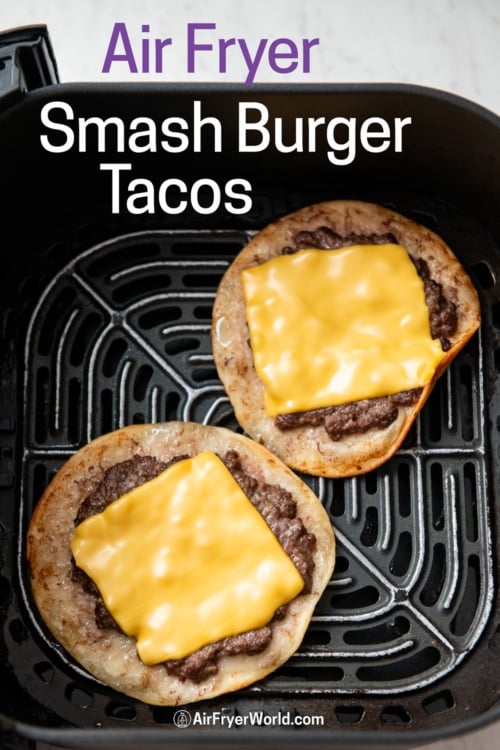 Video: Air Fryer Smashburger Tacos or Big Mac Smash Burger Tacos
How to Make Burger Sauce from Scratch (Fry Sauce)
This quick and simple homemade burger sauce or fry sauce takes 5 minutes to make. It's crazy easy and it's going to be a favorite condiment that lives in your fridge. Guaranteed. It's basically like a chunky thousand island dressing or fry sauce. Best of all, the flavors really do resemble that of the popular burger chain hamburger. You can customize the sauce to your preferred texture and flavors. Here's some basic ingredients that you can add or omit when making the fry sauce:
Mayo: Mayonnaise is the base of the sauce. But if an alternative is using greek yogurt or even sour cream.
Mustard for tangy flavors: Mustard give some color and tang to the flavors. You can use vinegar to replace the mustard.
Ketchup gives the pink color and the sweetness. You can replace it with some tomato sauce if you don't want the sweetness.
More sweet: Add some brown sugar if you want your sauce sweeter.
Minced onions gives a nice zesty flavor. If you don't like onions, leave it out.
Pickles or relish for texture: Use some relish or minced pickles. This gives a nice bite.
A splash or two of Worcestershire sauce gives more umami. You might even like a splash of soy sauce.
Love spicy? Add some hot sauce to it.
Tips on Making Big Mac Smash Burger Tacos
You really want a hot pre-heated air fryer. Make sure to pre-heat your air fryer so the meat can get a great sear.
When smashing or spreading the raw meat on the tortillas, make sure they're not too thick. And the meat will shrink during air frying, so spread the meat all the way to the edges of the tortilla.
You don't need any extra oil because when cooking the beef so no oil spray or oil brush is needed.
Quick melting cheese: Use a thin slice of American cheese if you want it to melt faster. You can use thicker artisan cuts of cheese, but it'll take a little longer to melt. You might need to actually air fry the cheese slightly rather than just using the residual heat to melt the cheese.
Other sauce: you don't have to use the homemade sauce we list below. Use bbq sauce, ranch or any of your favorite burger sauces.
All air fryer smash burger tacos recipe details are in the recipe box below. And there's step by step photos too for you to follow along during cooking.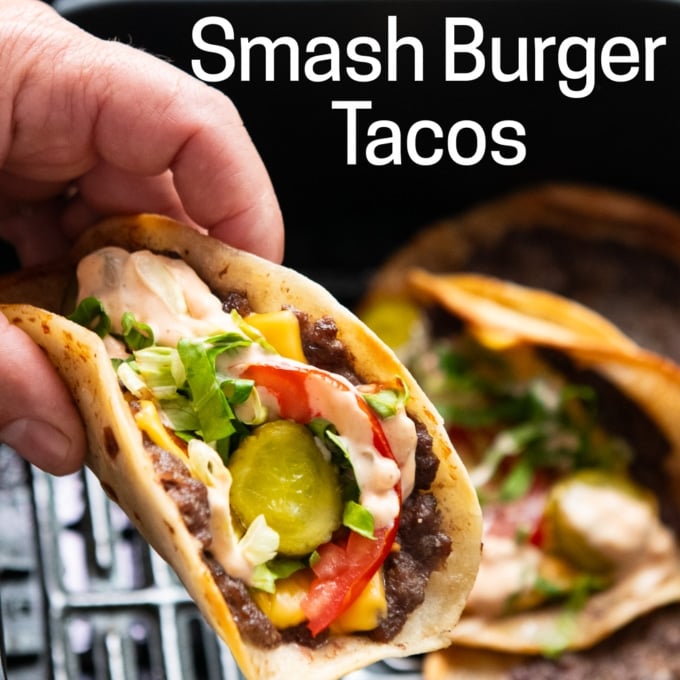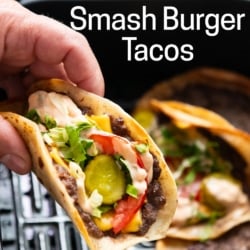 Air Fryer Smash Burger Taco (aka Big Mac Smash Burger Tacos)
Using flour tortillas gives a better crisp texture. If you want to use corn tortillas, you must spray the bottom side of the tortilla with a generous amount of oil. If not, the corn tortilla could be very hard. But that's ok if you're looking for more of a "tostada" texture.
Ingredients
1

lb.

(

454

g

)

ground beef

1

teaspoon

(

4.93

ml

)

garlic powder

, or to taste

6

(5-6 inch)

(

13-15

cm

)

flour or corn tortillas

Salt

, to taste

Ground black pepper

, to taste
Burger Toppings (all optional)
Burger Sauce

(see recipe below)

6

slices

American cheese

, or cheese of choice

Shredded lettuce

Tomato slices

pickles

sliced onions

ketchup, mustard , mayo, bbq sauce, thousand island, etc.
Burger Sauce Ingredients
1/2

cup

(

120

ml

)

mayonnaise

1/4

cup

(

60

ml

)

ketchup

1

Tablespoon

(

15

ml

)

mustard

2

Tablespoons

(

30

ml

)

minced onion

, optional

2

Tablespoons

(

30

ml

)

pickle relish

, or minced pickles
If your air fryer is preheated or if you are cooking multiple batches, you may need to reduce timing by a few minutes (unless preheating is called for in the recipe).
Nutrition Information per Serving
Calories:
372
kcal
,
Carbohydrates:
2
g
,
Protein:
18
g
,
Fat:
32
g
,
Saturated Fat:
10
g
,
Polyunsaturated Fat:
9
g
,
Monounsaturated Fat:
10
g
,
Trans Fat:
1
g
,
Cholesterol:
80
mg
,
Sodium:
527
mg
,
Potassium:
262
mg
,
Fiber:
0.1
g
,
Sugar:
1
g
,
Vitamin A:
211
IU
,
Vitamin C:
0.01
mg
,
Calcium:
234
mg
,
Iron:
2
mg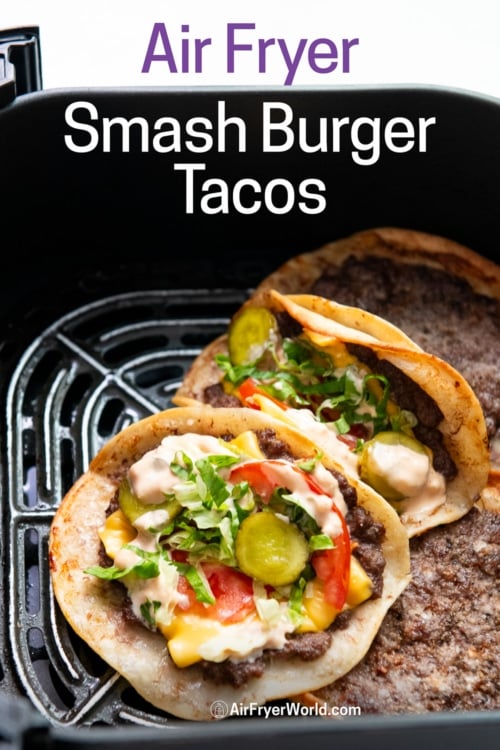 Best Tortillas for Air Frying SmashBurger Tacos?
For air frying, we like using flour Tortillas because they crisp quickly in the air fryer. Also, they're softer so they can fold into the taco shape easier. But if you're a fan of corn tortillas, that's great too! You will need to add a spray or brush of oil on the tortillawhen you flip to the tortilla side on the pan. The extra oil will help make the corn tortilla crispier. But also another warning, if you flip to have the tortilla side up during air frying, the meat might separate from the tortilla. Also, it might overcook the meat too. Hope you enjoy this big mac smashburger!
Different burger toppings to try
There's so many different possibilities to make each air fried smash burger unique. When customizing any burger, the same rules apply to this hamburger smash taco. Add what ever favorite toppings that you want. Treat it as it's a regular burger and you'll love it!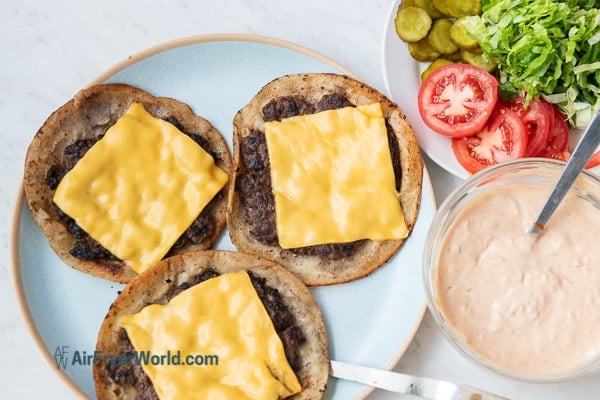 More Easy Air Fryer Recipes:
As an Amazon associate and partners with other affiliate programs, we may earn from your qualifying purchases. We may earn small commissions that goes towards all the costs of running this website and recipe tests. Thank you for your support.