Air Fryer Avocado Fries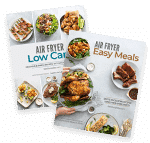 Buy our air fryer e-cookbooks today
Have you ever thought another making air fryer avocado fries? If you love eating avocados and fries, give these a try. They're the perfect snack or appetizer. Air fried crispy avocado is a simple and different way to enjoy avocado. All you need to do is to add your favorite dip!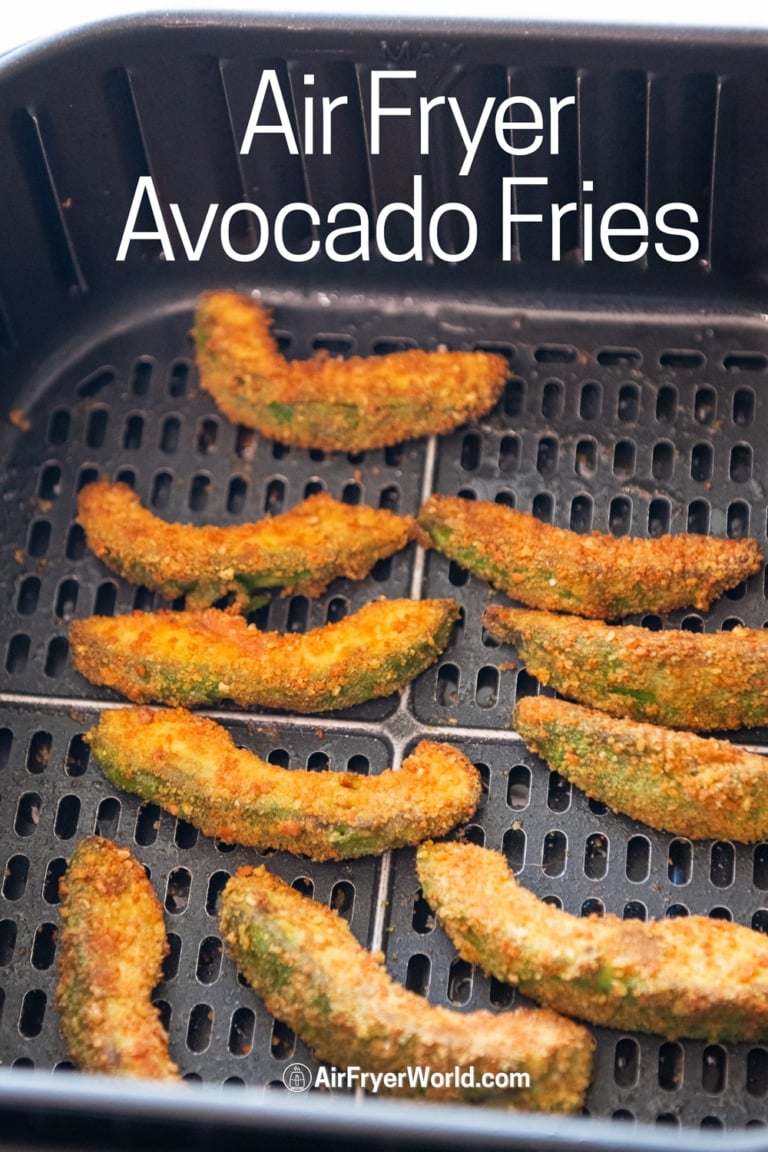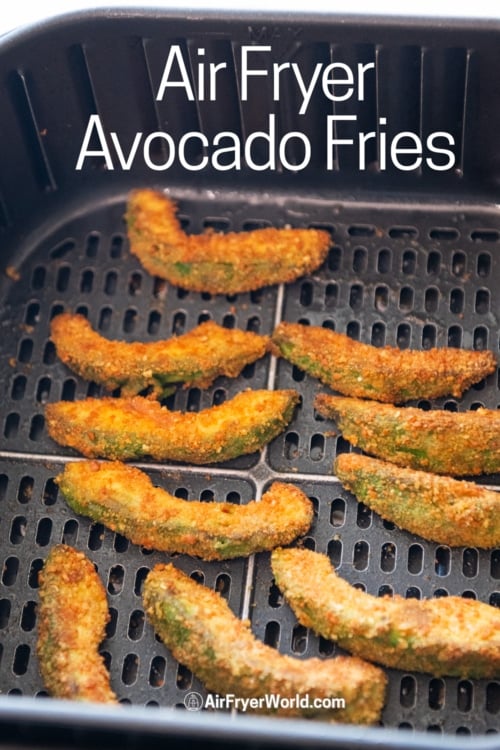 Crispy air fryer avocado fries
The thought of eating warm avocado might feel odd to some people. But the crispy, savory texture is so delicious that any pre-conceived notion of warm avocado disappears. When they're breaded and crispy, the creamy avocado center makes this an overall winner. If you happen to have an avocado ready to eat, give it a try. What's to lose? If you don't like it you can always take off the breading and eat the avocado solo!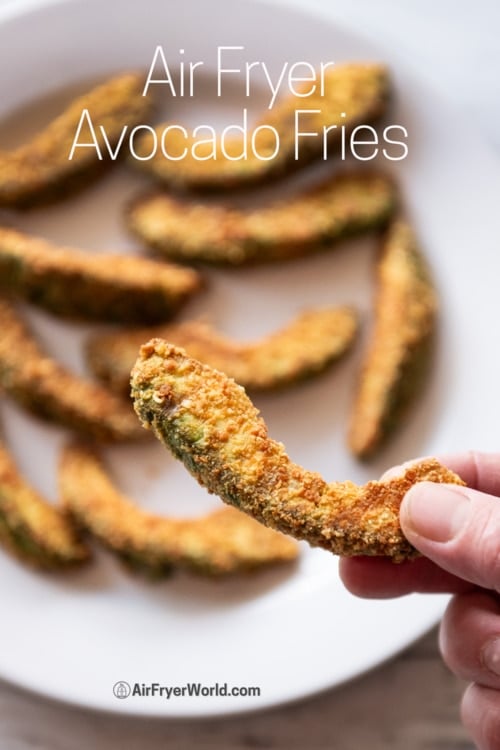 Video: Air Fryer Avocado Fries
Breading Options for Air Fryer Avocado Fries
There's many different options for the crispy breading. Low carb options are plentiful as well. Traditional bread crumbs is the most common and popular breading option. But there's so many more options to try if you have a particular dietary lifestyle, especially if you're on the keto diet. Here's some breading possibilities:
Japanese Panko bread crumbs: these are a Japanese style bread crumb that is one of our favorites. They're light and when fried or air fried, the texture is super crispy. It's addicting.
For Keto: Crushed pork rinds is a popular very low carb breading option. It's great if you want the lowest carb option for avocado fries in the air fryer, crushed pork rinds are the way to go. The results are always crispy.
If you're a vegetarian and still want a keto option then try almond flour. This is a popular low carb breading option. It'll give you a great almond flavor too. We find that this doesn't get as crispy as the other bread crumbs. The texture can be rather crumbly if you don't use enough oil spray. But almond flour is still a great option for gluten free avocado fries in the air fryer.
Alternative breadings that are still delicious: Chickpea flour and sesame seeds are also great if you're wanting a lower carb or gluten free breading option.
Tips for Making Air Fryer Fries Crispy
Use a slightly firm avocado because these will hold up better to handling. If the avocado is really ripe, it'll be almost too soft to handle.
Season the avocado well. If you don't you'll have some bland fries. But if you're using a dip, then so much of hte flavor and seasoning will be from the dips.
Sprinkle your favorite seasonings on the avocado before breading. Bring on the flavor!
Play with different breading options! We discuss them already above.
With so many different varieties of avocados out there, we really love the haas avocado. They're creamy, buttery and flavorful. Reed avocados are also creamy and rich.
Make sure to cut the avocado slices evenly. If some are cut too thick and too thin, you'll have some that will cook quicker than others. Also, don't slice them too thin because they'll be hard to handle.
All air fryer avocado fries recipe details are in the recipe box below.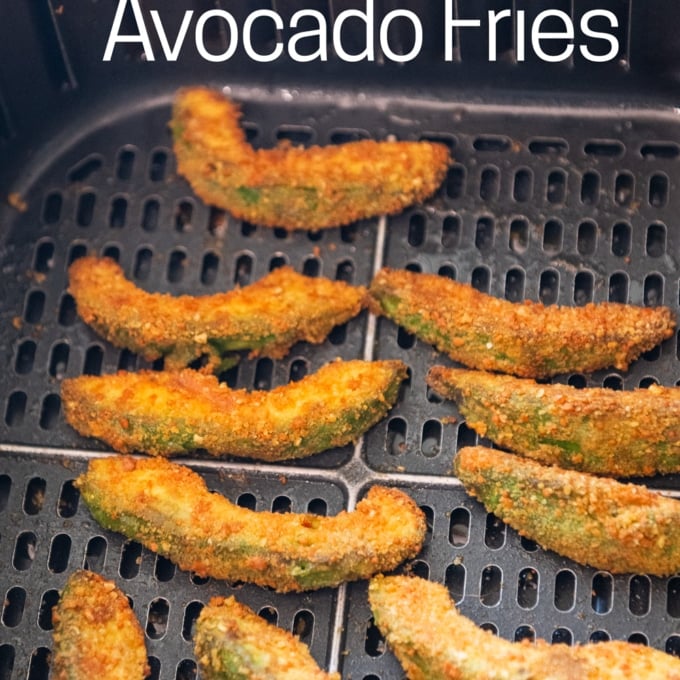 Air Fryer Avocado Fries
Cooking times will vary depending on the size of your avocado slices and the your air fryer. Start on the lowest suggested time, then add more time if needed to your personal liking.
Ingredients
1

large

avocado

, cut into 1/2-inch wedges

1

large

egg

, beaten

1/4

teaspoon

(

1.25

ml

)

salt

fresh cracked black pepper

1/4

cup

(

60

ml

)

breading

(breadcrumbs, panko, crushed pork rinds, etc.)

2

Tablespoons

(

30

ml

)

grated parmesan cheese
Dips Ideas
ketchup

ranch

hot sauce

malt vinegar
If your air fryer is preheated or if you are cooking multiple batches, you may need to reduce timing by a few minutes (unless preheating is called for in the recipe).
Nutrition Information per Serving
Calories:
247
kcal
,
Carbohydrates:
15
g
,
Protein:
8
g
,
Fat:
19
g
,
Saturated Fat:
4
g
,
Polyunsaturated Fat:
3
g
,
Monounsaturated Fat:
11
g
,
Trans Fat:
0.01
g
,
Cholesterol:
97
mg
,
Sodium:
476
mg
,
Potassium:
546
mg
,
Fiber:
7
g
,
Sugar:
1
g
,
Vitamin A:
325
IU
,
Vitamin C:
10
mg
,
Calcium:
84
mg
,
Iron:
1
mg
What are some delicious dipping ideas?
There's so many different options and we're always open to anything beyond the popular ketchup. That's what makes these so delicious is that kids love dipping and it's a great way for them to eat their veggies.
The always popular and classic mustard and ketchup is great.
Basic homestyle ranch or Creamy buttermilk ranch is great
It's not just for seafood! Tartar sauce is creamy, tangy and the flavors are excellent.
Creamy thousand island is great on burgers, hot dogs AND breaded avocado fries.
Fan of spicy? Hot sauce is always awesome. There's so many different kinds like chili crunch or chili oil is a great flavor option. The crunch of the onion and garlic is so good on crispy fish.
BBQ sauce adds a fantastic smoky flavor
Cheese dips are great like different types of queso
Honey mustard sauce is super yummy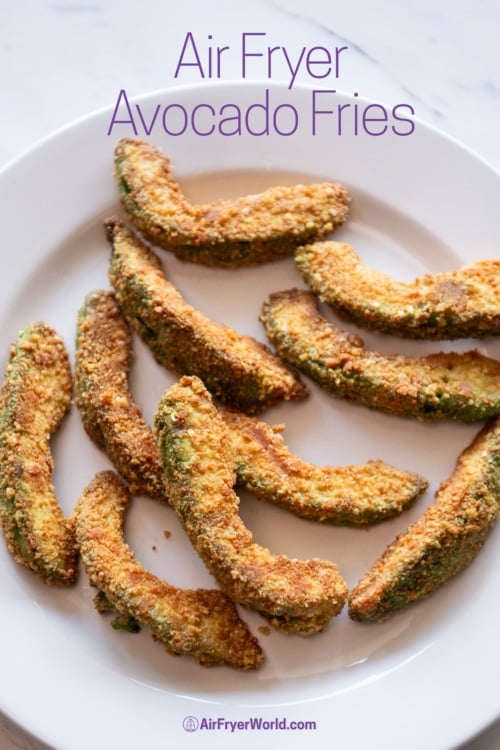 Can you freeze leftovers?
Believe it or not, yes you can freeze leftover avocado fries. These are great for freezing and part of meal prep. After the air fried avocado fries are completely cool, store them in airtight bags or containers in the freezer. You can freeze them for up to 2-3 months but try to eat them sooner than later. Sometimes freezer burn will set-in and make the fish sticks not so flavorful anymore. Then when you're ready to eat, allow them to cool completely. Be gentle in handling them because they will be soggy. Then crisp them up in the air fryer
How to re-heat thawed air fryer avocado fries?
The best way is always to air fry them. Place them frozen straight from the freezer into the air fryer. Air fry the avocado fries at 380°F for about 4-6 minutes or until crispy and heated through. Re-heating times will vary depending on the size and power of your air fryer. But start with about 4 minutes first, then add more time if needed. The concept of freezing avocado definitely works great! If you go to the freezer section of a large grocery store, you'll see that they sell frozen avocado halves. Amazing!
More Easy Air Fryer Recipes:
As an Amazon associate and partners with other affiliate programs, we may earn from your qualifying purchases. We may earn small commissions that goes towards all the costs of running this website and recipe tests. Thank you for your support.