Air Fryer Frozen Shrimp Tempura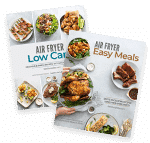 Buy our air fryer e-cookbooks today
Can you air fry frozen shrimp tempura? It's super easy to make re-heated frozen pre-cooked tempura shrimp in the air fryer. Air fryer frozen shrimp tempura is a quick and super simple. It's so delicious to make at home, no need to order take out from the Japanese restaurant! Air Fried tempura shrimp so easy to make, there's no need for take-out.
Raw or Pre-Cooked version for Air Fryer Frozen Shrimp Tempura
When you buy packages of frozen shrimp tempura, just know that the frozen breaded shrimp comes in two styles: raw on the inside or completely cooked. Make sure you know which style of frozen shrimp that you bought. Air frying time is different between raw and pre-cooked tempura shrimp. After checking your shrimp during air frying, you can always add another minute or two to make sure the shrimp breading is crunchy.
The extra crunch is always better and that's pretty much how we like our battered shrimp to taste: crispy! Adding the extra minute or so will take the frozen shrimp from soggy to super crispy. We discuss this in more detail below. There's also frozen popcorn shrimp. If you're a fan of frozen popcorn shrimp, try our air fryer frozen popcorn shrimp method.

Video: How To Air Fry Shrimp Tempura Frozen
Pre-Cooked Frozen Shrimp Tempura Air Frying Timing:
Shrimp size also matters in cooking time. For example very small, bite sized popcorn shrimp will be quicker than larger shrimp.
If you're air frying Pre-Cooked, breaded and frozen, air fry at 380°F for 6 minutes, flip then cook for another 2-4 minutes. Check the shrimp and if you need it to be crisper or cooked through more, then add additional 1-2 minutes of air frying time until it's cooked all the way through and crispy to your preference.
Usually it takes only an extra minute of air frying time to make larger pre-cooked shrimp to be crispy.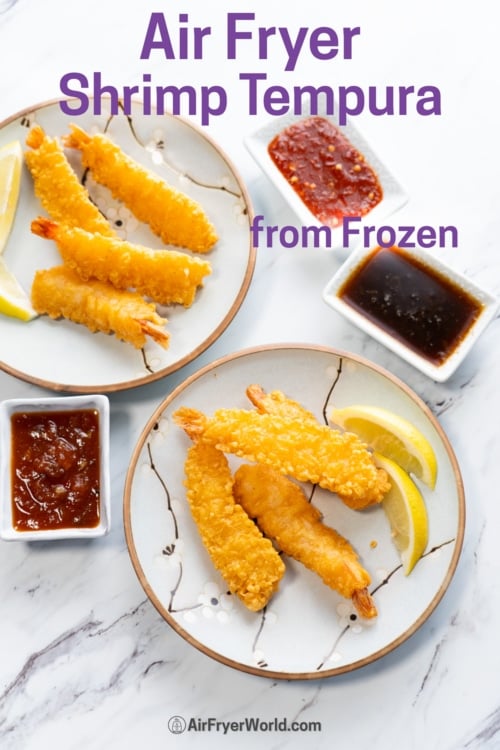 Un-Cooked: How Long To Air Fry Frozen Shrimp Tempura RAW?
When it comes to raw, the size of shrimp is important as well. Smaller sized tempura shrimp will be quicker than larger shrimp. Add extra time to air fry larger, raw, frozen shrimp.
For tempura shrimp that's raw, breaded and frozen, air fry at 380°F for about 8 minutes, flip then cook for another 2-5 minutes.
Please check the shrimp and if you need it to be crisper or cooked through more, then add additional 1-2 minutes of air frying time until it's cooked all the way through and crispy to your preference.
After you make your first batch, you'll know what timing is best for your specific model of air fryer and size of the raw breaded shrimp that you bought.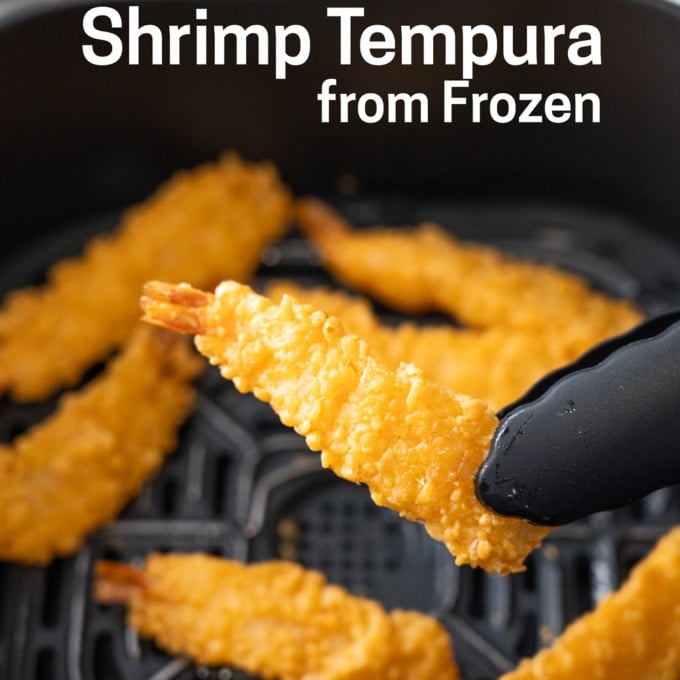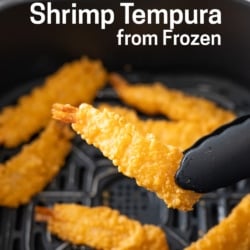 Air Fryer Shrimp Tempura from Frozen
Read First: Lots of factors influence outcome of how frozen tempura shrimp cook. They vary in size, coating, pre-cooked or raw, so you'll have to adjust timing based on your specific shrimp.
All air fryers are different and some cook much hotter than others. Once you cook your first batch, you'll know more of what works for your model of air fryer and size of food.
Make sure to cook in just a single layer. Cook in multiple batches if needed.
Ingredients
1

pound

(

454

g

)

frozen tempura shrimp

optional dipping sauces

(teriyaki, sweet and sour, hot sauce, hot mustard, etc.)
Notes
Air Frying Tips and Notes:
Cook Frozen – Do not thaw first.
Shake or turn if needed. Don't overcrowd the air fryer basket.
If cooking in multiple batches, the first batch will take longer to cook if Air Fryer is not already pre-heated. Recipe timing is based on a non-preheated air fryer.

Recipes were tested in 3.4 to 6 qt air fryers. If using a larger air fryer, the recipe might cook quicker so adjust cooking time.

Remember to set a timer to shake/flip/toss as directed in recipe.
If your air fryer is preheated or if you are cooking multiple batches, you may need to reduce timing by a few minutes (unless preheating is called for in the recipe).
Nutrition Information per Serving
Calories:
374
kcal
,
Carbohydrates:
43
g
,
Protein:
11
g
,
Fat:
18
g
,
Saturated Fat:
4
g
,
Cholesterol:
53
mg
,
Sodium:
961
mg
,
Potassium:
53
mg
,
Fiber:
2
g
,
Sugar:
2
g
,
Calcium:
36
mg
Air Frying Time for SeaPak Tempura Shrimp?
There's many different brands out there for frozen shrimp tempura. We used the SeaPak brand. Most other brands are about the same size shrimp as SeaPak. But if there's any difference it could be about 1-2 minutes of air frying time difference.
Tips for Thawing the sauce that comes with the Shrimp tempura
There's several ways to thaw the sauce that comes in the package of frozen tempura shrimp.
Water bowl method: Most sauces thaw best in a bowl of hot water. As you are air frying the shrimp, place the sauce in a bowl of hot water to thaw out.
Microwave method: You can also gently thaw the sauce in the microwave. When in doubt, it is always best to check the package instructions for their recommendation.
More Dipping Sauce Ideas:
You can always serve it with your own sauce as well. Grab your favorite teriyaki, dip them in soy sauce (or a doctored up version with a little wasabi, chili garlic, sesame seed oil, or chinese mustard)
sweet and sour sauce or orange sauce
mustard, bbq sauce, ranch, tartar sauce, aioli, or even ketchup. Jus serve your favorite dip!
What To Serve with Shrimp Tempura?
It's such a great appetizer and shrimp tempura is simple and delicious finger food. They are great beyond the snack. Want more delicious inspiration? Here's some other ideas to serve your tempura shrimp as a full meal, rather than just a snack or appetizer.
Make an awesome tempura shrimp roll sandwich, like a lobster roll. Instead of lobster, add the shrimp.
Add shrimp tempura on top of fried rice. It's delicious! Add a few of the air fried tempura shrimp to your fried rice and it becomes an quick and easy seafood fried rice.
Pasta and noodles are great! Add the tempura shrimp to your favorite bowl of noodles, spaghetti or any type of pasta. We love crispy shrimp pasta, especially when it comes with sauce. Have you tried fettuccine alfredo shrimp pasta? The creamy alfredo sauce with pasta and shrimp is amazing. Here's our recipe for a homemade alfredo sauce that readers love.
Have you tried tempura shrimp in tacos? Wow, they're great for quick and easy battered crispy tempura shrimp taco.
A salad is always great and a lighter, more healthy option. Adding a shrimp or two is a nice salad topper and will add a little more protein to your healthy diet.
It's great on an appetizer platter alongside some air fried chicken wings, air fryer french fries.
Here's more history behind tempura foods.
More Air Fryer Shrimp Recipes:
As an Amazon associate and partners with other affiliate programs, we may earn from your qualifying purchases. We may earn small commissions that goes towards all the costs of running this website and recipe tests. Thank you for your support.