Air Fryer Smothered Pork Chops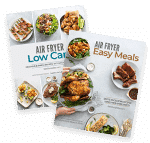 Buy our air fryer e-cookbooks today
When it comes to smothered pork chops, it's such a great family meal that everyone enjoys. But have you considered making air fryer smothered pork chops? The pork chops are air fried tender and juicy and the easy gravy is made on the stove top. It's the perfect weeknight dinner that everyone loves so much.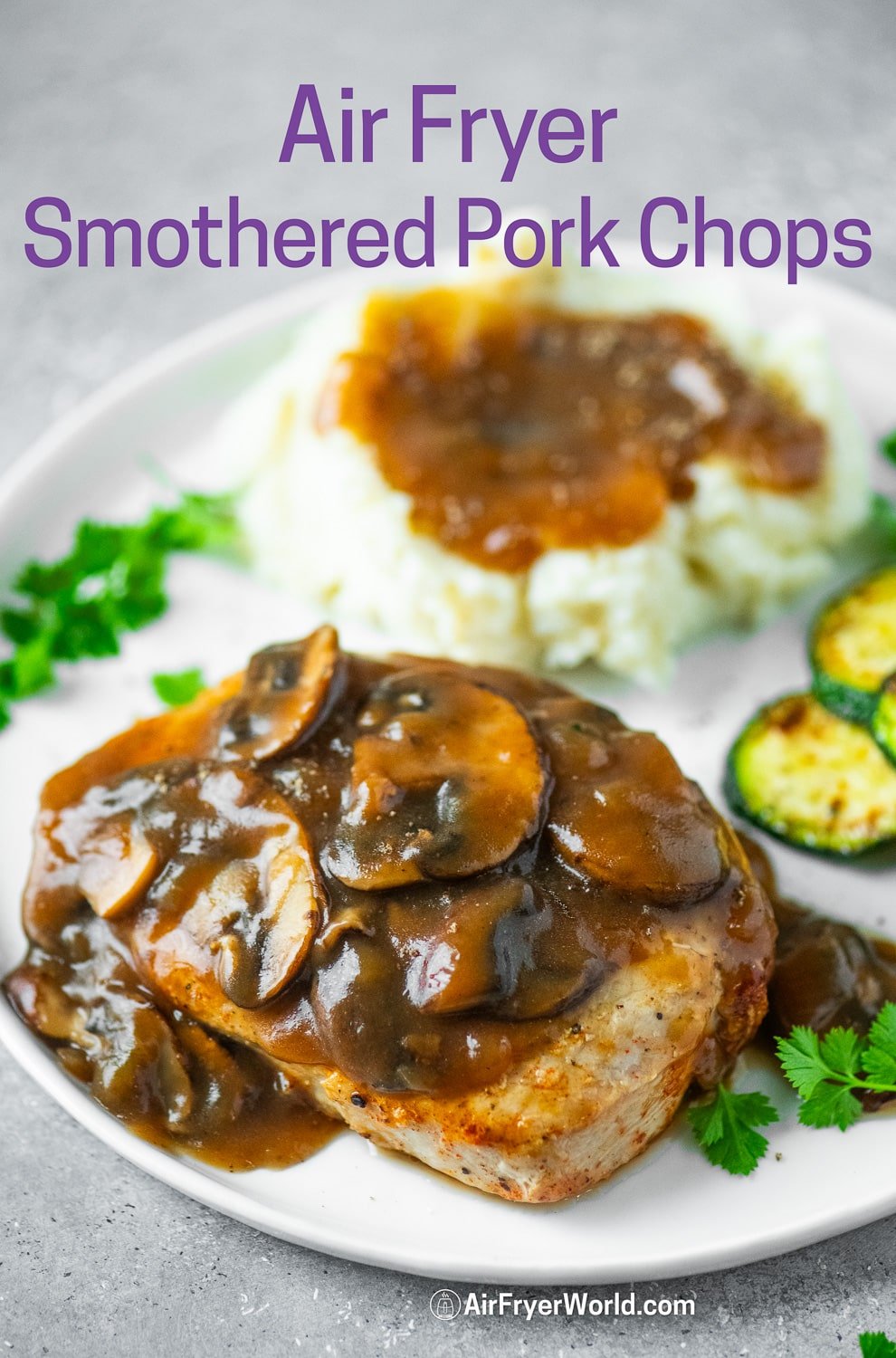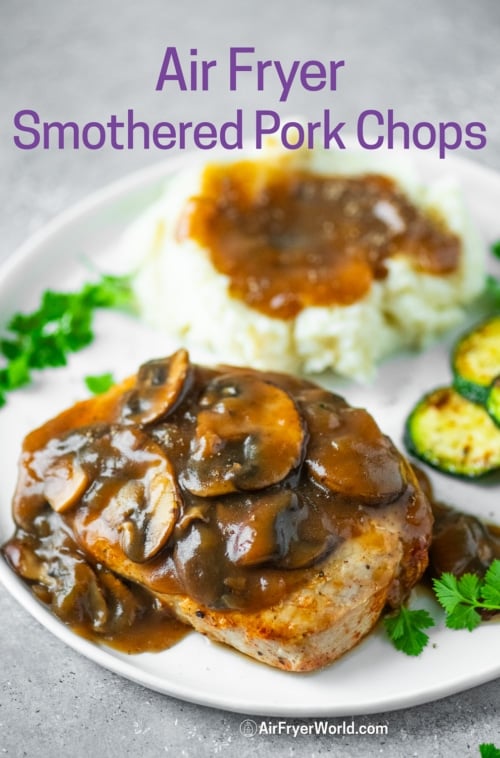 Easy Air Fryer Smothered Pork Chops
Why this recipe is so easy is because it takes less than 15 minutes to air fry the pork chops. And the gravy takes about 15 minutes, which can be made on the stove top when the chops are air frying. Everything comes together easily and best of all, you can feed a family of 4 if you have a 5-6 qt air fryer. This size of air fryer can cook 3-4 pork chops at once, or if you have a toaster oven style air fryer you can cook about 5-6 chops. If you have a smaller air fryer that can only cook 2 pork chops then you can cook the pork chops in 2 batches to feed 4 people.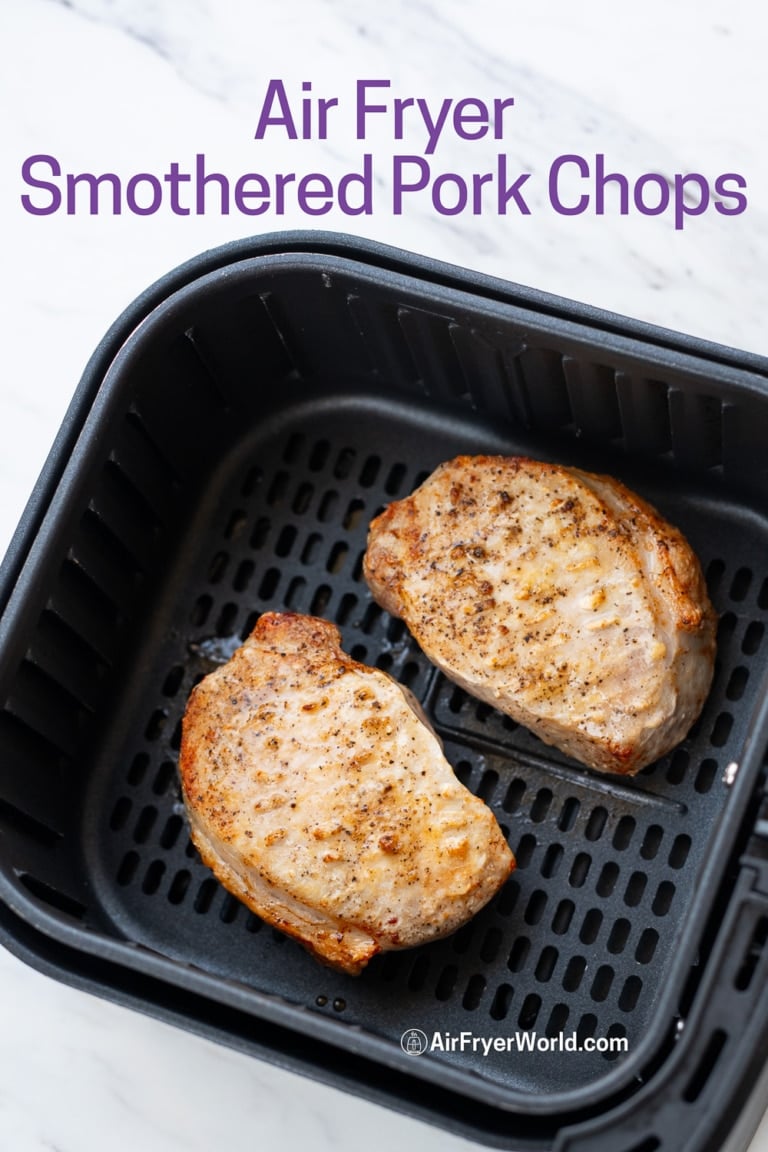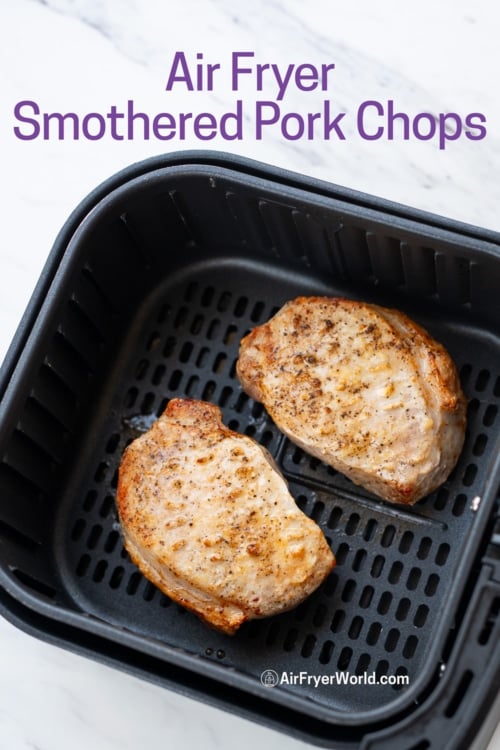 Video: Air Fryer Smothered Pork Chops
Best Pork Chops for Air Frying?
With so many different cuts of pork chops out there, the possibilities are endless for this air fried pork chops with gravy recipe. Here's some different and delicious cuts of porks that can be air fried:
Regular boneless pork chops are the most popular and they're not too thick. They are the leanest cut but with the gravy, they'll still be juicy and flavorful. You can use bone-in pork chops as well.
Thick cut loin chops will take a little longer to air fry, but have a great, thick bite.
Rib Chops and Loin Chops have a nice bit of fat in the meat, which air fries juicier than the loin chops.
Shoulder chops are pork slices cut from the pork butt or pork shoulder. They're fattier but definitely one of our favorite cuts because they are so flavorful with the bit of fat.
Simple Gravy with or without the mushrooms
Our popular and easy stove top gravy recipe is made with mushrooms and onions. The savory flavors of both the onions and mushrooms together is fantastic. It's one of our favorite everyday gravies to make because the flavor is so rich from the caramelized onions and mushrooms. But if you're not a fan of either onions or mushrooms, you can certainly make the gravy without them. Just use a nice quality beef stock or beef bouillon. You can also add some extra worcestershire or even a splash of soy sauce to add to the umami and rich flavor.
Tips on Making Air Fryer Smothered Pork Chops:
To make this recipe quicker, you can make the gravy ahead of time or the night before. If you made it a day ahead and stored it in the fridge, it will be thicker. But once you warm the gravy, just add a little water or milk to thin out the gravy.
For the gravy, make sure to season the gravy well. You'll need enough kosher salt, garlic salt or even onion salt to bring out the flavor. Salt makes a big difference for the gravy.
To help you know when the pork chops are done, an instant read thermometer or meat thermometer are very useful. Check the internal temperature to see if it is between 145°-160°F (63°-71°C) depending on your preferred doneness. You can also make a small cut in the pork chops to see how the look on the inside. Especially with thick cut pork chops, the outside may look cooked, but the inside may be a little less cooked than you prefer.
Once you cook the pork chops, don't wait to long before eating it. Just let it rest for a few minutes (you can do this in the air fryer basket/tray). When pork chops, especially loin chops, sit too long after cooking they become dry.
All air fryer smothered pork chops recipe details are in the recipe box below.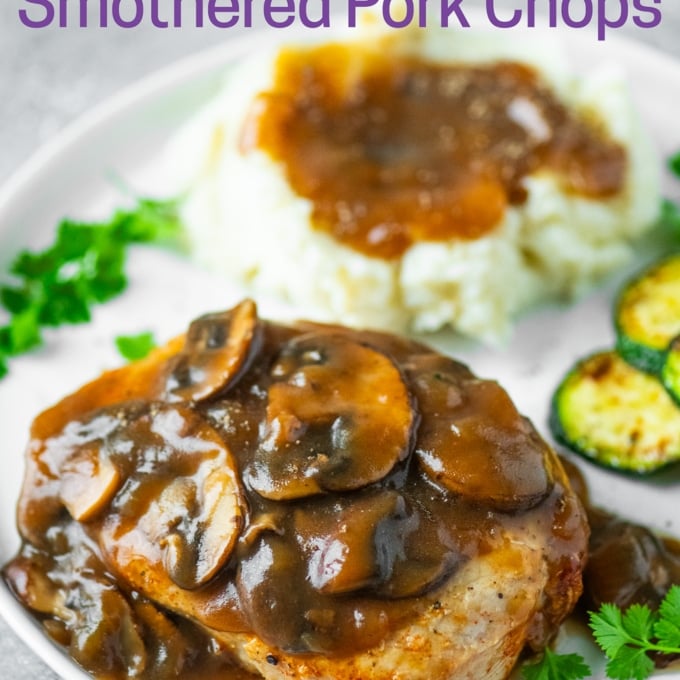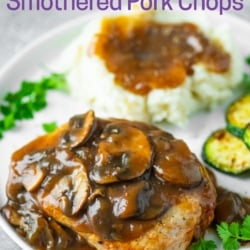 Air Fryer Smothered Pork Chops with a Mushroom Gravy
Our juicy pork chops are never boring, but this time they're extra delicious because of the mushroom-onion gravy. Who doesn't love gravy? We're obsessed with it and these smothered pork chops are always a hit in the test kitchen.
For time efficiency we like to start the gravy first. After the point where it starts to simmer, we'll air fry the pork chops. You can also make the gravy ahead of time (even a couple days ahead of time and just keep it in the fridge). Then when the pork chops air fry, re-heat the gravy so it is warm when ready to serve.
Ingredients
Pork Chop Ingredients
3

pork chops

(6 oz. (170g) each), rinsed and patted dry

2

teaspoons

(

9.86

ml

) olive oil

salt

, to taste

black pepper

?, to taste

garlic powder

, to taste

smoked paprika

, to taste
Gravy Ingredients
1/4

cup

(

59.15

ml

) olive oil

1

medium

onion

, sliced

8

oz.

(

227

g

)

mushrooms

, sliced

2

cloves

(

2

cloves

)

garlic

, minced or 1 teaspoon garlic powder

2

Tablespoons

(

30

ml

)

butter

3

Tablespoons

(

44.36

ml

)

all-purpose flour

2

cups

(

480

ml

)

cold broth

salt

, to taste

black pepper

, to taste
Optional Garnish:
minced parsley, chives or thyme leaves
Instructions
Air Frying the Pork Chops:
Lightly coat the pork chops with olive oil. Season with salt, pepper, garlic powder, and smoked paprika. Place in the air fryer.
If your air fryer is preheated or if you are cooking multiple batches, you may need to reduce timing by a few minutes (unless preheating is called for in the recipe).
Nutrition Information per Serving
Calories:
527
kcal
,
Carbohydrates:
14
g
,
Protein:
33
g
,
Fat:
38
g
,
Saturated Fat:
11
g
,
Polyunsaturated Fat:
4
g
,
Monounsaturated Fat:
21
g
,
Trans Fat:
0.4
g
,
Cholesterol:
110
mg
,
Sodium:
757
mg
,
Potassium:
812
mg
,
Fiber:
2
g
,
Sugar:
4
g
,
Vitamin A:
573
IU
,
Vitamin C:
5
mg
,
Calcium:
27
mg
,
Iron:
2
mg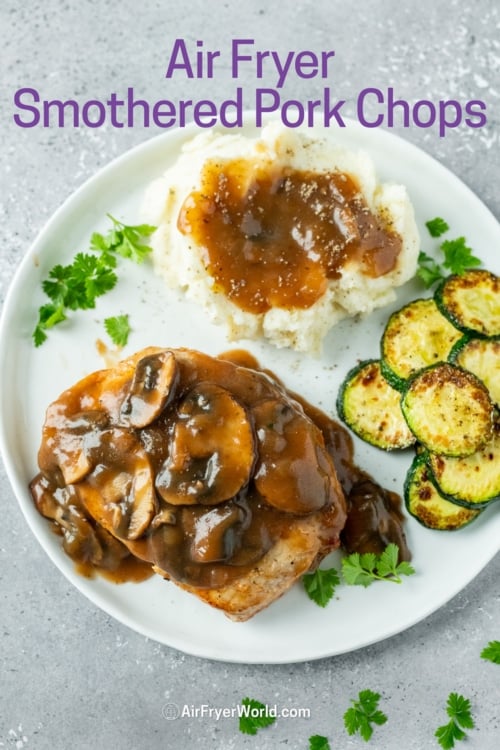 What to serve with smothered pork chops in the air fryer?
There's quite a few different side dish options that take these chops over-the-top amazing. Here's some of our favorite:
Air fryer scalloped potatoes, Mashed potatoes, air fryer potatoes or smashed potatoes are fantastic side dishes.
Vegetables in the air fryer are quick and healthy side dishes to serve with the juicy smothered pork chops.
Make a sandwich out of the pork chops! Cut the cooked pork chops in smaller pieces, then fill the sandwich bread or soft rolls with the pork. Then pour the gravy on top. YUM.
How to freeze leftover pork chops?
Just store the pork chops in airtight bags or containers. For the gravy, you can store it in an air tight container. But when re-serving the gravy, you should let it thaw a big in the fridge overnight. Then when heating it up you might need to add a little water or milk. Then whisk the gravy to make it smooth.
As an Amazon associate and partners with other affiliate programs, we may earn from your qualifying purchases. We may earn small commissions that goes towards all the costs of running this website and recipe tests. Thank you for your support.