How to Air Fry Frozen Impossible Burgers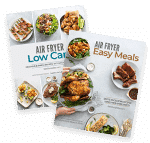 Buy our air fryer e-cookbooks today
Learn how to air fry frozen impossible burgers if you want to eat more plant based foods. Our recipe for froze Impossible burger patties in the air fryer is a great option for when you're craving burgers.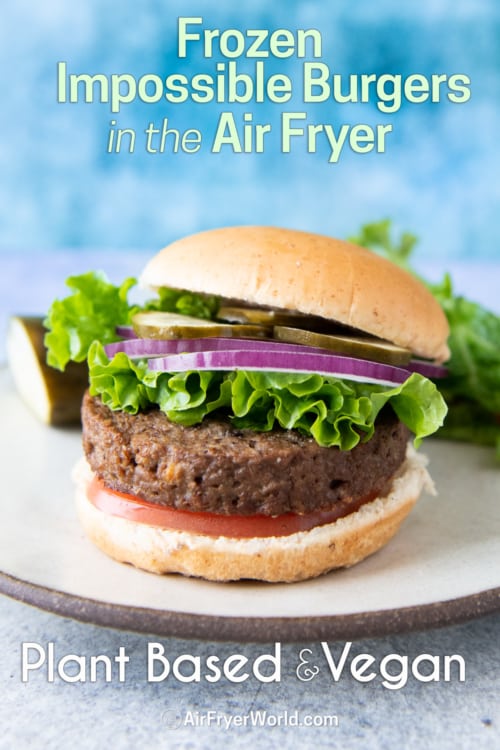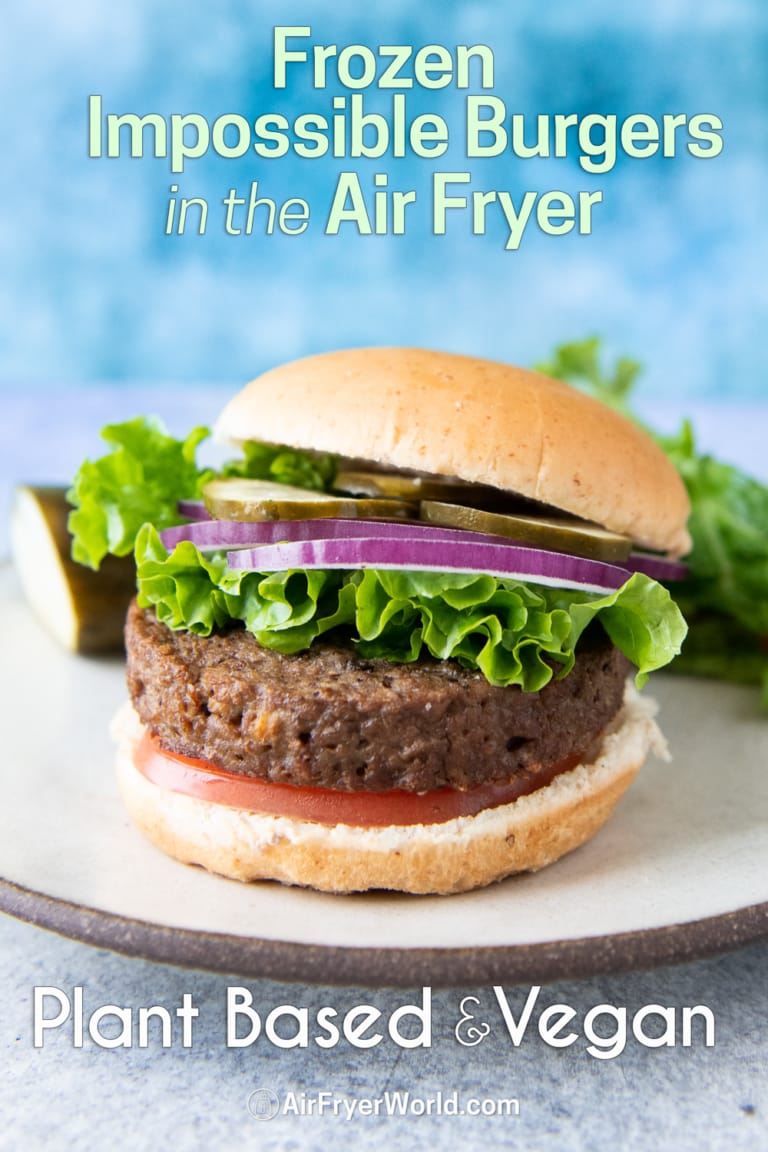 What is Plant Based Impossible Meat?
It's not real meat and it's a plant based, meatless alternative for protein. The company says on their website "Impossible Burger is made from proteins, flavors, fats, and binders. The key difference from your average beef burger? Our ingredients are derived from plants. " It's a vegan and vegetarian substitute for ground beef.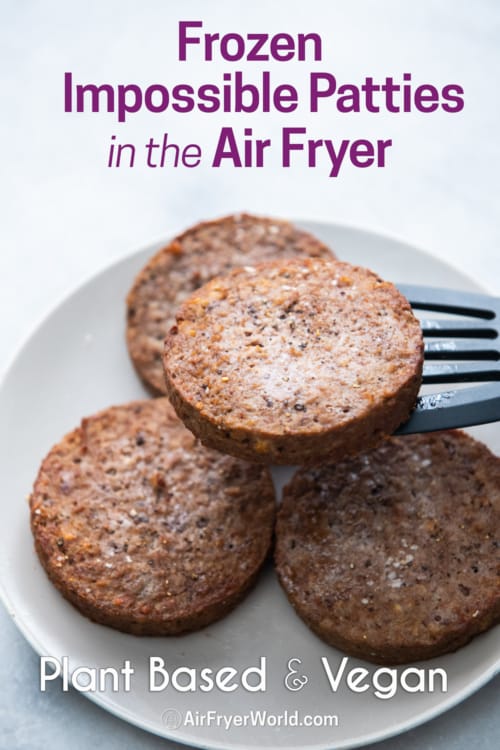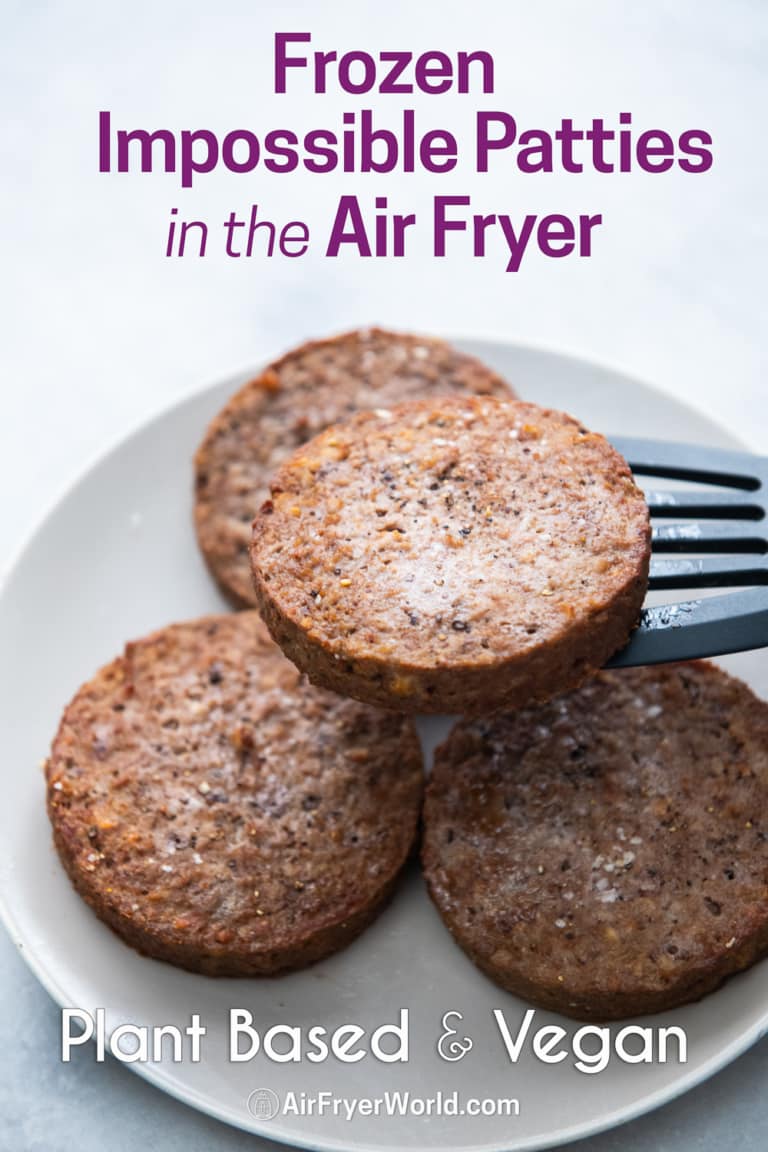 Air Fryer Frozen Impossible Burgers
With plant based burgers as all the rage, these air fried Impossible burgers can definitely be satisfying. You won't really miss the meat and it feels good knowing you're eating more veggies. Air frying the burger patties from frozen is the real game changer because it's so easy to just air fry the impossible patties from frozen. The flavor of the patty is delicious and making the burgers is a quick and easy dinner.
Video: Air Fried Frozen Impossible Burgers
Can you Air Fry Impossible Burger Patties that are FROZEN?
Yes, frozen Impossible burger patties can be air fried when pulled straight from the freezer. These plant based patties can be sold as frozen patties, which is what we are teaching in this article. You just need to unwrap them and start air frying. Remember that all air fryers cook a little differently. So timing might be slightly different from what we share. After you air fry your first frozen batch, you'll know the best timing that works for your specific model of air fryer.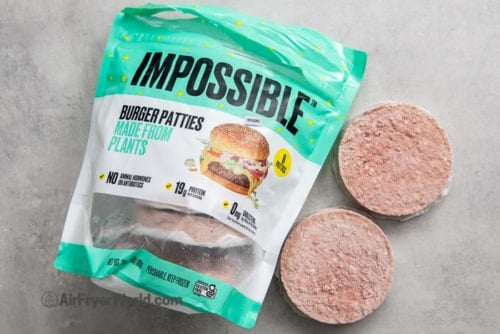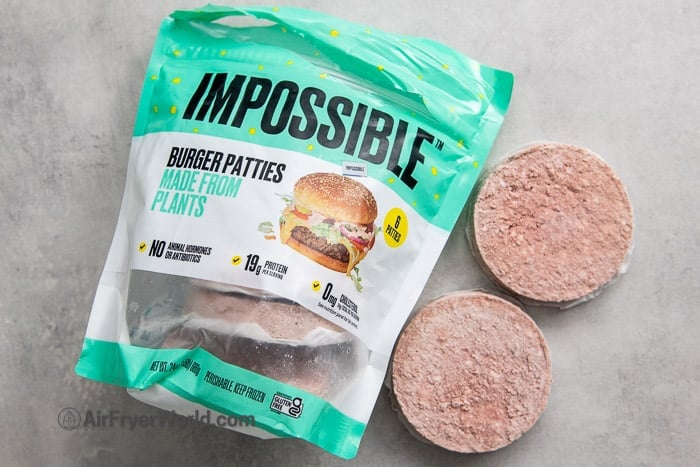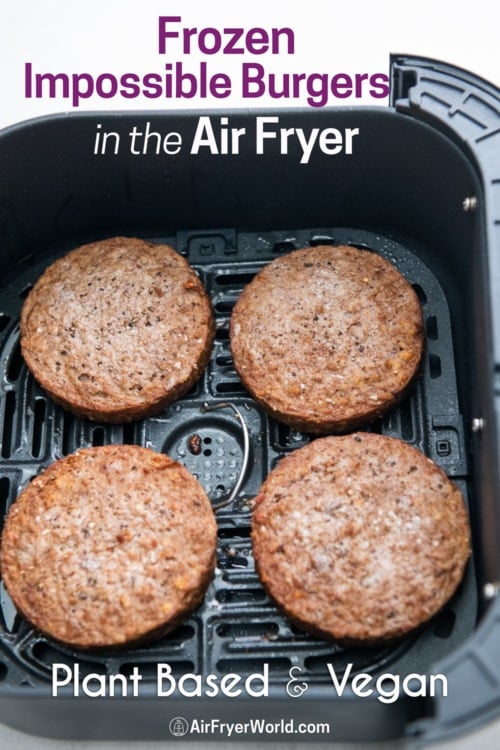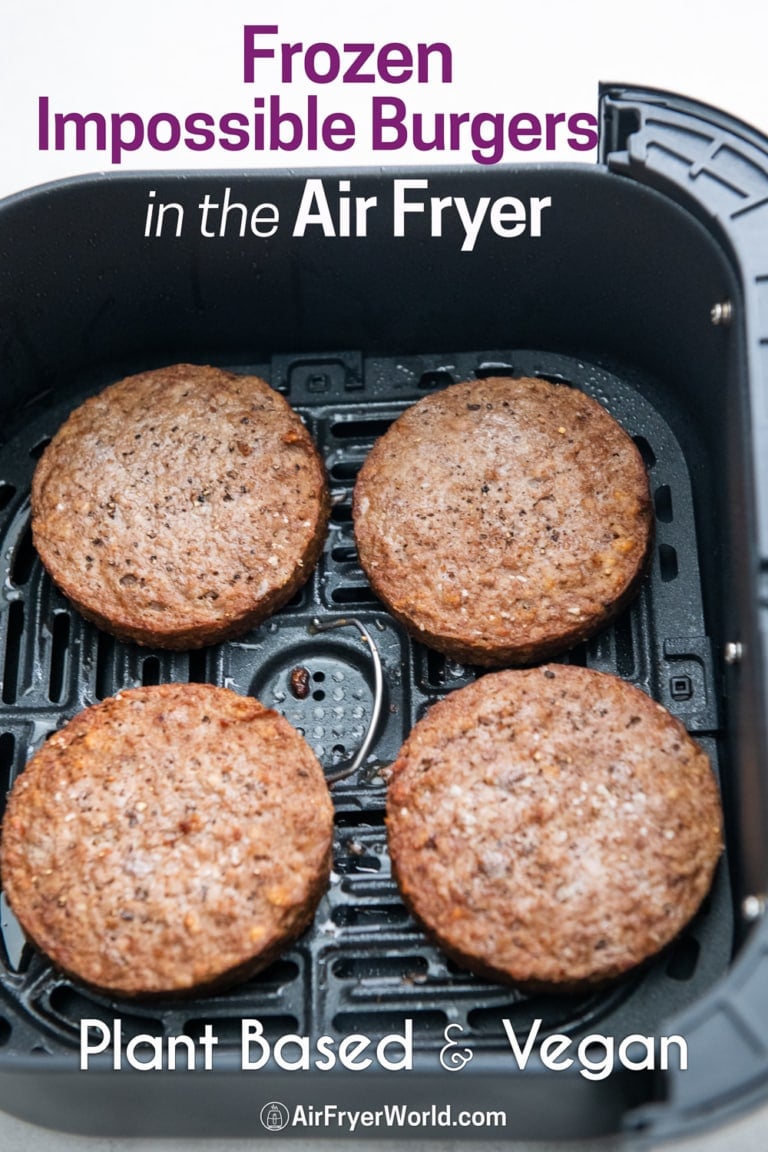 How to Cook Frozen Impossible Burger Patties in the Air Fryer
You do not need to thaw the frozen Impossible burger patties. They can be air fried frozen, straight from the freezer.
Flavor tip: Sprinkle a little garlic powder, onion power and salt and pepper before air frying. These plant based patties will be extra flavorful!
Cheeseburgers : If you're adding cheese, press it into the cooked patty so that it sticks to the patty. This keeps the cheese from flying off the patty during air frying. Then air fry for about 1 minute until the cheese melts. If you're using vegan plant based cheese, it might not melt the same as dairy based cheese.
All recipe details are in the recipe box below.
Pro-Tip: here's our favorite tools to help make air frying easier: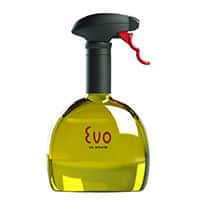 We LOVE Evo Oil Sprayers. Not the prettiest, but they're functional and spritz oil great! They don't clog up like many others we've bought. There's different styles, but all seem to have the same great spray head. Works great for grilling!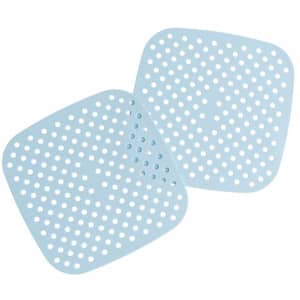 There are Square Mats & Round Mats. These perforated non-stick silicone mats are used to cook food in your air fryer or steamer to minimize sticking. Holes allow hot circulating air to cook the food & keeps the food from sticking.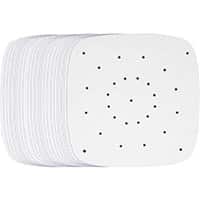 Parchment sheets are great for your air fryer or bamboo steamer (food tends to stick most on wire basket or tray). Choose from different sizes, shapes, white and brown (unbleached). Holes allow air to cook food evenly.
Can you Air Fry Fresh or Thawed Impossible Burger Patties?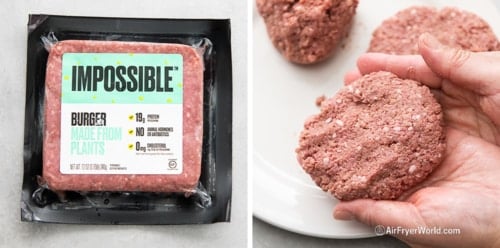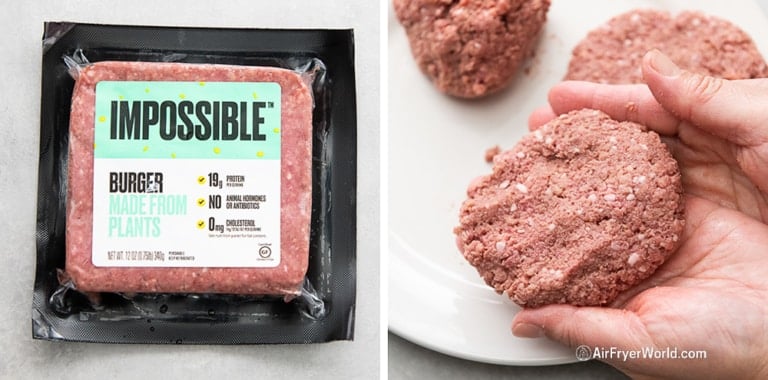 If you decide to thaw the patties you can definitely air fry them thawed. But timing will be different. Also, if you want to make your own patties from the 12 oz fresh "ground meat" package you can do that too. Here's all the information for time and temp if you're going to air fry Impossible burger patties from scratch or thawed.
Impossible Burger Topping Ideas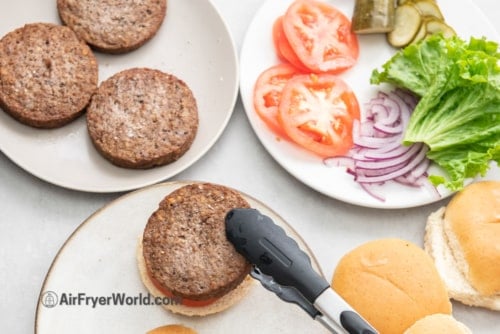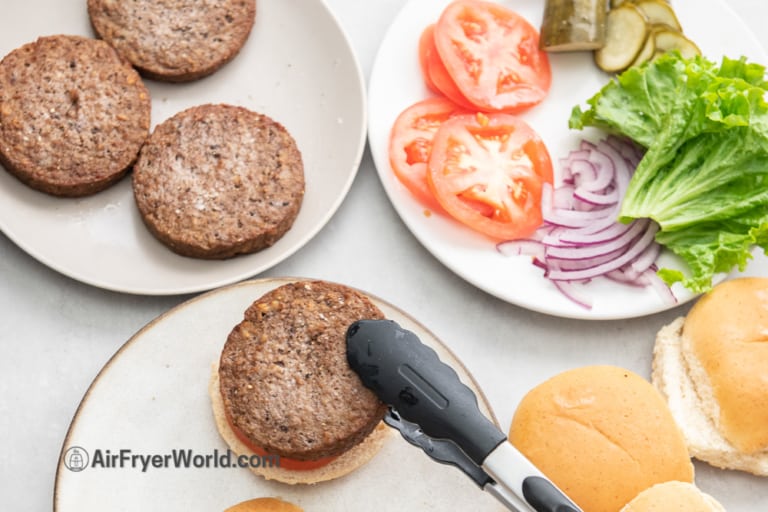 Delicious Sauces: Spicy mayo, hot mustard, regular mayo, hot sauce, bbq sauce, ranch dressing.
If you like buffalo wing flavor, then drizzle some buffalo sauce on the burger.
Onions in two ways: Sliced raw onions or sautéed your onions.
Delicious cheeses like smoked gouda, pepper jack, fresh mozzarella.
Various types of greens: arugula, spinach, chopped kale, butter leaf lettuce, ice berg, green leaf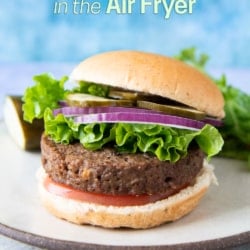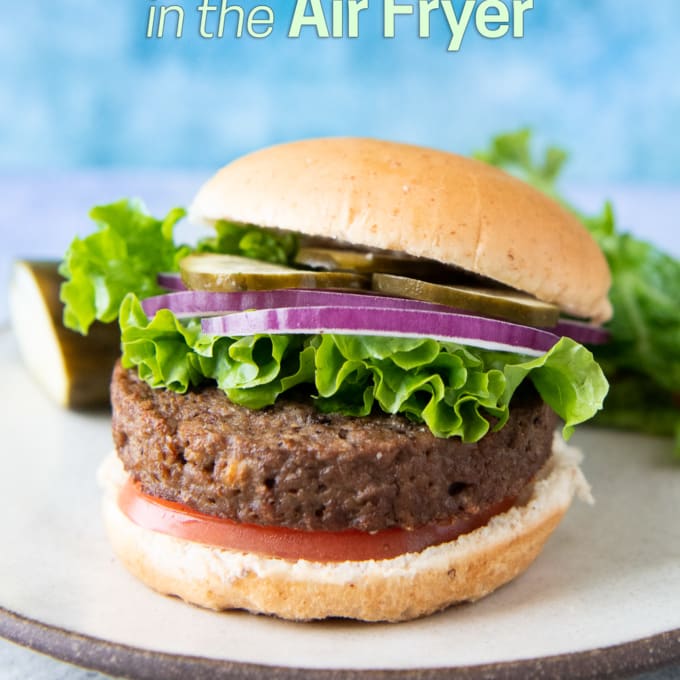 Air Fryer FROZEN Impossible™ Burgers
Cooking time will vary depending on how many you are cooking, freezer temp., different air fryer models. Air fry at the lowest timing we suggested and check the burgers. Continue cooking the patties to your preferred doneness.
Cooking time will vary if thawed first. See this recipe for thawed Impossible™ Burger patties.
Ingredients
Burger assembly:
4

Buns

Optional – cheese, pickles, lettuce, onion, tomato, avocado, cooked bacon etc.
If your air fryer is preheated or if you are cooking multiple batches, you may need to reduce timing by a few minutes (unless preheating is called for in the recipe).
Video
Nutrition Information per Serving
Calories:
374
kcal
,
Carbohydrates:
31
g
,
Protein:
23
g
,
Fat:
17
g
,
Saturated Fat:
9
g
,
Polyunsaturated Fat:
1
g
,
Monounsaturated Fat:
1
g
,
Sodium:
586
mg
,
Potassium:
665
mg
,
Fiber:
4
g
,
Sugar:
3
g
,
Vitamin A:
1
IU
,
Vitamin C:
1
mg
,
Calcium:
244
mg
,
Iron:
6
mg
Keto Friendly or Low Carb Turkey Wraps with Lettuce
Make these healthier! Yes, there's carbs in the vegan burgers but you can certainly make them more keto friendly and lower carb. Ditch the buns and make impossible burger protein lettuce wraps! If you're on the keto or low carb diet, replacing the buns with fresh crispy lettuce is great. It's an easy way to eat healthier and add more greens to the impossible burgers. These vegan lettuce wraps are super delicious and fresh. Or just add the patties on a bed of lettuce for a great salad. Use different types of lettuce like arugula, spinach or mustard greens. There's so many possibilities to make these air fried impossible burgers patties to be healthy and lower carb.
Whats better Impossible Burger vs. Beyond Burger?
They're both different and are equally delicious. But the textures there's a slight flavor difference in these vegan protein burgers. Beyond burger has a slight red hue to it when it cooks and it's probably from the beet juice in the mix. You can also taste the slight beet flavor too. That's what makes the beyond burger meat different from impossible burger meat. Both when cooked in the air fryer, they all fry up nicely and develop a great crust that really does look like real meat! What's your opinion? Have you tried both brands and what's your favorite? We'd love to hear and write your opinions in the comments below so everyone can see. It's helpful to get a second and different opinion when air frying vegan burgers.
More Easy Air Fryer Recipes: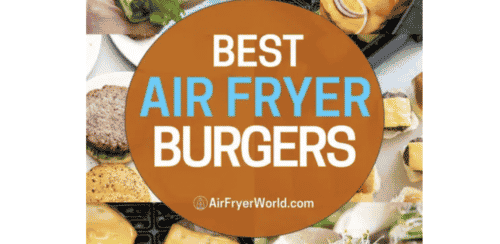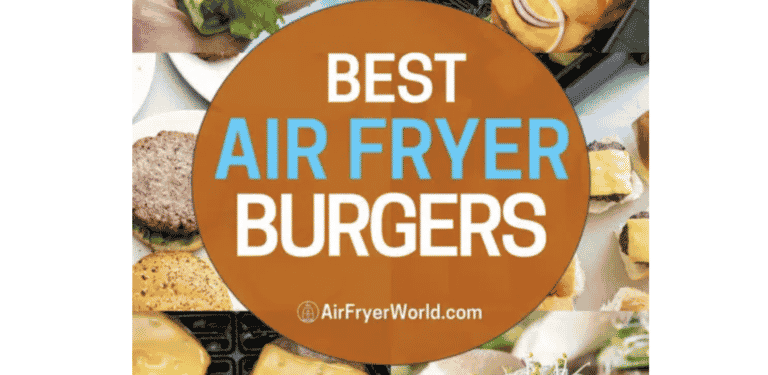 As an Amazon associate and partners with other affiliate programs, we may earn from your qualifying purchases. We may earn small commissions that goes towards all the costs of running this website and recipe tests. Thank you for your support.