Air Fryer Orange Chicken from Frozen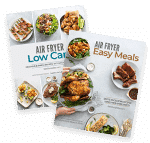 Buy our air fryer e-cookbooks today
We're obsessed with air fryer frozen orange chicken. Our kitchen staff couldn't believe a box of air fried frozen orange chicken in the air fryer could turn out so good.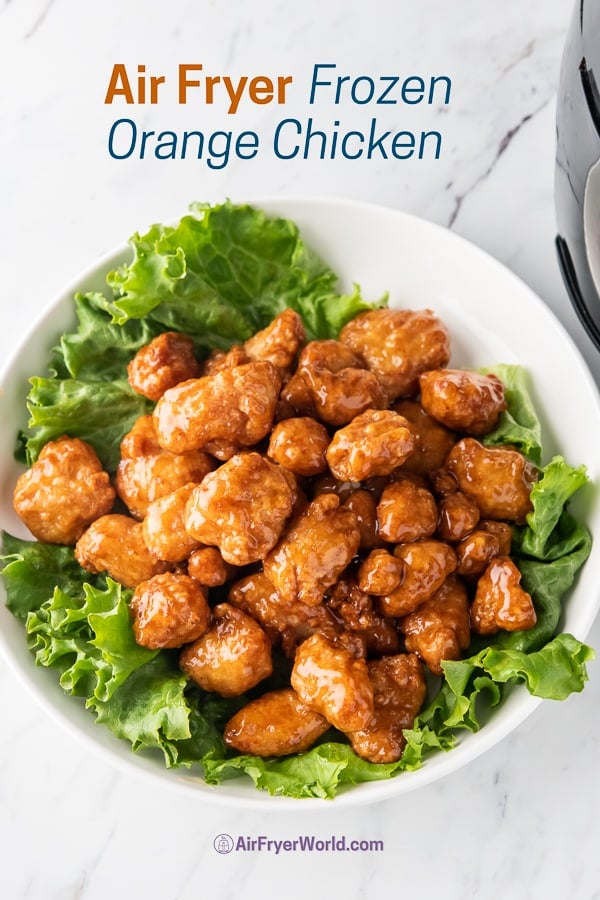 Can You Air Fry Orange Chicken From Frozen?
Yes and the results are great! These little nuggets were frozen and taken straight from the freezer into the air fryer. Within minutes, we had a bowl of crispy amazing orange chicken. Add the sauce packet and dinner was served!
Everyone keep talking about the Trader Joe's orange chicken so we decided to buy a different brand to try for ourselves and see if it was just the Trader Joe's orange chicken or if any one might be super delicious in the air fryer. The other brands were super delicious too and incredible how easy it was to have orange chicken at home without a bunch of fuss. And just as good as take-out when you're in a bind and need dinner quick!
How to cook Frozen Orange Chicken in Air Fryer (Tips)
Don't thaw the chicken first and make sure to spread it out into an even layer when air frying.
Do not cook the chicken with the sauce. The sauce gets heated and added to the chicken after you cook it in the air fryer.
Add your own personal or favorite sauces if you like.
You can eat it cooked without sauce. It's like little chicken nuggets.
All air fryers and brands cook a little differently. Use the recipe below as a starting point and adjust as needed. After you cook your first batch you'll know more of what time and temp works best for you.
Details are below in the recipe box.
Pro-Tip: here's our favorite tools to help make air frying easier: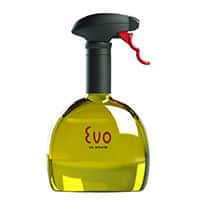 We LOVE Evo Oil Sprayers. Not the prettiest, but they're functional and spritz oil great! They don't clog up like many others we've bought. There's different styles, but all seem to have the same great spray head. Works great for grilling!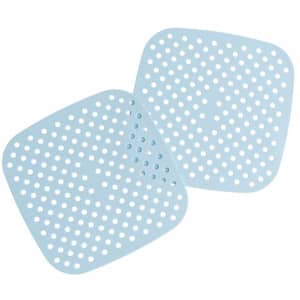 There are Square Mats & Round Mats. These perforated non-stick silicone mats are used to cook food in your air fryer or steamer to minimize sticking. Holes allow hot circulating air to cook the food & keeps the food from sticking.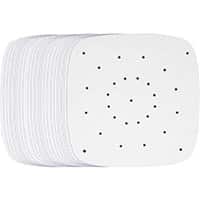 Parchment sheets are great for your air fryer or bamboo steamer (food tends to stick most on wire basket or tray). Choose from different sizes, shapes, white and brown (unbleached). Holes allow air to cook food evenly.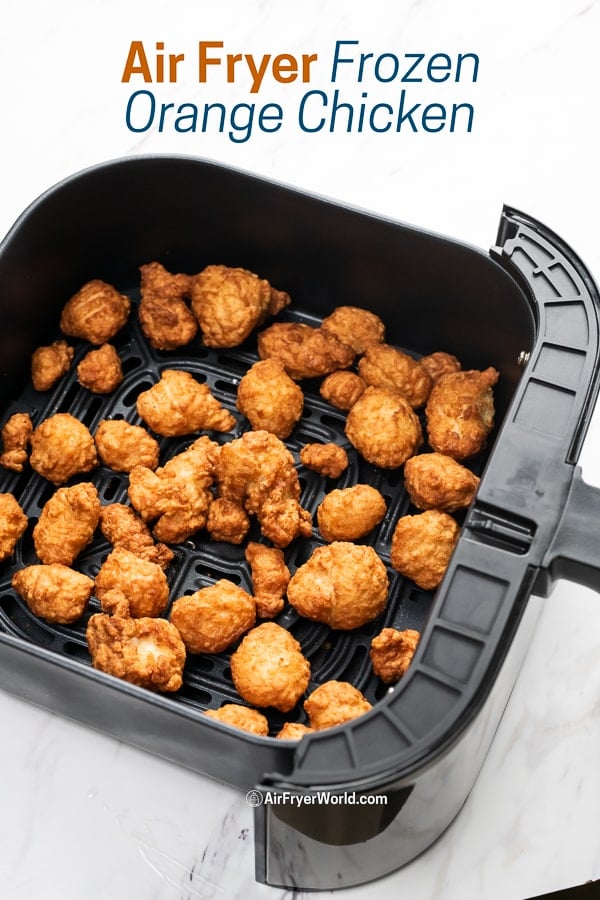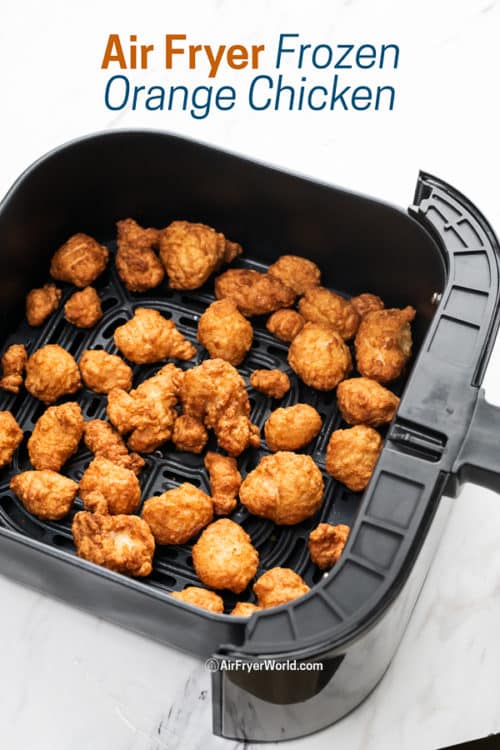 Video: Air Fried Frozen Orange Chicken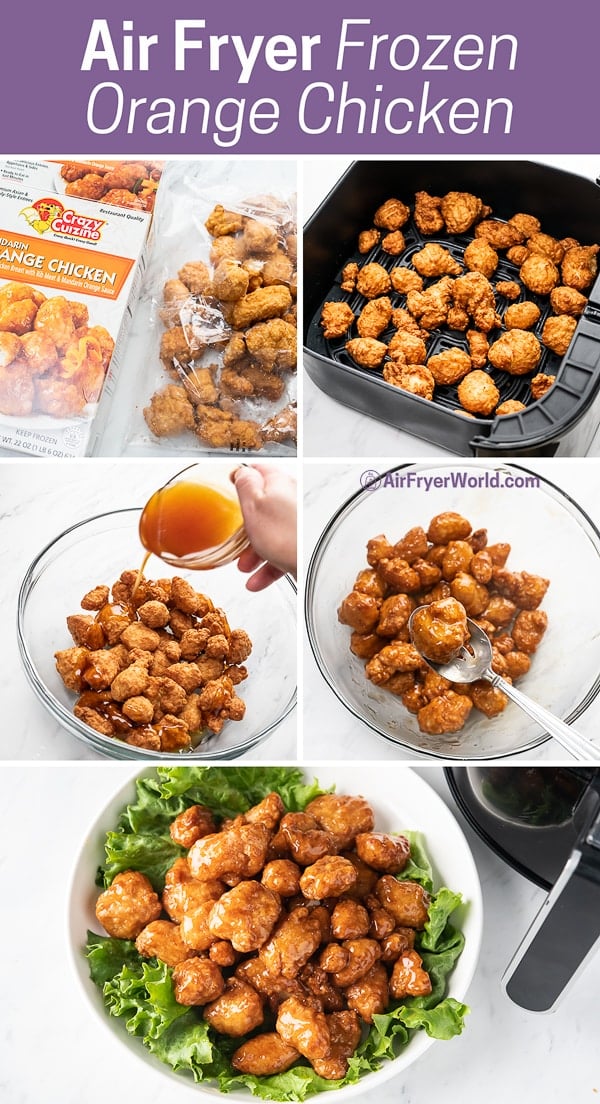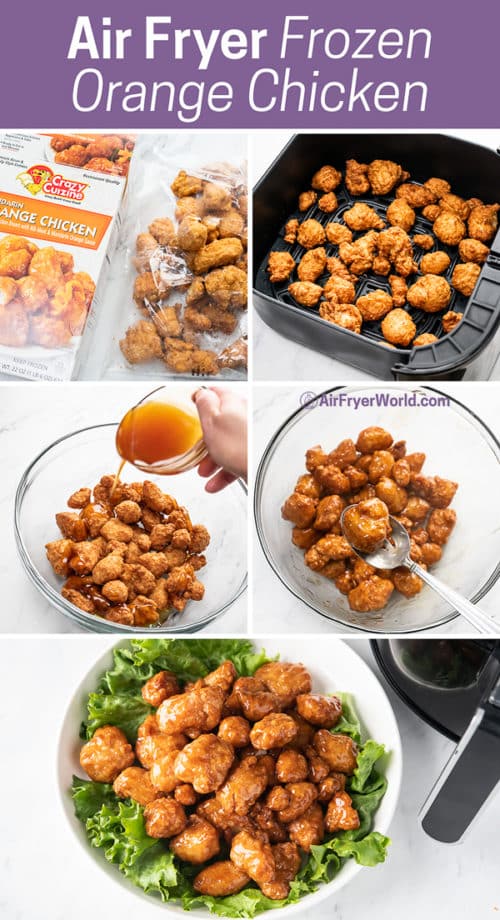 What to Serve with Orange Chicken?
This easy frozen orange chicken is a perfect quick family meal.
Serve it with some white, brown or wild rice.
Quinoa, couscous or pearled couscous are great options too.
Don't forget the veggies! Some sautéed or steamed broccoli, carrots or cauliflower are the perfect side dish to complete the meal.
Seriously, we were surprised how yummy frozen orange chicken can be. It's going to be a go-to meal for our staff, especially those who have hungry kids to feed! Be ready to buy a few boxes to have ready in your freezer because it's super delicious.
Great Chicken Nugget Snack without the Orange Sauce
We tried these without the sauce and they're like the best chicken nuggets! so if you don't end up using the sauce, eat these on their own. Save the sauce for another recipe or another use. But the quality of the chicken themselves are fantastic as a chicken nugget snack. They're great as a snack or side dish. Kids will love these.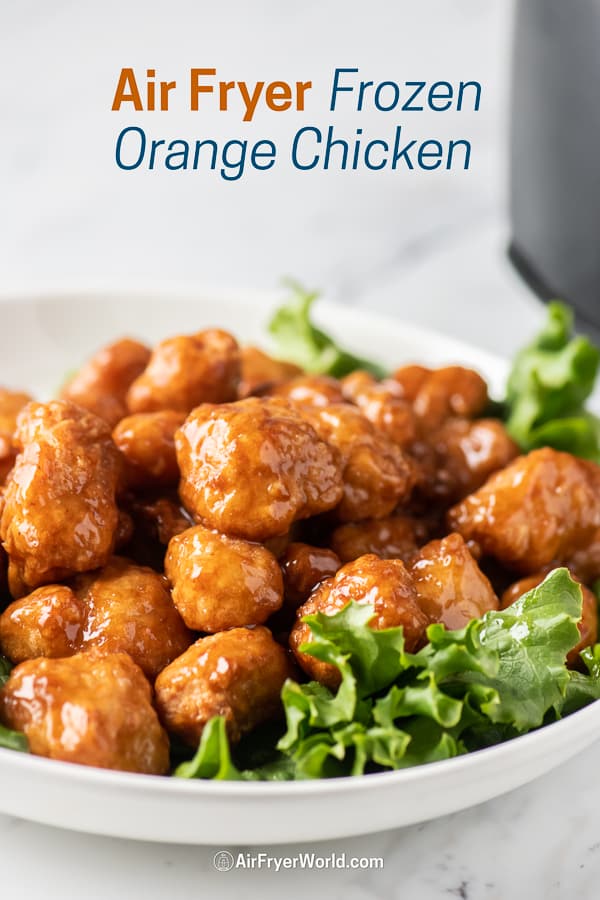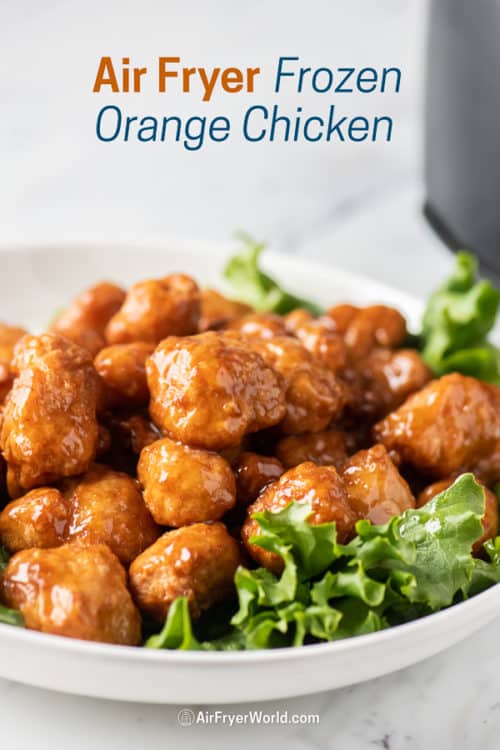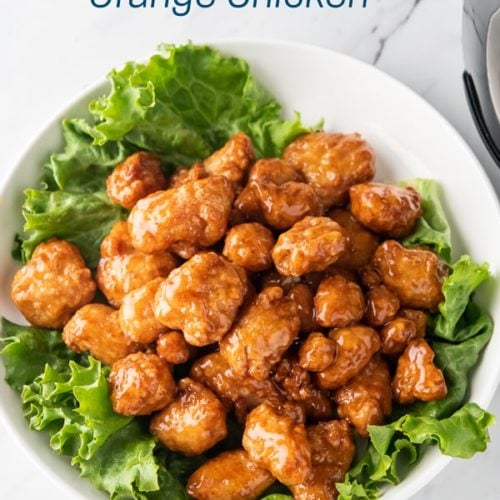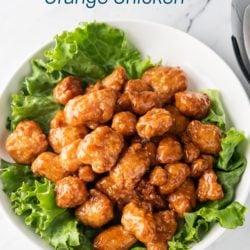 Air Fryer Orange Chicken from Frozen
Lots of factors influence outcome of how frozen orange chicken cooks. Brands all vary in size, thickness, and sometimes the coating so you'll have to adjust timing. For best and even cooking, don't overcrowd the basket. Fill just an even single layer of orange chicken. Don't coat the chicken with the sauce until after you air fry the chicken. Heat the sauce separately then toss before serving.
All air fryers are different and some cook much hotter than others. Once you cook your first batch, you'll know more of what works for your model of air fryer and size of food. These were tested on basket style air fryers. Read more recipe notes below the recipe. Nutrition will vary from brand to brand and will depend on the type of coating & the sauce.
Ingredients
10

ounces

(

240

g

)

Frozen Orange Chicken

(about 2 cups worth)

Sauce from the Packaged Frozen Orange Chicken
Instructions
Place the frozen orange chicken in the air fryer basket and spread out into a single even layer. No oil spray is needed. Set the sauce aside (do not sauce the chicken yet).

Air Fry at 400°F/205°C for 8 minutes. Shake and flip the chicken pieces over and then continue to cook at 400°F/205°C for another 2-4 minutes or until heated through and crispy.
Notes
Air Frying Tips and Notes:
No Oil Necessary. Cook Frozen – Do not thaw first.
Shake or turn if needed. Don't overcrowd the air fryer basket.
Recipe timing is based on a non-preheated air fryer. If cooking in multiple batches of orange chicken back to back, the following batches may cook a little quicker.
Recipes were tested in 3.7 to 6 qt. air fryers. If using a larger air fryer, the orange chicken might cook quicker so adjust cooking time.
Remember to set a timer to shake/flip/toss as directed in recipe.
If your air fryer is preheated or if you are cooking multiple batches, you may need to reduce timing by a few minutes (unless preheating is called for in the recipe).
Nutrition Information per Serving
Calories:
260
kcal
,
Carbohydrates:
35
g
,
Protein:
13
g
,
Fat:
7
g
,
Saturated Fat:
1
g
,
Cholesterol:
30
mg
,
Sodium:
500
mg
,
Sugar:
14
g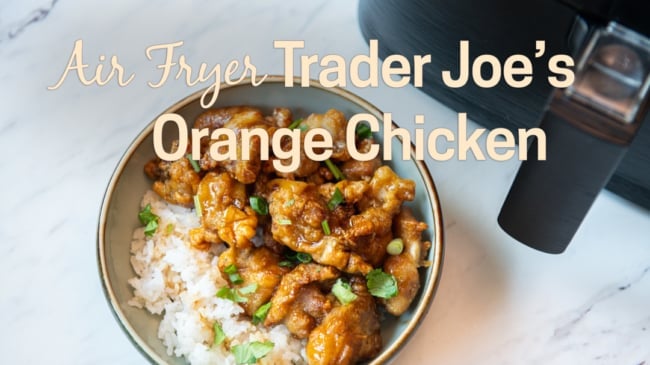 Trader Joe's Mandarin Orange Chicken and More
You'll also Love these Air Fryer Chicken Recipes
More orange chicken recipe inspiration. This recipe was originally published in 2019.
As an Amazon associate and partners with other affiliate programs, we may earn from your qualifying purchases. We may earn small commissions that goes towards all the costs of running this website and recipe tests. Thank you for your support.