Air Fryer Frozen Taquitos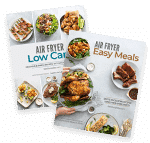 Buy our air fryer e-cookbooks today
Crispy Air Fryer taquitos and flautas are easy to cook from frozen. Add some fresh guacamole and salsa for a quick easy appetizer or dinner. We also have a great quick and easy enchilada hack using air fried taquitos.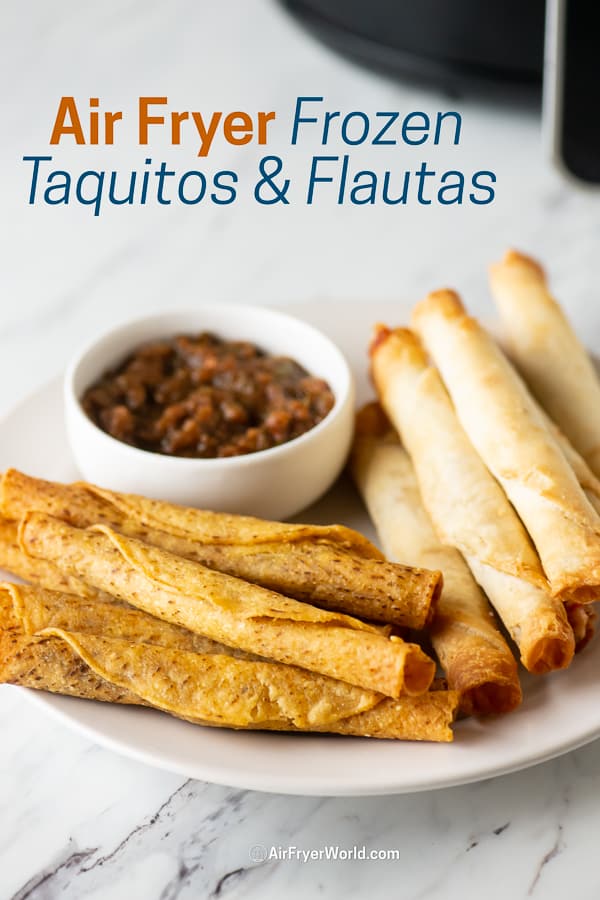 Can you cook frozen taquitos? Do You Need to Thaw first?
No, you don't need to thaw these first. They are to be air fried frozen, straight from the freezer. It's incredible how easy frozen taquitos are to cook straight from the freezer into the air fryer. The hot circulating air cooks these taquitos or flautas and they taste wonderful!
How to Cook Air Fryer Frozen Taquitos or Flautas
Air fried frozen taquitos are one of our favorite snacks and finger foods! Seriously, the air fryer makes them super crispy and amazing. The outside tortilla is crunchy crispy and the inside is perfect. We've made them fresh many times and here's our taquito recipe on our sister site if you're ambitious. But if you're in a bind, then try air frying frozen taquitos and you'll be equally satisfied.
A light oil spray helps. The oil keeps them from drying out too fast.
Don't pack them too tight in the air fryer. Leave some space between the taquitos so the hot air can cook all sides.
Lay them in a single layer in your air fryer basket or air fryer oven tray.
It's not a good idea to stack them either. Try laying them all in one layer. The stacking might cause the to bend and break.
We tested these on different chicken taquitos and chicken flautas. They should work with any other filling long as they are about the same size.
All recipe details are in the recipe box below.
Pro-Tip: here's our favorite tools to help make air frying easier: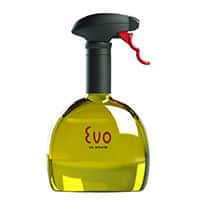 We LOVE Evo Oil Sprayers. Not the prettiest, but they're functional and spritz oil great! They don't clog up like many others we've bought. There's different styles, but all seem to have the same great spray head. Works great for grilling!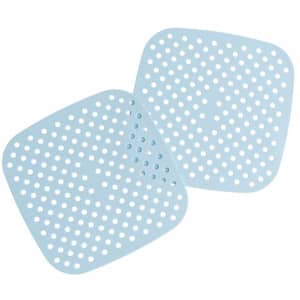 There are Square Mats & Round Mats. These perforated non-stick silicone mats are used to cook food in your air fryer or steamer to minimize sticking. Holes allow hot circulating air to cook the food & keeps the food from sticking.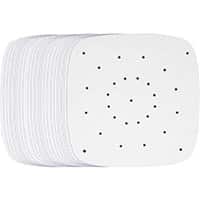 Parchment sheets are great for your air fryer or bamboo steamer (food tends to stick most on wire basket or tray). Choose from different sizes, shapes, white and brown (unbleached). Holes allow air to cook food evenly.
Video: Air Fried Frozen Taquitos or Flautas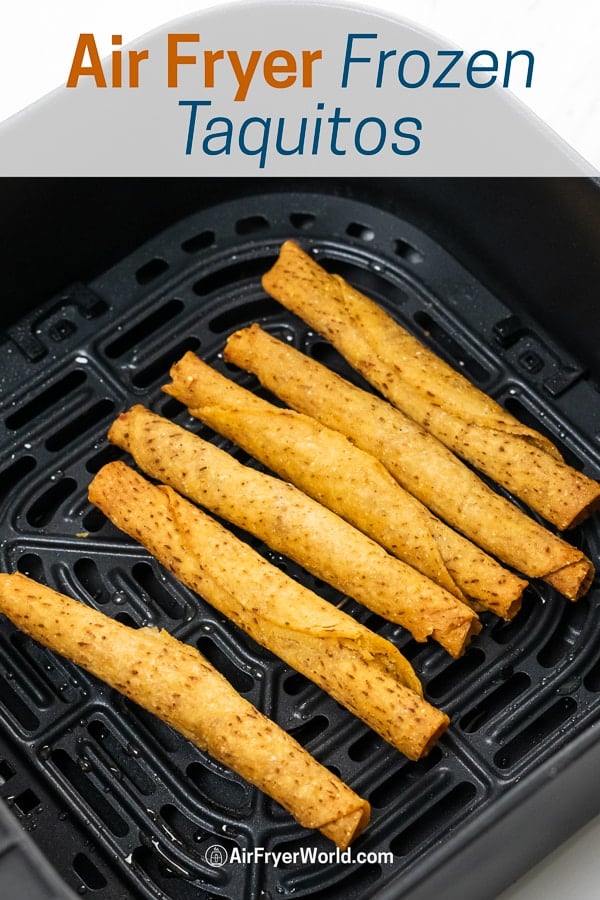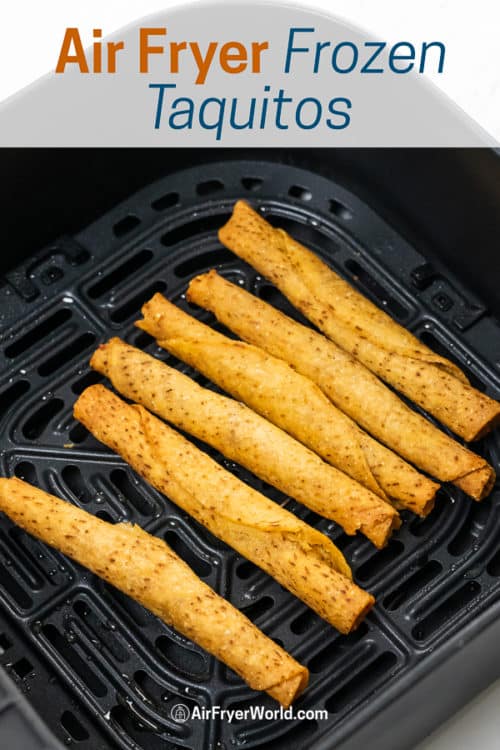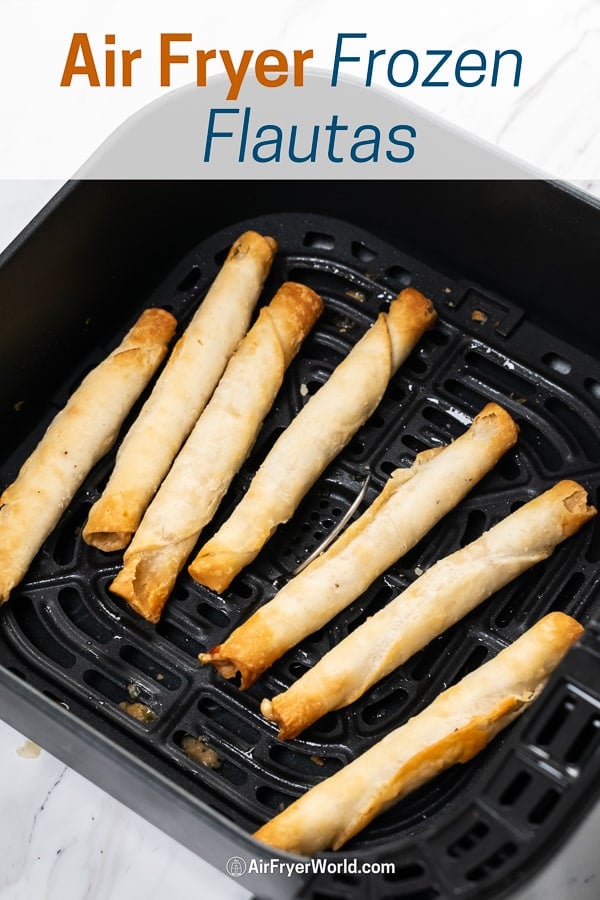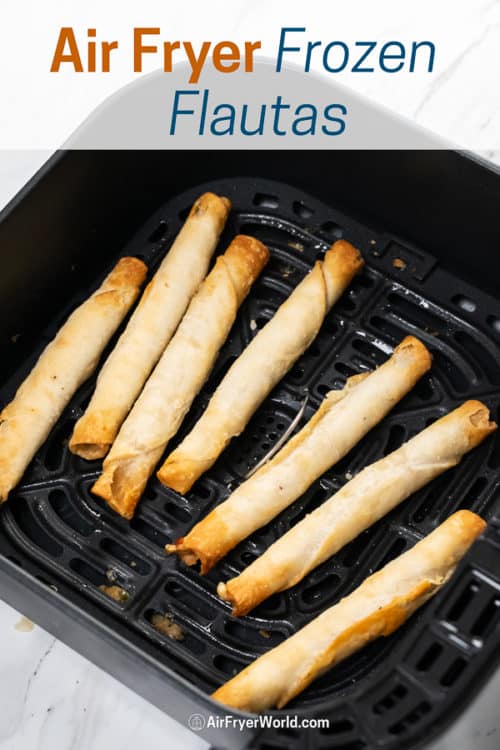 Difference Between Taquitos and Flautas?
It's all about the tortillas. Generally taquitos are made with corn tortillas and flautas are with flour tortillas. What are these delicious rolled goodies? Here's what Wikipedia says: "A taquito, tacos dorados, rolled taco, or flauta is a Mexican food dish that typically consists of a small rolled-up tortilla that contains filling, including beef, cheese or chicken. The filled tortilla is then crisp-fried or deep-fried. The dish is often topped with condiments such as sour cream and guacamole." When you're cooking these start with a small batch first to see what the best timing is for your preferred texture. Brands differ so much on the size, so if they're thicker they might take longer to cook. Also, if you like your flautas a little more soft, then reduce timing so they're not as crisp.
Easy Enchilada Recipe using Frozen Taquitos or Flautas in the air fryer
Ok, this is a recipe hack that's crazy simple and surprisingly delicious! We tested this several times and each time it was devoured within minutes. When you're craving enchiladas give our recipe a try. You just might be as obsessed as we are! Click here for our crazy easy air fryer enchiladas recipe.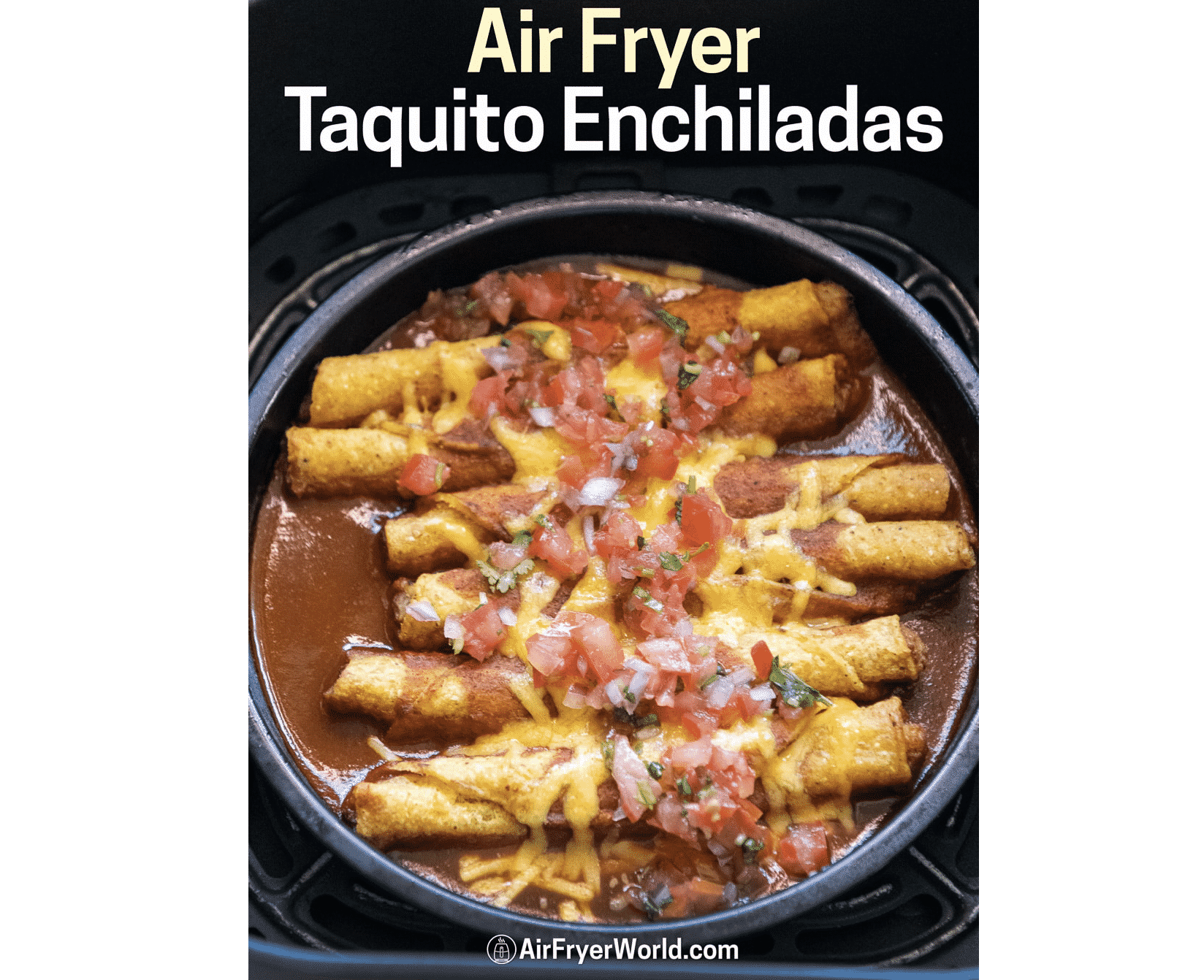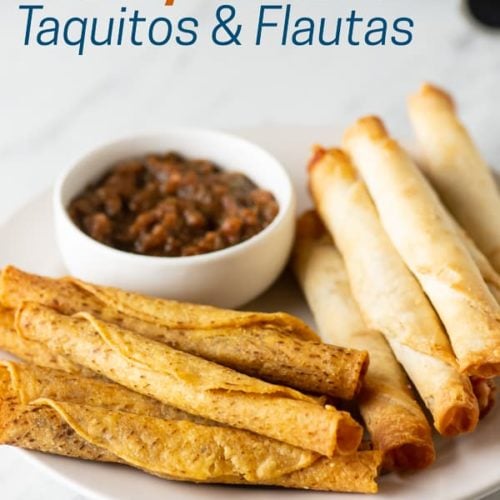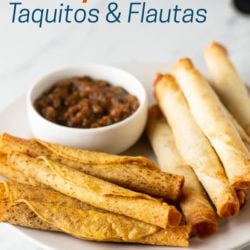 Air Fryer Frozen Taquitos and Flautas
There's several things which affect how the frozen taquitos or flautas cook. They all vary in size, thickness, type of filling, thickness & type of tortilla so you'll have to adjust timing. For best and even cooking, don't overcrowd the basket. Fill just an even single layer. Cook in batches if needed.
All air fryers are different and some cook much hotter than others. Once you cook your first batch, you'll know more of what works for your model of air fryer and size of food. These were tested on basket style air fryers. Read more recipe notes below the recipe. Nutrition will vary depending on individual taquito types.
Ingredients
8

Frozen Taquitos

or Flautas

oil spray

, to coat

Optional dips

( salsa, guacamole, hot sauce, sour cream, etc.)
Instructions
Place the frozen taquitos or flautas in the air fryer basket and spread out into a single even layer. Coat evenly with oil spray.

Air Fry at 380°F/195°C for 7-10 minutes or until crispy to your liking, gently shaking and turning the them halfway through cooking.
Notes
Air Frying Tips and Notes:
Cook Frozen – Do not thaw first.
Shake or turn as needed. Don't overcrowd the air fryer basket.
Recipe timing is based on a non-preheated air fryer. If cooking in multiple batches back to back, the following batches may cook a little quicker.
Recipes were tested in 3.7 to 6 qt. air fryers. If using a larger air fryer, they might cook quicker so adjust cooking time.
Remember to set a timer to shake/flip/toss as directed in recipe.
If your air fryer is preheated or if you are cooking multiple batches, you may need to reduce timing by a few minutes (unless preheating is called for in the recipe).
Nutrition Information per Serving
Calories:
147
kcal
,
Carbohydrates:
17
g
,
Protein:
5
g
,
Fat:
7
g
,
Saturated Fat:
1
g
,
Cholesterol:
7
mg
,
Sodium:
173
mg
,
Fiber:
1
g
,
Sugar:
1
g
You Might also Love These Air Fryer Recipes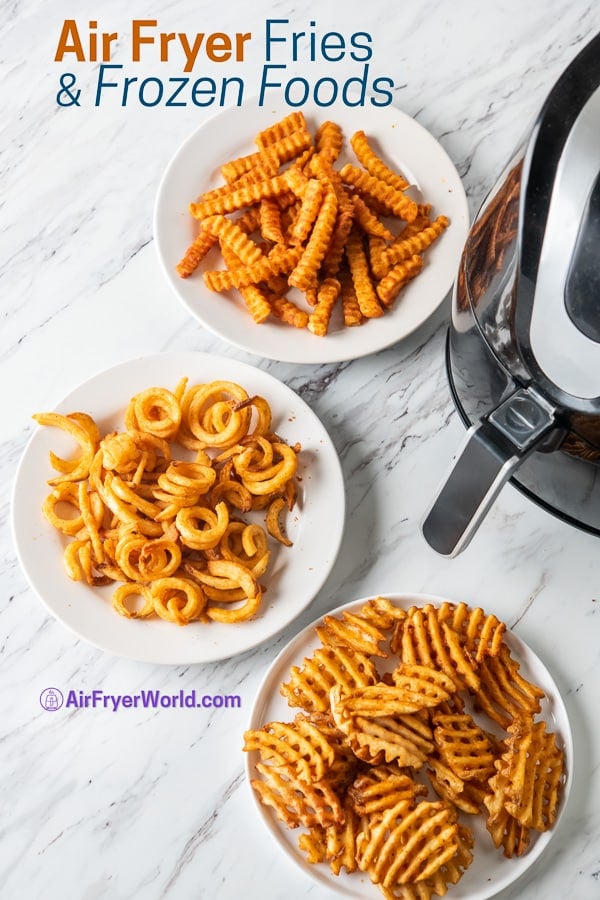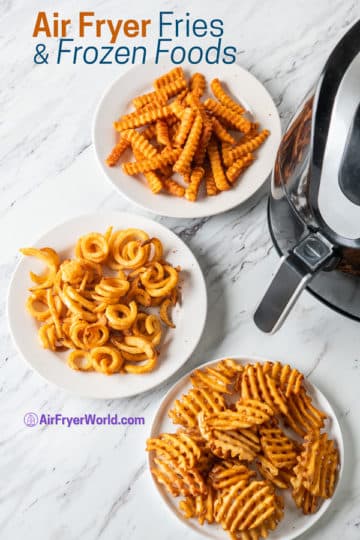 This recipe was originally published in 2019 and re-published in 2021.
Here's some more taquitos recipe inspiration for ya!
As an Amazon associate and partners with other affiliate programs, we may earn from your qualifying purchases. We may earn small commissions that goes towards all the costs of running this website and recipe tests. Thank you for your support.