Air Fryer Hamburger Steaks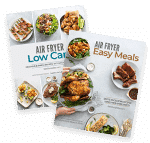 Buy our air fryer e-cookbooks today
We made this Air fryer hamburger steaks recipe twice this week and we're still not tired of it! Juicy burger patties cooked in the air fryer and topped with mushroom and onion gravy. What's not to love about this quick and easy dinner!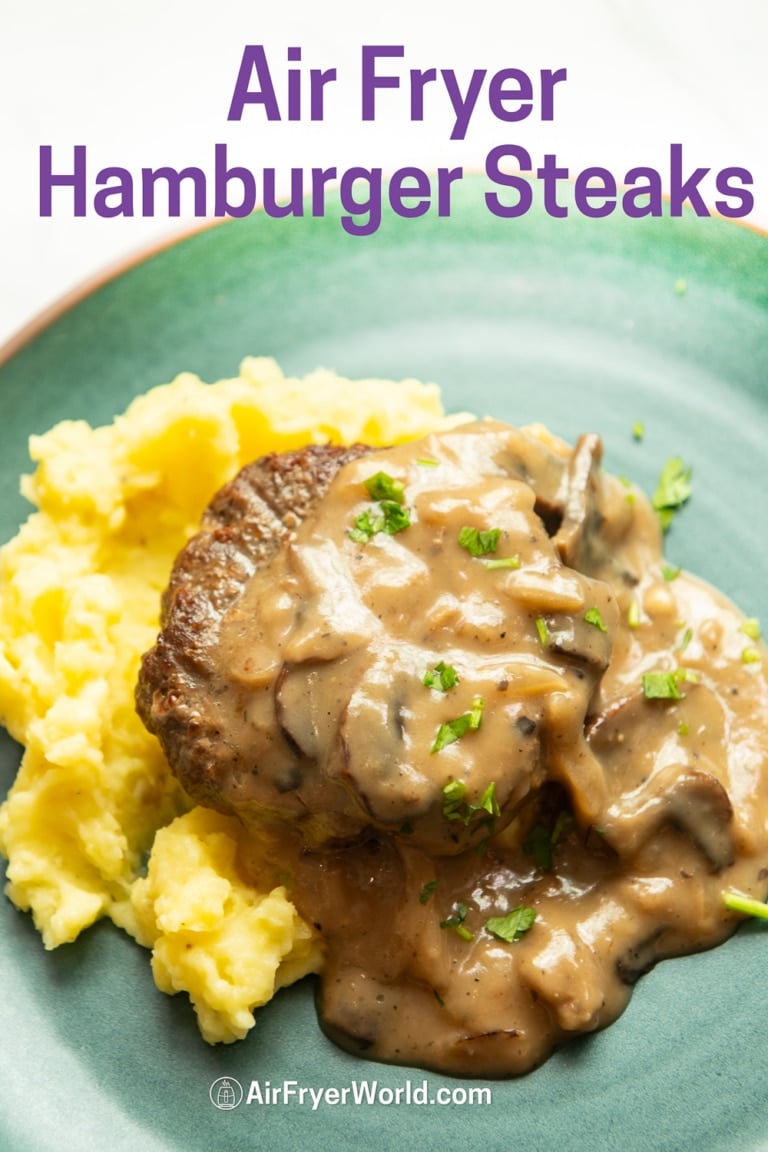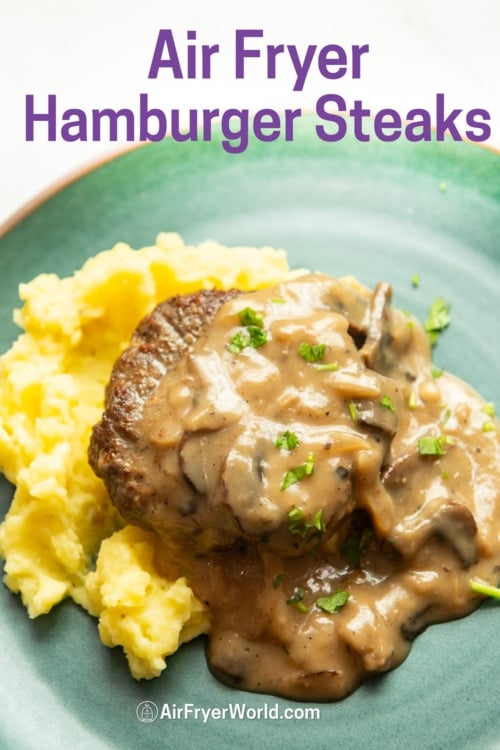 Easy Air Fryer Hamburger Steaks
Our air fryer burgers recipe made from scratch is a reader favorite. It's hard not to love making these simple and juicy air fryer burger patties. But then we had the inspiration to serve them on a bed of mashed potatoes with a homemade mushroom and onion gravy. Voila! It's become such a hit with the test kitchen so we've decided to share our air fryer hamburger steaks recipe with you all. You'll love how easy this recipe is as we've streamlined it to make it simple and flavorful.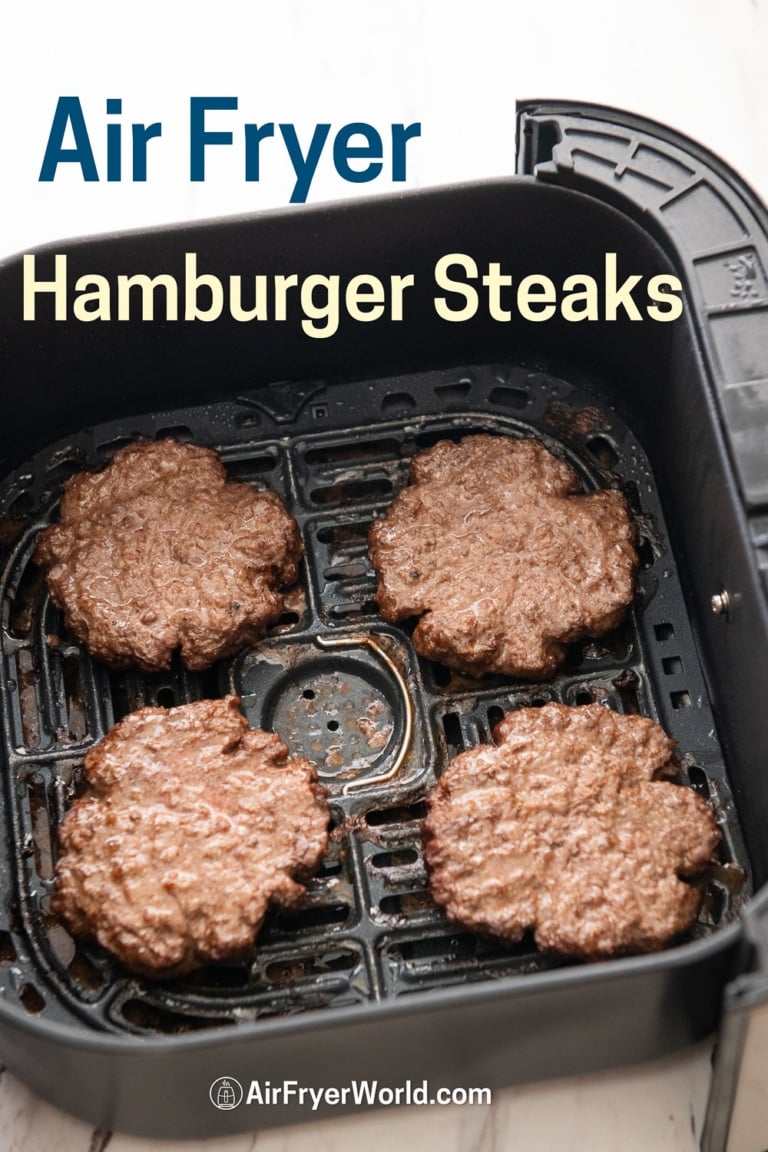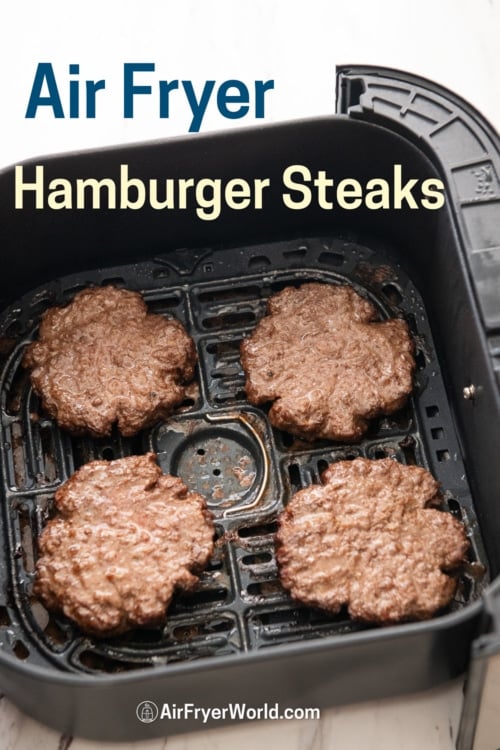 Video: Air Fryer Hamburger Steaks Recipe
What are Hamburger Steaks?
It's original story is that it was made in Hamburg Germany and cooking a beef patty made from minced meat. This hearty dish has German origins and it's basically a ground beef patty that's seared and cooked on a pan. But this version of hamburger steaks are air fried! Then after cooking, the beef patties are served with a type of gravy with onions and mushrooms. It's hearty, juicy, delicious and addictive. Here's a brief synopsis of these beef patties, inspired by the Japanese patty.
Best Type of Beef for Air Frying Hamburger Steaks?
This is such a simple dish and any type of ground beef is great. If you're cooking with a higher fat content beef, just be prepared for the hamburger steak to shrink more. If you're using a leaner beef like 85%, then it'll shrink less. In terms of flavor, we find that both are great because we season the ground beef really well to get the best flavor. Also, there's the gravy on top for the added texture and flavor.
Tips of Making Air Fryer Hamburger Steaks
Like we mentioned above, any type of ground beef is great. It's always about the gravy, so the first thing you'll really taste is the yummy gravy.
If you want a leaner steak, you can certainly use other types of ground meat. Chicken, turkey, lamb and pork steaks are fantastic too.
Make it vegan! We discuss this more below.
When forming the patty, don't press too hard and make the beef patty dense. You want a tender hamburger steak or hamburger patty when air frying. Pressing the patty too tight and pushing out all the air makes the beef patty too firm and hard.
Add your favorite seasonings to the beef patty mix. Different types of steak seasonings or bbq seasonings are fantastic on the hamburger steaks. More flavor isn't a bad thing!
All air fryer hamburger steak recipe details are in the recipe box below.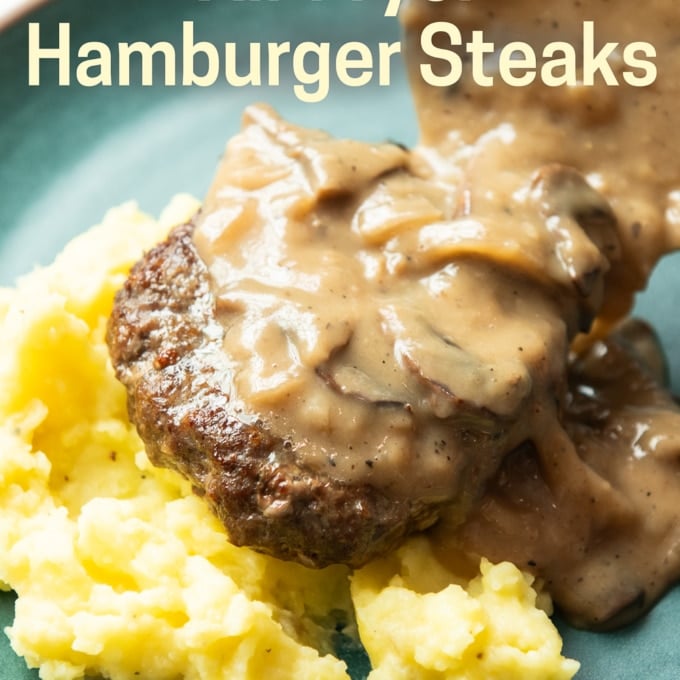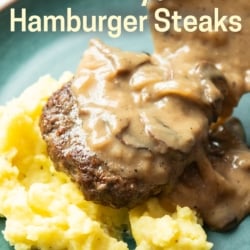 Air Fryer Hamburger Steaks
Final air frying time will vary depending on how thick your patties are. Air fry at the lowest timing we suggested and then check the burgers. Continue cooking the patties to your preferred doneness.
80/20 is a good ratio for the beef/fat and will result in juicier burgers. Leaner ground beef for burgers will cook more dry but they won't shrink as much. Fattier ground beef has more flavor but will shrink more.
Serve with mashed potatoes, rice, pasta or whatever you like.
Ingredients
1.25

lb.

(

567

g

)

ground beef

1

teaspoon

(

5

ml

)

garlic powder

1

Tablespoon

(

15

ml

)

Worcestershire

, fish sauce, or soy sauce (fish sauce is our favorite)

1/2

teaspoon

(

2.5

ml

)

salt

, or to taste

Lots of black pepper

oil spray

, for coating
Instructions
Form the Hamburger Steaks
In bowl, combine beef, garlic, garlic powder Worcestershire sauce (or sauce of choice), salt and pepper. Mix everything until just combined.

Divide and flatten into 4 patties about 4" wide (don't pack the patties too firmly or else you'll have a dense burger – form just enough so that the patty holds its shape). Spray both sides with oil and spray the air fryer basket. If you have a smaller air fryer, you'll might need to cook in two batches.
Air Fry the Hamburger Steaks
Air Fry at 380°F/193°C for about 6 minutes, then flip the patties. Continue to Air Fry at 380°F/193°C for 2-6 minutes or until cooked to your preference or until the internal temperature reaches 160°F/71°C. Timing will vary depending on thickness of patties and individual air fryer model.
If your air fryer is preheated or if you are cooking multiple batches, you may need to reduce timing by a few minutes (unless preheating is called for in the recipe).
Nutrition Information per Serving
Calories:
552
kcal
,
Carbohydrates:
14
g
,
Protein:
29
g
,
Fat:
42
g
,
Saturated Fat:
14
g
,
Polyunsaturated Fat:
3
g
,
Monounsaturated Fat:
22
g
,
Trans Fat:
2
g
,
Cholesterol:
111
mg
,
Sodium:
1196
mg
,
Potassium:
696
mg
,
Fiber:
1
g
,
Sugar:
4
g
,
Vitamin A:
554
IU
,
Vitamin C:
4
mg
,
Calcium:
40
mg
,
Iron:
4
mg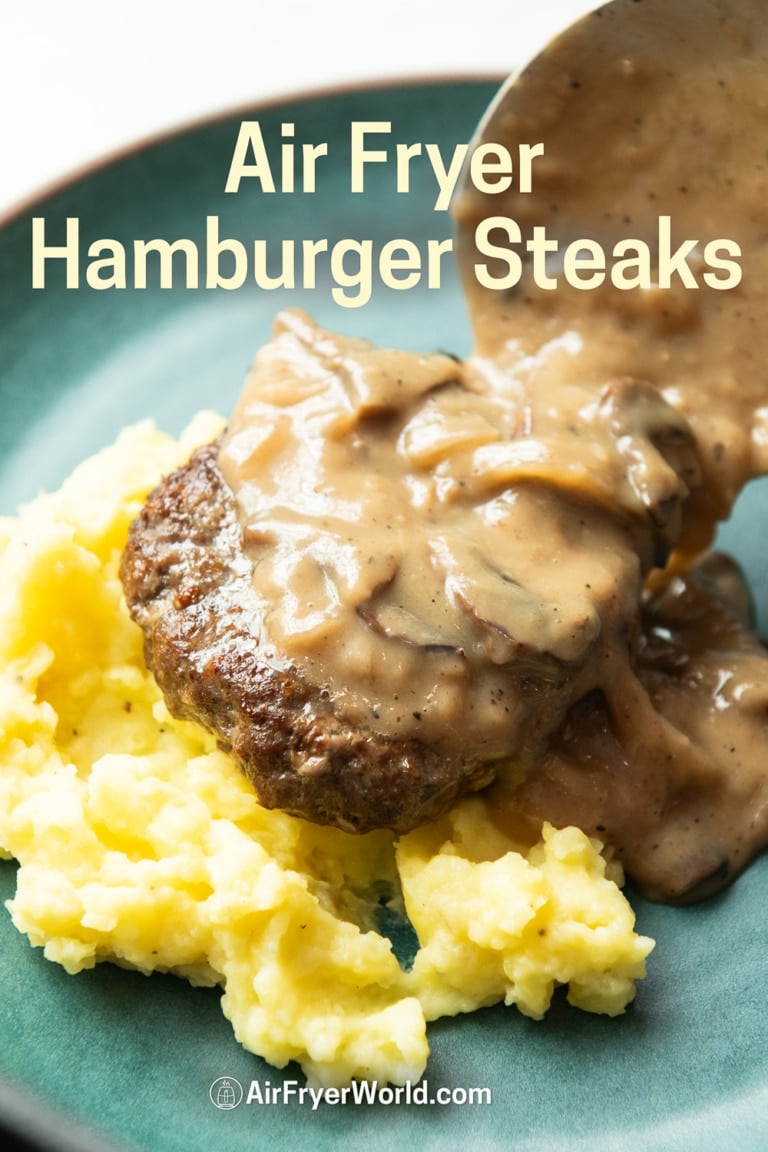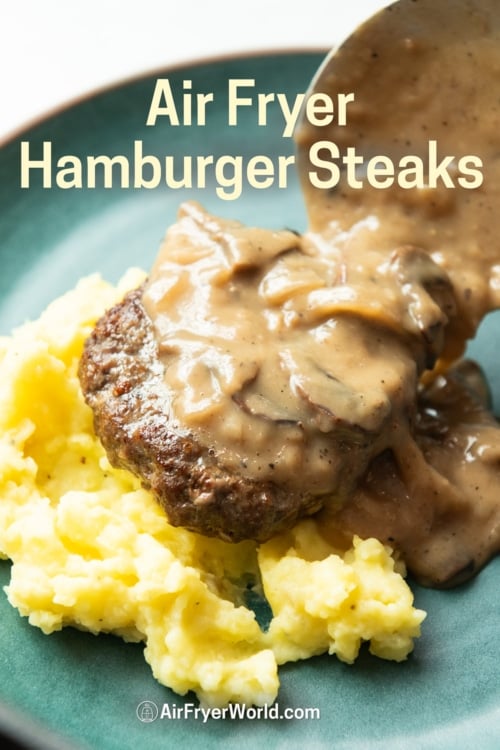 Plant Based Vegan Hamburger Steaks
If you're vegan or want to eat plant based, you can definitely make this vegan. Just buy plant based meat alternatives like Beyond Meat or Impossible Meat. There's other different brands out there as well, so you definitely have plenty of options for plant based hamburger steaks with gravy. Here's all the different vegan plant based burger patty options for you to try.
How to Serve Air Fried Hamburger Steaks with Gravy?
Our favorite way of serving these is on a bed of creamy mashed potatoes. The best!
You can make a burger or sandwich out of this. The creamy gravy in a sandwich or burger is over-the-top delicious.
Serve the steaks on pasta, noodles or spaghetti. There's always a great opportunity to make this a more hearty meal when serving with your favorite pasta.
Add it to a salad for a low carb hamburger steak dish.
Can you Freeze leftover hamburger steaks?
Yes you certainly can. Just freeze any leftovers in an airtight container or plastic bag. Before serving, take the hamburger steak patties out of the freezer and thaw them in the fridge the night before. Warm them up in the microwave to make them juicy. Or you can heat them up on a pan or in the air fryer at 360°F for about 5 minutes. Make sure to check the patties so that they don't dry out. But if you have leftover gravy, then the gravy will make them juicy again.
More Air Fryer Beef Recipes:
As an Amazon associate and partners with other affiliate programs, we may earn from your qualifying purchases. We may earn small commissions that goes towards all the costs of running this website and recipe tests. Thank you for your support.