Air Fryer Jiffy Cornbread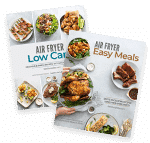 Buy our air fryer e-cookbooks today
We love cornbread and Air Fryer Jiffy cornbread is amazing. It's so simple and definitely a game changer. Within minutes you can have quick and easy cornbread in the air fryer from the very popular box of Jiffy corn muffin mix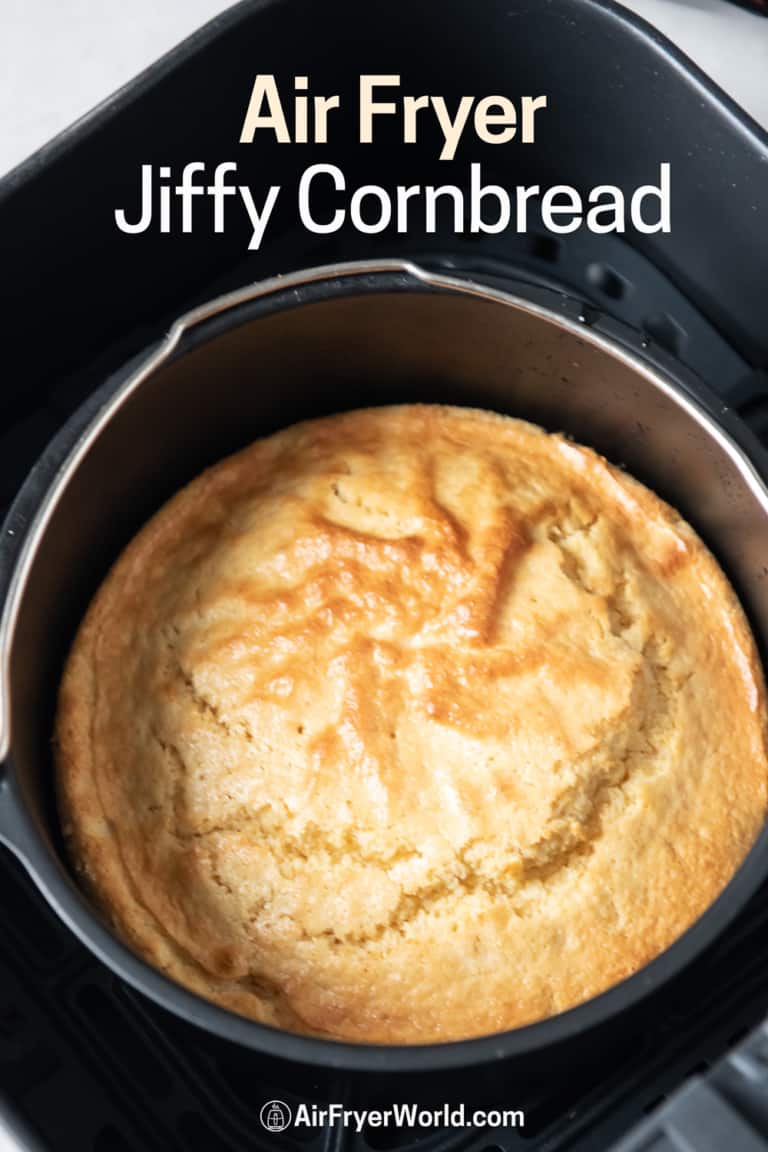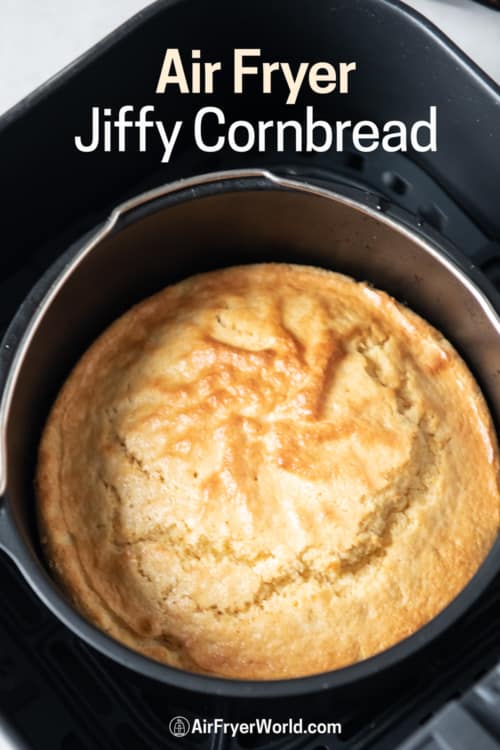 Can You Make Jiffy Cornbread in Air Fryer?
Yes, you can! It's one of the most simple and easy ways to make cornbread for dinner, breakfast, Thanksgiving, Holidays or anytime you're craving cornbread. Traditionally it's made in the oven, but after several air frying tests we're in love with this method more than the conventional oven. It's quick, simple and doesn't take lots of pre-heating time. We used the Jiffy corn muffin mix box for this cornbread recipe.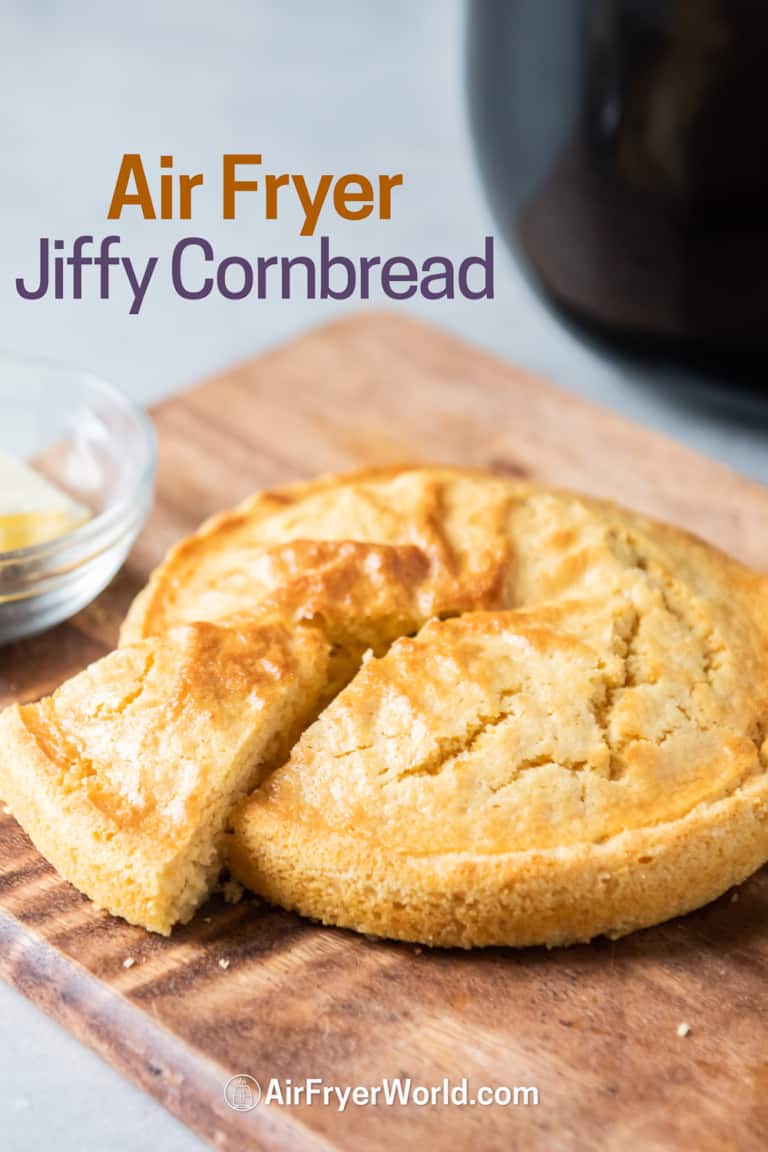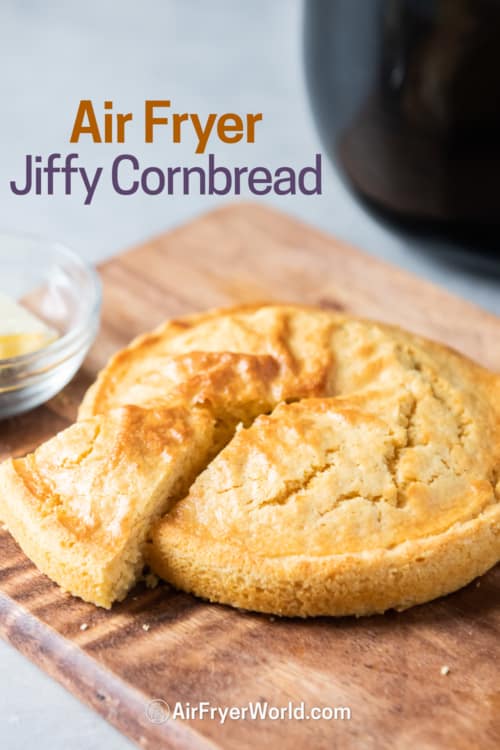 Video: Air Fryer Jiffy Corn bread Recipe
Tips on How To Make Air Fryer Jiffy Corn bread
Use the same accessory "bucket" pan that we did. This is the pan. It's thin, light and deep enough to hold the volume of one jiffy cornbread box mix. We've tested several pans that fit the air fryer, but the timing that we have is based on this "bucket" pan.
Don't overmix the cornbread mix or it will be tough.
Using a rubber or silicone spatula is best because you can scrape the sides of the bowl during mixing. This will give you the best mix and won't leave important ingredients on the sides of the bowl during mixing.
The box says to use milk but you can use buttermilk or heavy cream. This will make the cornbread a little more moist.
Make sure to oil the sides of the baking pan so the cornbread doesn't stick.
Some air fryer models vary with how hot they cook. So if you use a toothpick to check the cornbread and it still comes out a little wet, the cover the cornbread with foil. Continue cooking for a few minutes to get the cornbread cooked all the way through. The foil keeps the cornbread from drying out and burning on the top.
What to Serve with Cornbread?
Air frying cornbread for Holidays, Thanksgiving or Christmas is fantastic. You can serve it with some warm honey or butter on the side. Have it for breakfast with eggs or serve it with a steak for dinner. It's such a great side dish or quick bread made in the air fryer for anytime of day. We love it with Turkey for thanksgiving and always with creamy gravy on top!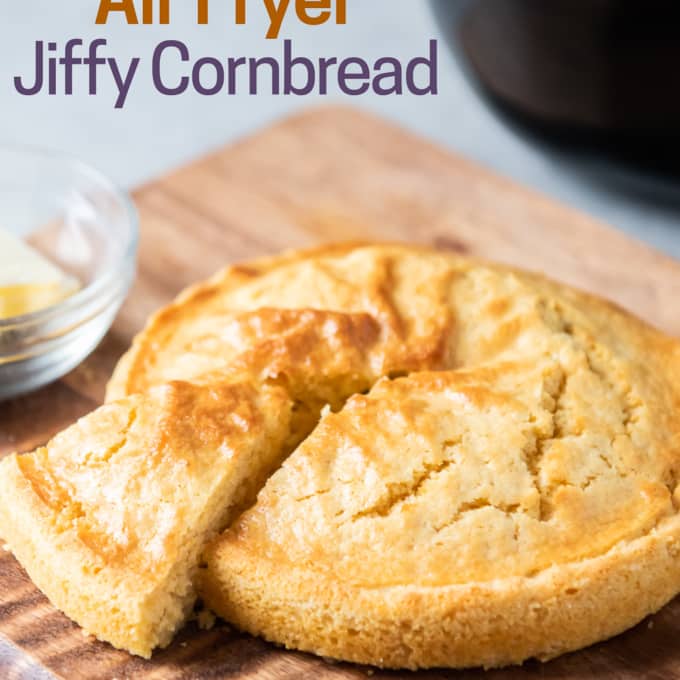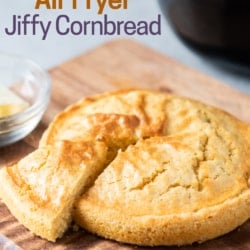 Air Fryer Jiffy Cornbread "Corn Muffin Mix"
This popular brand of cornbread is a quick and easy way to enjoy a small batch in the air fryer. It's a great tasting cornbread that's both economical and perfect for small servings.This timing is for a 6 qt. air fryer that fits the 7" cake bucket or 8" shallow pizza pan from air fryer accessory kits. The more shallow the pan, the better it will cook all the way through. If your pan is too narrow and deep, then the outside of the cornbread might be too burnt while the middle is still raw.
If your air fryer is preheated or if you are cooking multiple batches, you may need to reduce timing by a few minutes (unless preheating is called for in the recipe).
Nutrition Information per Serving
Calories:
196
kcal
,
Carbohydrates:
29
g
,
Protein:
4
g
,
Fat:
7
g
,
Saturated Fat:
2
g
,
Polyunsaturated Fat:
1
g
,
Monounsaturated Fat:
4
g
,
Trans Fat:
1
g
,
Cholesterol:
29
mg
,
Sodium:
345
mg
,
Potassium:
73
mg
,
Fiber:
3
g
,
Sugar:
9
g
,
Vitamin A:
108
IU
,
Vitamin C:
1
mg
,
Calcium:
42
mg
,
Iron:
1
mg
Love corn muffins? Then you should try our Jiffy Corn Muffins in the Air fryer.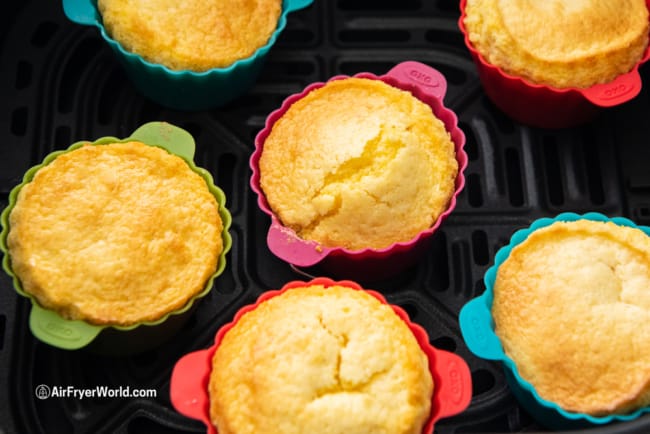 As an Amazon associate and partners with other affiliate programs, we may earn from your qualifying purchases. We may earn small commissions that goes towards all the costs of running this website and recipe tests. Thank you for your support.