Air Fryer Chili Crunch Chicken Wings (Chili Crisp)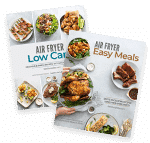 Buy our air fryer e-cookbooks today
We're obsessed with air fryer chili crunch chicken wings! This popular condiment is slightly spicy, savory, flavorful and amazing! We put it on so many things but adding these air fryer chili crisp wings is really a wonderful combination of flavors and textures!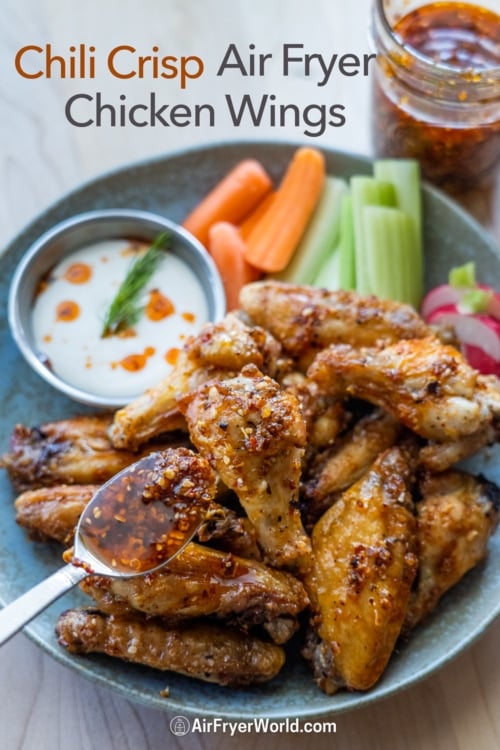 What is Chili Crunch, Chili Onion Crunch or Chili Crisp?
These are different terms used to describe basically the same thing: a popular Chinese condiment with different spices infused in oil. The most common ingredients are crushed dried chilies, dried onions or shallots, dried garlic and sometimes Sichuan peppercorns.
Everyone has their own recipe with different aromatic combinations. But chili crisp is essentially a crunchy, crispy, spicy condiment that you can put on anything. From noodles to vegetables, eggs and rice chili crunch is universally loved and it can be found in most Chinese restaurants. Today we doused our air fryer chicken wings with this and it's crazy delicious. You can read more about the history here.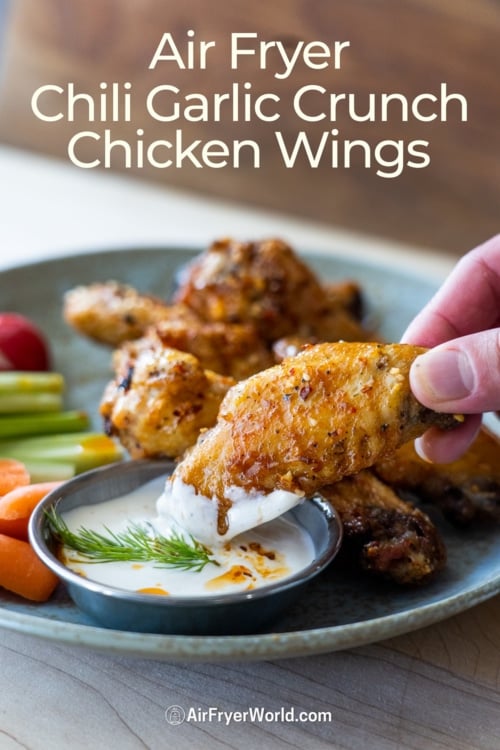 Video: Air Fryer Chili Crisp Crunch Chicken Wings
Best Brand of Chili Crisp or Chili Crunch?
Over the last years a new generation of brands have come into the chili crunch crisp market. From more traditional brands to new brands with unique spices, there's something for everyone. We love the S&B Crunchy Garlic with Chili Oil. Great texture and savory flavor. Just a touch of heat & sweet. If you want more heat, the others are fantastic options too!
Tips on Using Chili Crisp Crunch on Wings
Stir the chili crunch well. Oil floats to the top and the crunchy ingredients sink to the bottom. So stir the everything together well for easier drizzling.
Some chili crisps are light on the seasoning, so taste yours first. If it's not salty enough you might want to season your chicken wings more.
Chili crisps/crunch vary a lot on their spiciness level. Find the brand that matches your preference. Of the 3 we list, the S&B Crunchy Garlic is the least spicy.
To make the chili garlic crunch more sticky, add a little honey to make the sauce more sticky. It'll be a little more sweet but it's a nice flavor balance.
If it's your first time using this condiment, go light on the drizzle. Taste the air fried chicken wing and add additional crisp to the wings.
All recipe details are in the recipe box below.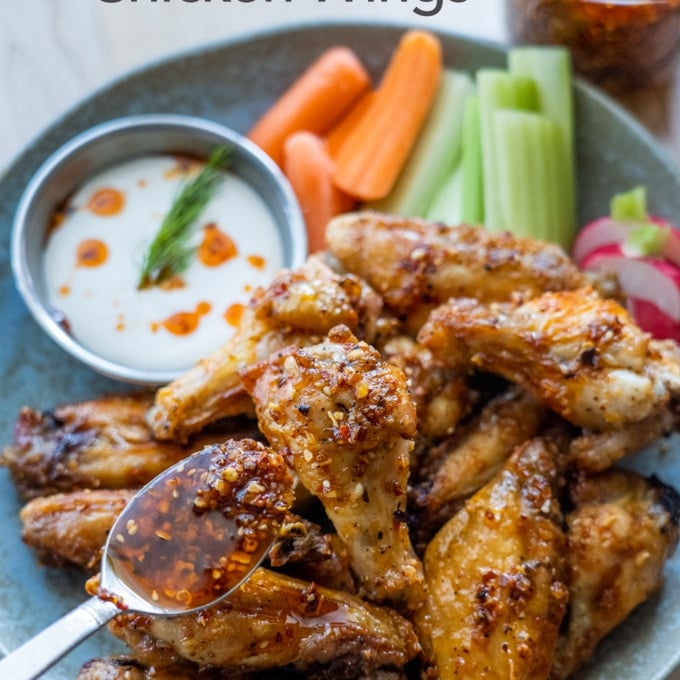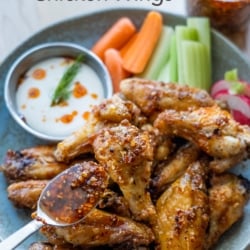 Air Fryer Chili Crisp Crunch Chicken Wings
The spiciness of the chili crisp/crunch will vary greatly, depending on which brand you use, or if using a homemade one. Some are barely spicy, while others are intense. Adjust the amount to your preference. Our preferred brand is the S&B Crunchy Garlic with Chili Oil. It has a great texture and savory flavor with just a touch of heat and touch of sweet.
Wing sizes vary in size and thickness, so cooking times will vary. Some brands of Air Fryers will cook slower or faster than others, adjust accordingly.
For 3-4 quart air fryers, 2 lbs. is about the max without overcrowding the air fryer. If you have a larger size of air fryer, you can cook larger batches, but don't overstuff it or else they won't cook evenly. (optional) We have an extra crispy corn starch crust option for you too, but it does require oil spray.
Ingredients
2

pounds

(

907

g

)

chicken wings

Kosher salt

, or sea salt, to taste

black pepper

, to taste

garlic powder

, optional

1/4

cup

chili crisp crunch

, or to taste
Optional – For Extra Crispy Corn Starch Crust
1/4

cup

(

30

g

)

corn starch

, or as needed

oil spray

, as needed
Instructions
If you have whole wings, separate them into the drum and flat. If needed, pat dry the chicken wings. Season with salt, pepper, and optional garlic powder.
For Extra Crispy Corn Starch Crust
Add seasoning to the wings then lay them in single layer on a plate or cutting board. Sprinkle cornstarch over the wings on both sides.

Liberally spray wings evenly with oil spray so that all the cornstarch is coated in oil. There should be no dry white clumps of cornstarch or else they will cook hard and dry.
Air Fry
Air Fry wings at 400°F/205°C for 20 minutes minutes or until crispy-looking and nearly cooked through.

Flip the wings and Air Fry at 400°F/205°C for additional 5-10 minutes or until wings are fully cooked and crispy.
Notes
No Oil Necessary. The wings have enough fat in the skin to crisp up nicely on their own.
Shake several times for even cooking.
Don't overcrowd fryer basket.
If using a sauce, it is added in just at the end, otherwise it often burns before the chicken wings are cooked.
Recipes were cooked in 3-4 qt air fryers. If using a larger air fryer, the recipe might cook quicker so adjust cooking time.

If cooking in multiple batches, the first batch will take longer to cook if Air Fryer is not already pre-heated.
Remember to set a timer to shake/flip/toss the food as directed in recipe.
If your air fryer is preheated or if you are cooking multiple batches, you may need to reduce timing by a few minutes (unless preheating is called for in the recipe).
Nutrition Information per Serving
Calories:
286
kcal
,
Carbohydrates:
9
g
,
Protein:
11
g
,
Fat:
22
g
,
Saturated Fat:
4
g
,
Polyunsaturated Fat:
2
g
,
Monounsaturated Fat:
5
g
,
Trans Fat:
0.1
g
,
Cholesterol:
47
mg
,
Sodium:
317
mg
,
Potassium:
96
mg
,
Fiber:
0.1
g
,
Sugar:
0.4
g
,
Vitamin A:
90
IU
,
Vitamin C:
0.4
mg
,
Calcium:
8
mg
,
Iron:
1
mg
What to Serve with Air Fryer Chili Crunch Chicken Wings?
These are the perfect side dish or appetizer. They're even great as a mini meal. You chem can serve them with easy air fryer fries, crispy broccoli, spinach dip, different vegetables or air fryer pizzas.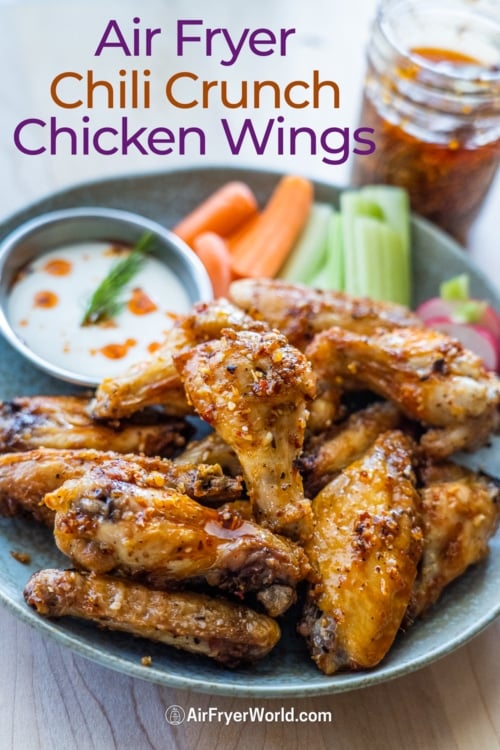 More Easy Air Fryer Recipes:
As an Amazon associate and partners with other affiliate programs, we may earn from your qualifying purchases. We may earn small commissions that goes towards all the costs of running this website and recipe tests. Thank you for your support.